College Basketball Recruiting: Rondae Jefferson, a Beacon of Hope for Chester
January 24, 2012

Nestled snugly between Philadelphia and the Delaware state line is the small city of Chester, Pennsylvania, home to roughly 34,000 residents. Though it is many times considered a part of the biggest city in Pennsylvania, only 15 short miles outside of Philly, it has its own unique independence, one many of its residents are proud of. What many residents are most proud of is their basketball.
Chester High School is the main high school in the city, and its basketball program is one of the most historical in the country. This year is no different. What is different about this year's team, however, is the emergence of Rondae Jefferson, the most talented Clipper to ever suit up for the school.
The 6'7" junior swingman is the leader of the Chester Clippers this season.
Currently the team is 15-0 and ranked No. 5 in the United States by USA Today. Even more impressive is that their current winning streak is at 41 games dating back to last season. They have beaten each of their last three opponents by 26 points, dominating each team in the process. What might be most impressive about how dominant the team is and has been over the years is the obstacles players must overcome outside of basketball.
For its size Chester is one of the most dangerous cities in America. Crime and violence repeatedly steal media spotlight from the city's young athletes to portray a bleak area where dreams go to die.
However, much like the city itself, the kids from Delaware County remain resilient through the tough times. Their senior starting point guard, Kareem Robinson, even has a bullet still lodged in his back from when he was shot as a freshman. It is a tattoo to serve as a constant reminder of the dangers of the city's streets.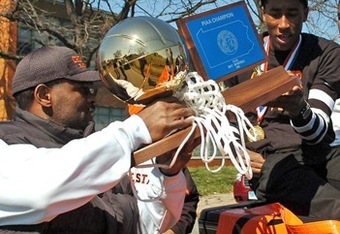 Though over 80 percent of the school's 1,000 students come from low-income households, "pride" is what keeps the hearts beating through this basketball factory of a city.
What makes this season even more special is the academic woes that plague the school currently. It is a very real possibility that the school could close due to its financial crisis. However, while the school is struggling, the basketball team is not.
Unlike many other schools in today's high school basketball scene, its biggest and brightest stars are all bred within city limits. Alumni of the Clipper program include Wisconsin head coach Bo Ryan and NBA guard Jameer Nelson. Sacramento Kings star Tyreke Evans grew up in Chester, and if not for choosing to attend a private school, he would have also donned the black and orange.
They have won seven AAAA state championships in Pennsylvania including last season. This year they are looking to repeat as champions and become the first team in Pennsylvania to do so since 1988. The catalyst behind their current dynasty is their star junior, Rondae Jefferson. 
One of the hottest debates that can be heard on every city street is which Chester High School team is the best in school history. The whispers are growing louder now that the 2011-2012 team could be chasing perfection, and as a result, would become the best high school team their community has ever fielded.
Rondae Jefferson is the leader. He was blessed with a long and athletic frame, owner of a condor-like wingspan. He dribbles like a 6'0" point guard, only towering above similarly skilled lead guards at 6'7". He can rebound like a power forward, has court vision like a point guard, can shoot the ball like a talented shooting guard and throws down game-changing dunks on a regular basis.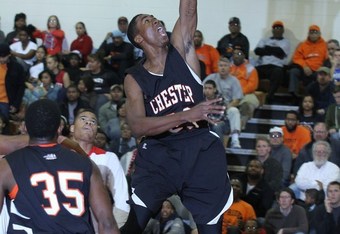 He is one of the 20 best juniors in the country and looks like he will be the most sought after recruit in school history. A slew of Big East conference powers are interested in the point-forward, as well as other big time programs from coast to coast.
In one of Chester's most dazzling victories so far this season, a 65-53 victory over New York City power Christ the King High School, he dazzled the crowd on his way to 18 points,16 rebounds, four assists, four steals and two blocks. 
With the Clippers steadily rising to the top of the national rankings, he is also carrying an entire community on his back. No matter how much bleakness may cloud the city throughout the year, during the winter, all that matters is just how good the Clippers will be.
A perfect example of just how celebrated Rondae Jefferson is within city limits came last season after his team won their seventh state title. As the guest speaker at the Chester Middle School basketball Scholar Athlete Banquet, he stressed the importance of staying in school and respecting your teachers. As a way to cap off the evening, he led by example in announcing that he was an honor-roll student.
The crowd went crazy.
It's easy to see why the young star is beloved in his home city. He is a larger than life figure, looking to lead a team, as well as his city, to uncharted territory. In the process he will undoubtedly change the course of a few young lives, young children who want to emulate what Chester basketball is all about. 
Chester basketball is Rondae Jefferson.