Ravens vs. Patriots: TV Schedule, Live Stream and More for 2012 AFC Championship
January 18, 2012

Al Bello/Getty Images
The New England Patriots and Baltimore Ravens finished the regular season as the best two teams in the AFC.
They were both fortunate enough to see their challengers last week upend what would have been tougher opponents. Baltimore still wasn't brilliant against Houston, but they won and that is what matters.
The Patriots demolished the Denver Broncos—a team that was lucky to be there—and they're out for revenge against a Ravens team that sent them home two years ago.
Where: Gillette Stadium; Foxborough, Massachusetts
When: Sunday, Jan. 22—3 p.m. EST
Watch: CBS
Live Stream: NFL Game Rewind
Betting Line (according to Scores and Odds): Pats (-7.5) 
What's At Stake? 
A Super Bowl Berth. It doesn't get much simpler than this: win and play for the Lombardi Trophy. Nothing else is at stake, and nothing else matters but making it to Indianapolis.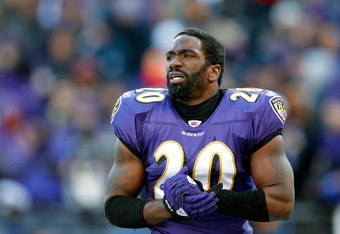 Rob Carr/Getty Images
Ravens' Injury Report (via StatFox)
Ed Reed, S—Probable (Ankle)
Patriots' Injury Report (via StatFox)
Mark Anderson, DE—Questionable (Leg)
What They're Saying
Peter Schmuck of the Baltimore Sun hits the nail on the head for what the Ravens need to do in this game:
For the Ravens to upset the Patriots in Foxborough, the Ravens defense will need to spend a lot of quality time on Tom Brady's chest, and Suggs is the guy who leads the team in the stats that suggest they are capable of doing that.
Karen Guregian of the Boston Herald talks about the biggest difference between this game and the one these two teams played two years ago in the postseason:
This time around, Brady is well-armed and able to write a different story. Beyond having his line do a better job of protecting, Brady is better equipped to deal with the Ravens defense thanks to an arsenal of receivers and tight ends who know how to get open quickly.
Ravens Player to Watch: Terrell Suggs, OLB
The NFL's best defensive player this year has done a lot of talking. He's certainly backed it up and is already receiving awards from various publications.
This weekend, he'll have to the lead the charge and do what everyone says they have to do when playing the Patriots: hit Tom Brady.
The only way to beat New England is to either outscore them (highly unlikely) or put Tom Brady on his back.
Suggs had 14 of the Ravens' 48 sacks this year and forced seven fumbles. If he can find a way to Brady, or at least force the Patriots to send two or three guys to his side of the field, they'll have a chance in this game.
Patriots Player to Watch: Tom Brady, QB
We know what Brady can do and how dangerous he is, but how will he respond if he is hit?
The fiery and competitive leader of the Patriots has been known to get heated when the hits start coming, and it will be critical for him to keep his composure throughout this contest.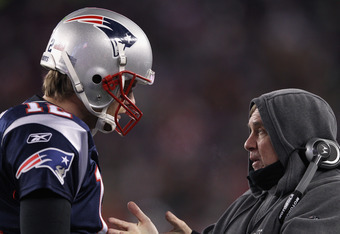 Elsa/Getty Images
If given time, Brady can light up any secondary, but he has to be mindful of where Ed Reed is as well. Reed cannot only manipulate what Brady sees, but he can cover ground as good as anyone.
Key Matchup: Patriots O-Line vs. Ravens Front Seven
The last time these two played, the key stat line for Brady looked like this: three sacks, three picks and a 49.1 quarterback rating.
The Patriots will not win with games like that, and they lost that showdown 33-14.
New England has a much better receiving group this time around, but it will mean nothing if the Ravens are in the backfield before Brady can even see the field.
On the Hotseat: Joe Flacco, QB, Ravens
He'll continue to be on the hotseat until he helps the Ravens advance to the Super Bowl.
Prediction: Patriots 31, Ravens 21