Bob Hope Tournament: Clinton, Norman, Woods and Romo in Top Ten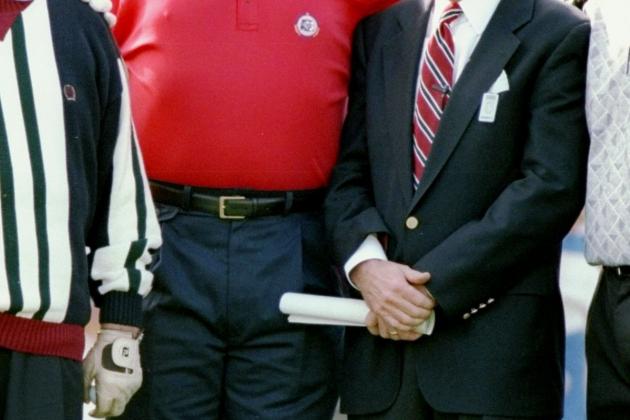 J.D. Cuban/Getty Images
President Ford, Bob Hope, President Clinton, PGA Tour's Tim Finchem, Scott Hoch, President George H.W. Bush
Bill Clinton played in the Bob Hope Tournament in 1995 as sitting president in an historic five-some that included George H.W. Bush, Gerald Ford, Bob Hope and defending champion Scott Hoch. He recalled the day in an interview with The Desert Sun.
With his support for the tournament, Clinton follows in the presidential footsteps of Dwight D. Eisenhower and Gerald R. Ford, but he is the first Democrat to forcefully embrace golf since Kennedy.
"All of us had problems with our games," Clinton recalled in an exclusive interview with The Desert Sun. "I was hitting the ball long and to the right, and George and President Ford were hooking to the right, and they were always joking about how they hadn't hit any spectators yet. It was a bad day for us, but we had the time of our lives."
A member of the secret service had a better joke about the presidential games. He said Clinton was hitting it left, Bush was hitting it right, and nobody knew where Ford's ball would go.
Begin Slideshow

»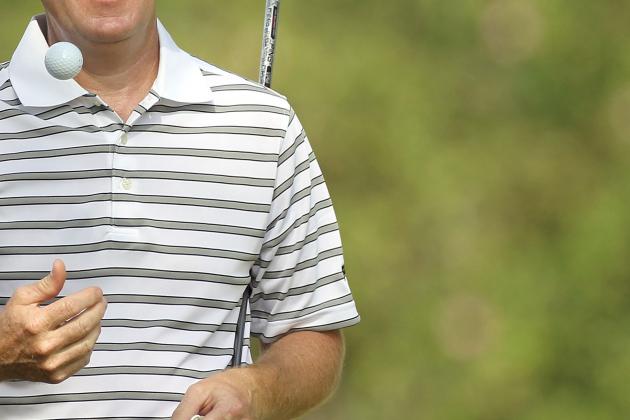 Sam Greenwood/Getty Images
Jeff Maggert
47-year-old Jeff Maggert, former winner of the first Accenture Match Play, contended in Hawaii, at least until Sunday when he backed up with four bogeys. Maggert gets bonus points for going through Q-School last fall to get his Tour status back.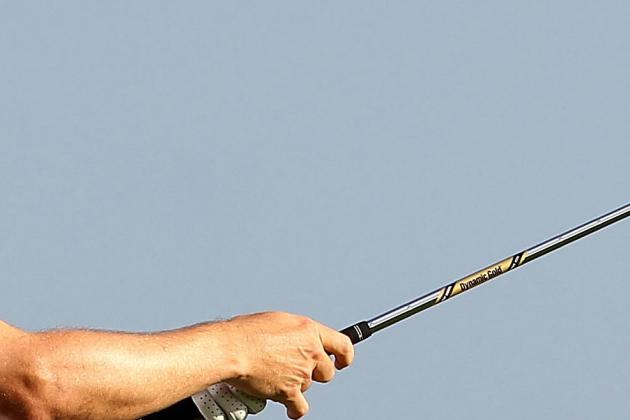 Sam Greenwood/Getty Images
Zach Johnson
But it's Zach Johnson, not Dustin Johnson. Apparently the PGA Tour sends players text notifications when they are leading a stats category because that's how modest hitter Zach Johnson found out he was leading in driving distance after the first round of the Sony Open. The Tour picks two holes each week and measures drives on those. During Zach's round the wind switched and he caught both of the driving holes when they were playing down wind.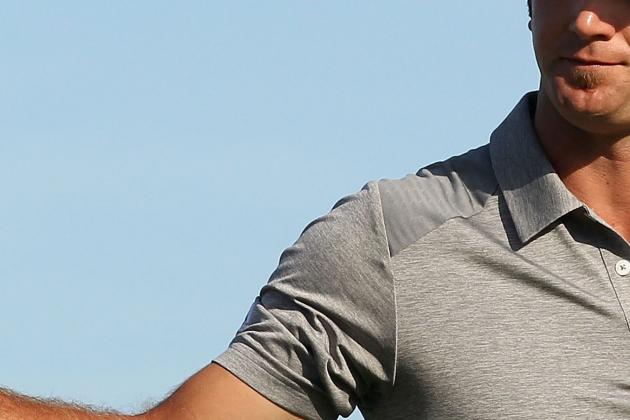 Mark Nolan/Getty Images
Dustin Johnson
Dustin Johnson, that is, although he's still apparently questionable for the start. At least he did not try to come back too early after his November knee surgery. Vijay Singh did that and messed up his swing, overcompensating with the rest of his body. He and got into bad habits and has had a couple of mediocre years. Dustin, if you need it, take another week or two. Golf will be here when you are ready.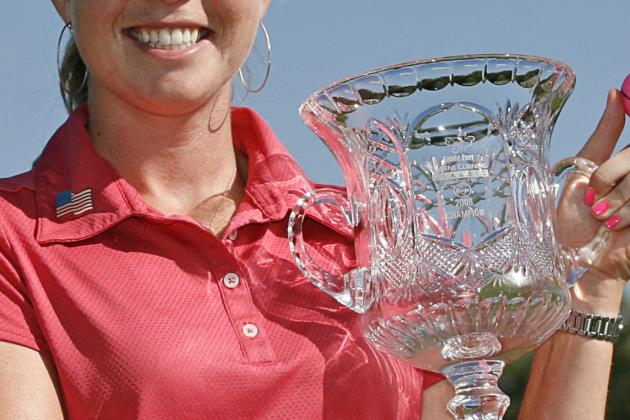 Hunter Martin/Getty Images
Paula Creamer, former Jamie Farr winner
Jamie Farr, born Jameel Farrah in Toldeo, Ohio, has long been a favorite of television fans, particularly after playing Corporal Klinger on Mash. Starting in 1984, there was an LPGA event in Klinger's and Farr's hometown. Then the lights went out. After a few years of hiatus, the tournament gets a mulligan, thanks to sponsors Owens Corning, Owens International and Kroger. The only question is how will Klinger look in one of Michelle Wie's short skirts?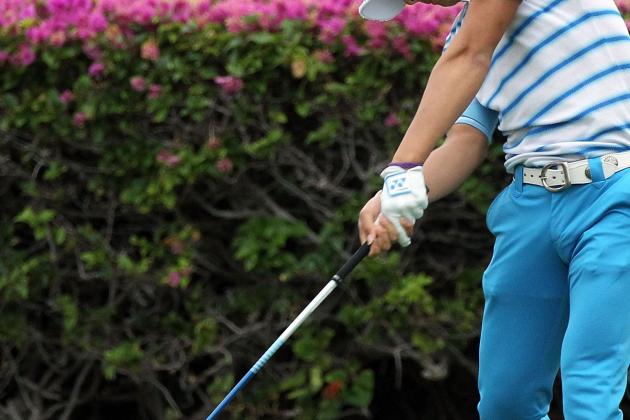 Sam Greenwood/Getty Images
Ishikawa at Sony Open
Japanese phenom Ishikawa has announced that he will play the Farmer's Insurance Open, the Northern Trust Open, Accenture Match Play and Transitions. Talk about frequent flier miles.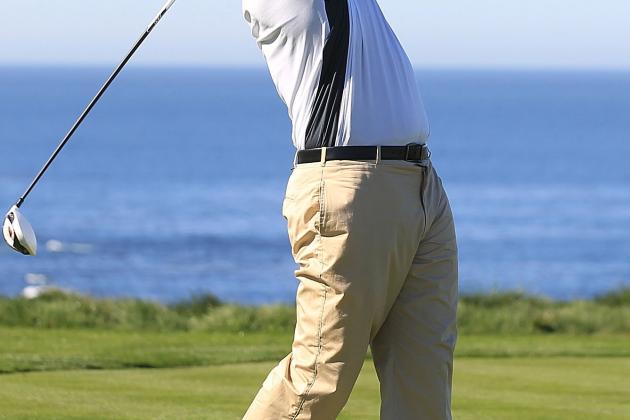 Jed Jacobsohn/Getty Images
Tony Romo at AT&T
Tiger Woods and Tony Romo will partner at the AT&T Pebble Beach National Pro-Am. Think they will have much of a gallery? Too bad Pebble is not built for stadium golf.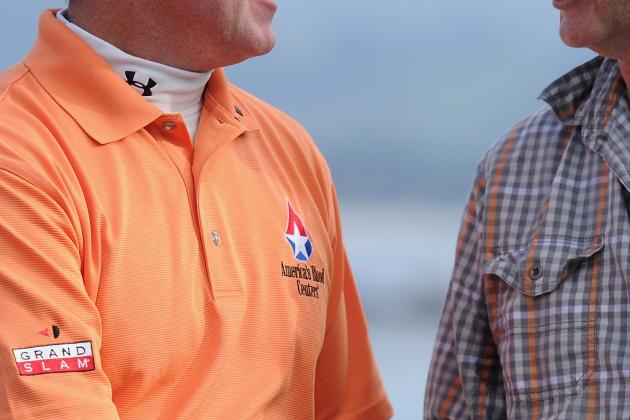 Stuart Franklin/Getty Images
Points and Murray
Only in today's world. You never call, you never write. Yet, sometimes you text. Texting must have been invented by a guy. Say as little as possible and at the last minute. That's how DA Points and Bill Murray confirmed that they would be each other's "date" for the AT&T National Pebble Beach National Pro-Am. Murray never has to win at anything again after taking last year's top prize. He has done what Jack Lemmon and a host of celebrities were never able to do. Win it. And as DA says, "ILL!" (For those not in the know, the answer is ILI.)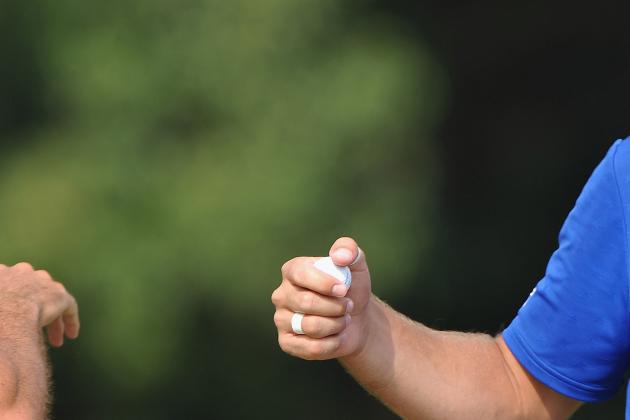 Stuart Franklin/Getty Images
Matt Kuchar (L) with Gary Woodland (R) at World Cup
Long-hitting Gary Woodland made several recent changes. Golfweek reported his latest one is to leave his coach in Dallas and to join the many who have learned from Butch Harmon. "Butch has taken people where I want to go," Woodland told the publication.
Talk about job security. Harmon keeps trying to retire and people just will not let him.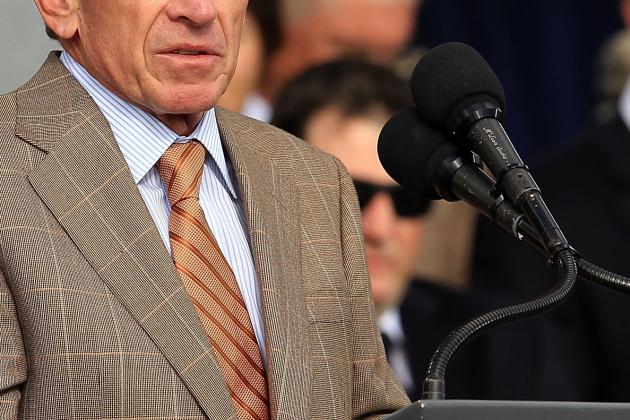 David Cannon/Getty Images

PGA Tour Commissioner Tim Finchem got a four-year extension to his contract. He should get something for piloting the best corporate sport through the worst economy we have seen since the D-word.
Jonathan Ferrey/Getty Images
Foremr President Bill Clinton will play with Greg Norman and Phil Mickelson. Talk about star power.
Bill Clinton and Greg Norman are reunited at the Humana Challenge for the third round. Scott McCarron will be their third. Talk about star power in golf. People who think Tiger Woods is big stuff and never saw Norman play are in for a surprise. And we will have to see how Clinton does without the presidential handicap. Former president George H.W. Bush said the big difference between playing golf as president and as a former president was that, as president, everyone said, "That's good," when he had a three footer. And after he left office he had to make all the putts.