WWE Royal Rumble 2012: Thoughts and Predictions on This Sunday's PPV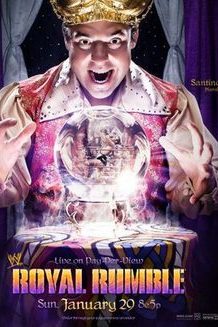 *CONTAINS SMACKDOWN SPOILERS*
It's the first Big Four PPV of the year and the beginning of the Road to WrestleMania. Last year saw a temporary increase to the number of competitors in the big match with little success. Unfortunately, the event did not live up to its potential.
Only two of the extra spots were filled by returning stars and one was taken by Hornswoggle... The winner Alberto Del Rio never made much of his win, since he entered at No. 38 and also failed to make good of his title opportunity at that year's WrestleMania.
Then of course there was that whole Santino Marella making it to the runner-up stage malarkey.
This year sees the event revert back to its standard 30-man format and thus hopefully a fresh start for the big match. For the past few years the Rumble has failed to provide more than a big push for the winner, where as in the past the match could have served useful for several wrestlers.
Despite the flaws, however, the match usually still provides reasonable entertainment for the evening and so I rarely have complaints.
Last Year's Card
World Heavyweight Championship: Edge(c) Def. Dolph Ziggler
WWE Championship: The Miz(c) Def. Randy Orton
Diva's Championship: Eve Torres Def. Natalya(c), Michelle McCool and Layla (Fatal Four-way)
Alberto Del Rio Won the 40-Man Royal Rumble Match
Begin Slideshow

»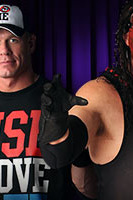 With John Cena having his place in the main event of WrestleMania booked since last year, I would have predicted that he would have been having a basic filler feud—a match that usually starts off because of something small (e.g. Cena being attacked for a reason) and then culminates in a match or two, where the hero easily overcomes the odds. A rivalry with no consequences, so to speak.
Yet, his feud with Kane has developed into something more and we could very well see Cena's character develop onwards for the first time in many years.
Let me quickly say that I don't think we will see a Cena heel turn, since that seems to be the standard question when it comes to WWE's top face. The guy is still too marketable to a general audience, as proven by his deal with Fruity Pebbles. At the most we can hope for a character change. Maybe he will become a more aggressive performer after his ruthless attack on Jack Swagger.
Since we are two months away from Cena's big clash with The Rock at WrestleMania, it is likely that this battle will spill over into the next PPV. However, I don't see either man taking a loss and will probably get out of hand.
Expect this one to go out of control and end in a No Contest
Result: No Contest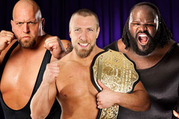 Poor Daniel Bryan, when you make an alignment turn in professional wrestling, there is always a calculated risk. There is no guarantee the crowd will react in the right way—and yet, Bryan has seemed to overcome this challenge.
Then again, he is against career heel destroyer Big Show in this feud which puts his credibility in danger. After all, the World's Largest Athlete has not just made top heels look ridiculous, but entire factions. Both the Straight Edge Society and The Corre failed to overcome the former World Champion.
To pile on the angst is Mark Henry.
In the end, Daniel Bryan is fighting against two people whose statures mean he can't showcase his true strengths in the ring. Or at least in today's WWE he can't showcase his true skills.
Roughly ten years ago, guys like Big Show and Mark Henry were easily felled by technical submission wrestling as a way of putting over smaller guys when the occasion required. Today they are made impervious to such moves as a large chunk of the live audience perceive it is a slow and boring form of entertainment.
As for the upcoming match, the outcome seems predictable. Since it's a cage match, Show and Henry will at some point take each other out and Bryan will scurry out of the cage (or at the very least scavenge a pin).
Winner and Still Champion: Daniel Bryan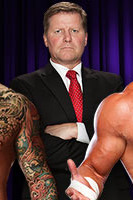 So far CM Punk has lived up to his words from November and has temporarily ended the hot potato mentality with the WWE Championship. He has also made a few defenses on Raw, which is nice to see in a day when WWE doesn't like to give anything away for free.
Punk's challenger this month is Dolph Ziggler, who was tested for his main event abilities this time last year when he faced Edge for SmackDown's World Heavyweight Championship. He has come a long way since last year where I could see him either making or breaking it, but now I 100 percent see him as a future mainstay of the company.
This match also sees the further development of the feud between CM Punk and John Laurinatis. The Executive Vice President of Talent Relations and Interim General Manager of Raw has cost Punk a few of matches recently and although he pleaded innocence, he was eventually coerced into revealing his true intentions.
I was wondering whether there would be a special referee after this development, but saw a plot device last Monday that would ensure the GM would play clean. The next night will see Johnny Ace get evaluated by Triple H on whether he is fit enough to continue the job. This is pretty much the element that has thrown the match back into Punk's favour.
When the odds become so stacked against a certain wrestler before the match, they usually overcome the problem somehow. I feel it will be no different with CM Punk. I expect the Straight Edge Superstar to carry the belt into WrestleMania, so a victory will happen one way or another.
Winner and Still Champion: CM Punk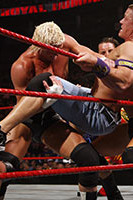 So before reading up on the latest SmackDown spoilers, I had pretty much two favourites going into this. They were the obvious choices of Chris Jericho and Randy Orton.
Jericho was one choice because it seems very likely that he will go on to face CM Punk at WrestleMania. He targeted him when he wasn't wrestling and it seems like the match everyone wants to see. WWE have also placed a lot of emphasis on his silent run all month. The Rumble is probably the last major wrestling event Jericho needs to win to top off a fantastic career.
As for Orton, he was "out-injured" and is going into St. Louis as the hometown hero. A surprise return with a huge pop makes for a good moment, but possibly a little too close to John Cena's 2008 Rumble return. Either way, it was a safe bet to make.
This week has cemented my decision. Firstly, Jericho finally spoke on Raw claiming this Sunday would be the end of the world as we knew it. Whilst this could suggest he has plans to screw CM Punk out of his championship, I believe he has something special planned for the big match.
In addition to this, Randy Orton made his return on SmackDown excluding a surprise return. While he is still the hometown hero, the surprise element was what I was hedging my bet on and it no longer exists.
Winner of the 2012 Royal Rumble: Chris Jericho