Ravens vs. Patriots: Spread Info, Line and Predictions for 2012 AFC Championship
January 18, 2012
Elsa/Getty Images
When the Baltimore Ravens square off against the New England Patriots in Foxborough this week to decide which team will represent the AFC in the Super Bowl, it won't be a game.
It will be a war.
These are two of the toughest teams to beat in the NFL, but like the immovable object and the unstoppable force, something has to give. Even if you don't have a horse in this race, sit back and enjoy some of the best football a fan could ask for.
Patrick McDermott/Getty Images
Where: Gillette Stadium, Foxborough, Mass.
When: Sunday, January 22, 3:00 p.m. ET
Watch: CBS
Live Streaming Audio: NFL.com Audio Pass ($29.99 for year, $27.99 team specific, $9.99 a month)
Listen: Sirius Satellite Radio
Betting Line: Over/Under: 50.5, Spread: New England -7.5
This is one of those games where I feel the line is right on. I have the Patriots winning a very close game that will be much lower scoring than I have seen on other sites. I expect 51 points, so I would feel comfortable going with the over or staying away from that bet in general. On the other hand, I feel the Ravens will give the Pats a solid game and should cover the spread easily.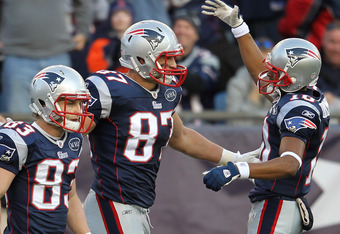 Jim Rogash/Getty Images
What's at Stake?
A Super Bowl berth, it's as easy as that. There is no reason to hold anything back this week, so you should expect a heavyweight fist fight on Sunday. Both teams are trying to vindicate themselves from their recent playoff failures and this is the best chance to do it.
Patriots Injury Report: NFL.com
Wes Welker, WR, Questionable
Brandon Spikes, LB, Questionable
Logan Mankins, G, Questionable
Ravens Injury Report: NFL.com
Brendon Ayanbadejo, LB, Questionable
Jameel McClain, LB, Questionable
Anquan Boldin, WR, Probable
What They're Saying
The Baltimore Ravens' official Twitter page sums up what the Ravens-Patriots rivalry has become: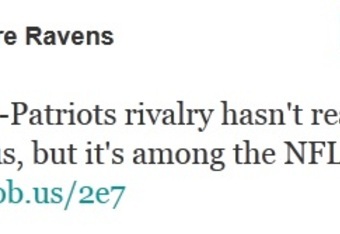 Patriots Football Weekly assistant editor Andy Hart is reporting what Patriots head coach Bill Belichick (BB) had to say about the Ravens vaunted defense: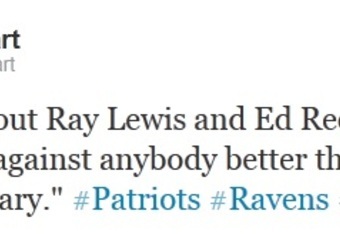 Patriots' writer for ESPNBoston Mike Reiss shares an amazing stat that will decide this week's AFC championship: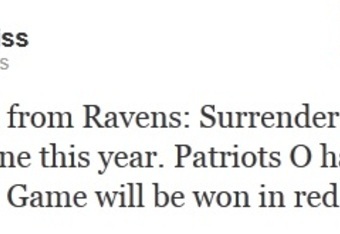 Even New York Yankees legend Dave Winfield wants to get in on the fun: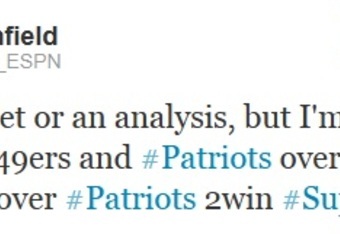 Key Matchup: Ray Rice vs. the Patriots Front Seven
While the New England Patriots are heavy favorites, there is a way for the Ravens to travel to Foxborough and shock the NFL.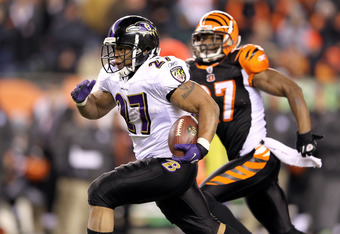 Andy Lyons/Getty Images
Ray Rice.
Just like the New York Giants did against the Patriots in the 2008 Super Bowl, if the Ravens can keep the ball in their possession by running it efficiently and taking the pressure off young quarterback Joe Flacco, they can win.
That means more Ray Rice on the ground and more in the passing game as well. Get the ball to Rice in open space and the Patriots' 30th ranked defense will be planning their February golf outings in Bermuda instead of traveling to Indianapolis.
All for not, though.
Prediction: Patriots 27, Ravens 24
Check back for more on the National Football League as it comes, and check out Bleacher Report's NFL Page to get your fill of all things football.