2012 NFL Draft Projections: Which Receivers Will Be Taken in Round One?
January 18, 2012

Mike Ehrmann/Getty Images
And now to my favorite position to attempt to project—wide receivers.
The receiver position can be a tough one to scout, because—more so than perhaps any other position other than quarterback—gaudy college numbers don't necessarily translate to success at the NFL level.
Some guys look fast in college that suddenly look a whole lot slower in the pro game. Some can't get off a jam of the NFL's more physical cornerbacks.
With that in mind, let's take a look at some of the receivers I expect to be first-round picks this April.
Justin Blackmon, Oklahoma State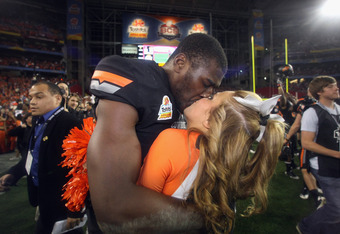 Donald Miralle/Getty Images
Analysis: Blackmon isn't just a first-round lock as I've seen him as high as No. 2 on some mock drafts.
While I'm not as high on Blackmon as others—the comparisons range from Terrell Owens (lofty) to Anquan Boldin (realistic) to Michael Crabtree (this might be underselling Blackmon a bit)—it's hard to imagine him dropping past the 10th pick, and he very well could go as high as No. 2.
First-round status: Lock
Alshon Jeffery, South Carolina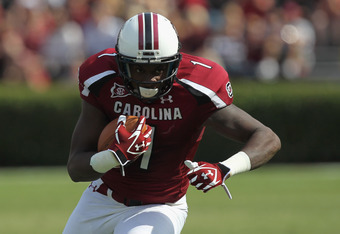 Streeter Lecka/Getty Images
Analysis: Jeffery is my favorite receiver in this draft, as he is an absolute beast at going up and plucking the ball from the air.
While he doesn't have the top-end speed of a Calvin Johnson, he should be an excellent possession and red zone receiver who can also beat teams down the field similar to—though I think ultimately better than—Brandon Marshall.
First-round status: Lock
Michael Floyd, Notre Dame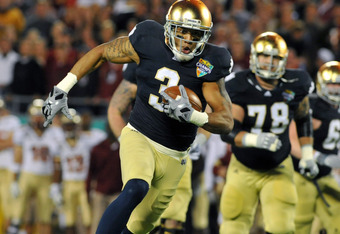 Al Messerschmidt/Getty Images
Analysis: The clear third option in this draft, Floyd is a safe bet to be a productive receiver at the NFL level. He's not as flashy a selection as either Blackmon or Jeffery, but he'll be a reliable option for years to come.
I'd expect Floyd to be selected in the middle-to-late first round.
First-round status: Lock
Kendall Wright, Baylor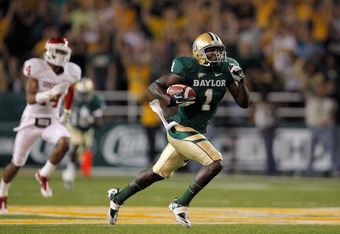 Sarah Glenn/Getty Images
Analysis: Kendall Wright has good speed, excellent leaping ability, is very quick, runs solid routes and is an option as a return man in the NFL. 
So why is it possible he could drop out of the first round? 
One main reason: He's not very big and teams might be hesitant to use a first-round selection on him if they fear he could have durability concerns in the future.

I think Wright will probably end up being selected in the first round. But it isn't a lock.
First-round status: Probable
Mohamed Sanu, Rutgers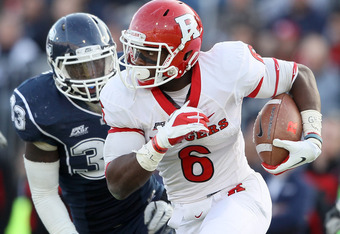 Elsa/Getty Images
Analysis: In my book, Sanu is the last of the receivers that could be taken in the first round. A very good athlete, Sanu seem more likely to be a second-round pick but could sneak into the back-end of the first round.

First-round status: Possible
A few names to keep an eye on: Dwight Jones, North Carolina; Nick Toon, Wisconsin; Rueben Randle, LSU.
Hit me up on the Twitter—my tweets are FDA approved.