Tim Tebow's 20 Hottest Fans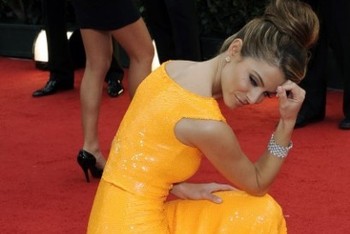 Right now, it seems that the Denver Broncos' wholesome and handsome quarterback, Tim Tebow, only has eyes for two things: football and Jesus. So, it's pretty ironic that the virginal Tebow has attracted the attention of some of the most beautiful and desired women in the country.
The fact that he seems to have absolutely no interest in any of them is just increasing their Tebow fevers. Admit it—you are seriously jealous. Tebow is beating off Playboy Playmates with a stick, and you are working around the clock on ways to improve your game in hopes that just one Playmate might notice you.
Well, if you're jealous now, things are only going to get worse. Let's take a look at 20 of the hottest Tim Tebow fans.
Hiromi Oshima, Playboy Playmate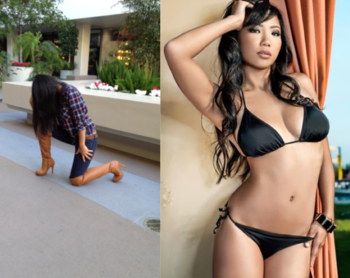 Hiromi Oshima may be the first Playboy Playmate you'll see Tebowing on this list, but she sure as hell won't be the last.
Dianna Agron, Actress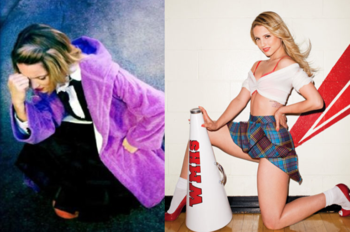 In November 2011, Dianna Agron, an actress that you've probably never heard of, Tweeted this photo and:
"Do you Tebow? #tebowing http://yfrog.com/ntogvszj"
Do I Tebow? No, because I'm a football fan. I'm not an attention-seeking idiot.
Irina Voronina, Playboy Playmate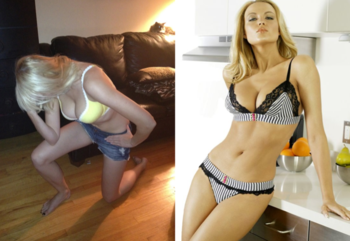 Russian born model and "actress," best known for her appearance in Playboy, Irina Voronina recently pretended to be a Tebow fan for attention. And attention she received. Hey, can't hate on that—she looks good as hell in those daisy dukes.
Judy Greer, Actress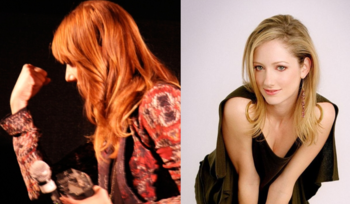 Actress Judy Greer knows what it's like to be an underdog—she's played the less attractive, but super sassy, best friend in almost every movie ever made.
Not that Tim Tebow is an underdog, but he's said it enough times that people just assume he's telling the truth. Even though he isn't. At all.
Leola Bell, Playboy Playmate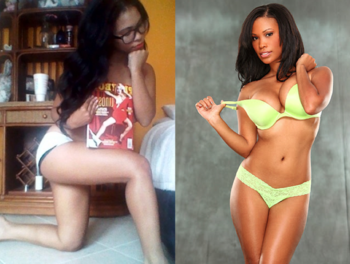 Apparently, Playboy Playmate Leola Bell is a Tim Tebow fan as well as a Lindsay Lohan fan. That's the best press Lindsay Lohan has gotten in years. Hiyo!
Karina Smirnoff, Dancing with the Stars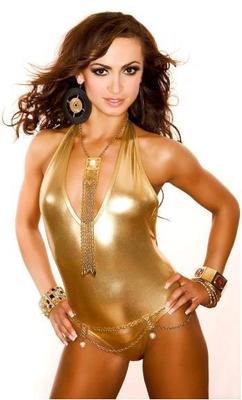 According to a USA Today report in January 2012, Dancing with the Stars pro Karina Smirnoff has a fever and the only prescription is more Tebow. Smirnoff told the paper:
All I want for my (34th) birthday is for Tim Tebow to dance on Dancing with the Stars. Tim is a very talented athlete, that was clear when we saw his performance this past season with Denver. All (that) is missing is to see if he has the dance skills. That would make him an all around athlete and someone that I would love to dance with on the show.
Yeah, that's all that's missing.
Iryna Ivanova, Playboy Playmate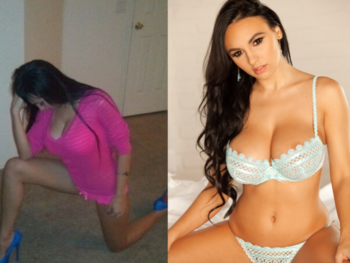 This is Playboy Playmate Iryna Ivanova Tebowing. I know what you're thinking, because I'm thinking the same thing: How on earth does she not topple over face first in that position?
OK, maybe that's not exactly what you were thinking…but you must be wondering now.
Lindsey Vonn, Skier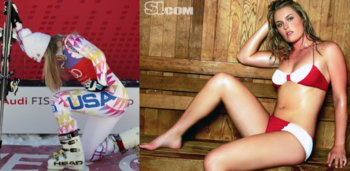 Olympic skier Lindsey Vonn announced her divorce in late 2011 and before you knew it, she was linked to most male members of the Tebow family. There were reports that Vonn might be dating Tim's older brother, but it seems that she's desperate for attention or she clearly favors the younger Tebow.
Jaime Edmondson, Playboy Playmate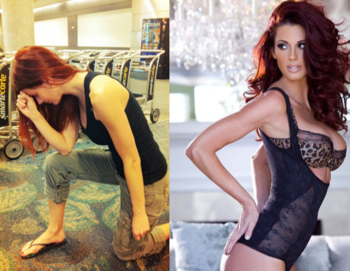 Playboy's resident sports fantastic Jaime Edmondson is Tebowing in more clothes than most of us have ever seen her in. What's up with that?
Maria Menounos, TV Host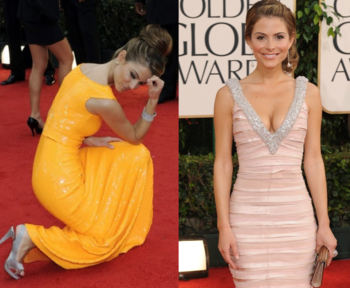 This is Maria Menounos, the lovely and talented host of various tabloid trash television shows, Tebowing at the 2012 Golden Globes. Menounos is a hardcore Celtics fan, but obviously isn't much of a football fan, considering she's saluting the Broncos QB the day after the Patriots humiliated him.
Jessica Hinton, Playboy Playmate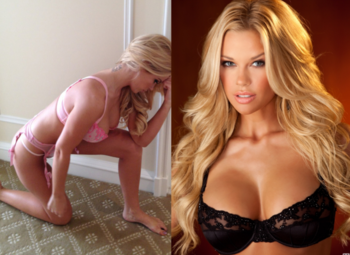 And this is very beautiful Playboy Playmate Jessica Hinton, a New York sports fan, Tebowing in her underwear in what looks to be the hallway of a hotel.
Kassie Lyn Logsdon, Playboy Playmate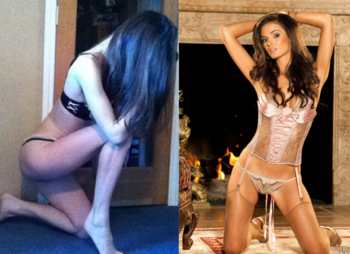 In January 2012, Playboy Playmate continued the proud tradition of bandwagon bunnies Tebowing in their underwear.
Nikki Benz, Porn Star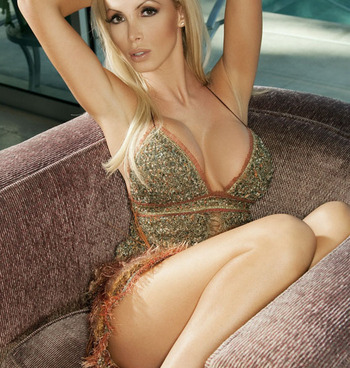 In January 2012, porn star Nikki Benz Tweeted:
"It's official! I gotta bang @timtebow"
That's right…Tim Tebow has been saving himself all this time for a 30-year-old porn star with 10-year-old boobs who decided to skip college in favor of a starring role in Strap on Sally 20.

I wonder if Strap on Sally 20 makes sense if you haven't seen Strap on Sally 1-19?
Riley Steele, Porn Star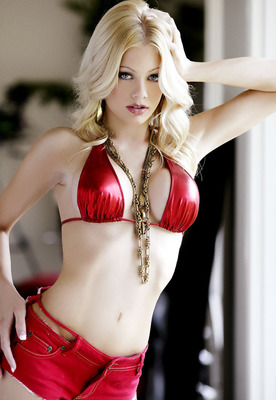 After Nikki Benz Tweeted about Tim Tebow, fellow porn star Riley Steele agreed, tweeting:
"@NikkiBenz @timtebow agreed ;o)"
Told you she agreed.
OK, so I know I was a little hard on Benz, but I'm kind of liking the idea with Ms. Riley. At 24, she's much more age appropriate, and her debut film, Pirates II: Stagnetti's Revenge, sounds like a much classier affair than Strap on Sally 20.


Summer Altice, Playboy Playmate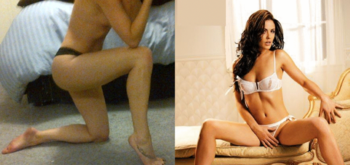 Summer Altice was Playboy's Miss August 2000. Well, at least her cultural reference is current, unlike the public's interest in seeing her naked.
Brooke Adams, Pro Wrestler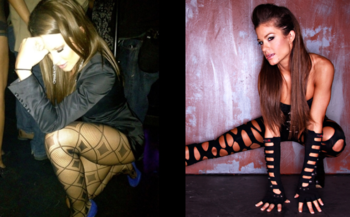 In December 2011, wrestler Brooke Adams tweeted:
"@Tebowing: Tebowing from @BrookeIMPAC: tebowing.com/post" What an honor to be a part of something so beautiful."
Very wholesome sounding for a Hooters girl, model, actress and the best air band player there is!!!…Humor is genus (sic)! #ASSTASTIC #Tessflockers
Claire Sinclair, Playboy Playmate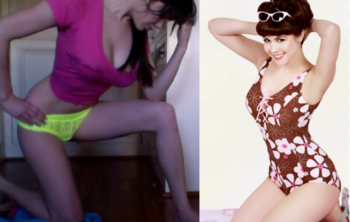 Apparently, nothing says "I'm a Tim Tebow fan" like saluting him in your underwear. And nothing says "I'm a classy broad" like dayglow panties and hot pink tank top.
Katy Perry, Singer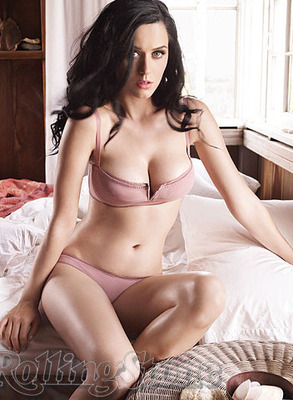 Recently, it's been reported that the uber-religious parents of soon-to-be-divorced poptart Katy Perry are trying to orchestrate a meeting between their daughter and Tim Tebow. Suppose they want something to wash away the stink left behind by Russell Brand's leather pants and expensive cologne.

A hard-partying smoker who kisses girls and is the ex-wife of Russell Brand—sounds like exactly the kind of girl Tebow is saving himself for.
Amanda Cerny, Playboy Playmate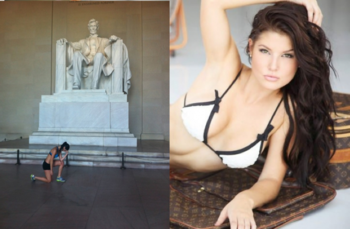 Fantastic. So now we're bringing Abraham Lincoln into the Tim Tebow circus. Honest Abe is looking down on this little bunny and (probably) thinking to himself:
I worked every day of my life, eventually became president, saved the union, defeated slavery and took one in the head, all for the sake of this country, and now, half-naked broads are desecrating my memorial by saluting mediocrity.
Erin Andrews, ESPN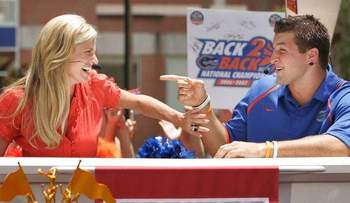 During a recent interview with GQ, ESPN reporter (and national treasure) Erin Andrews had this to say about Broncos quarterback Tim Tebow:
"Tim Tebow cannot dance, I know that. [laughs] Tebow can do a lot of things, but he can not dance."
Wonder what kind of things she's talking about here. Obviously, it's not completing passes in the NFL.
Bonus: Erin Drewes, Playboy Playmate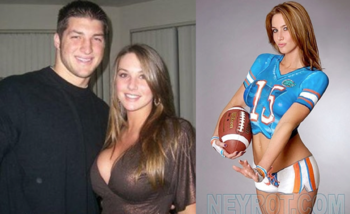 I think this girl is an ex-girlfriend, assuming she was ever a girlfriend to begin with. So basically, this girl who may or may not have dated Tim Tebow is, or was at some point, a fan of Tebow.
Maybe I'm just being nitpicky here, but if you're going to pretend to be a football fan to get attention at least try to get the colors right on your paint-on jersey. That garbage looks more like a Dolphins paint uniform.
Bonus: Gator Cheerleaders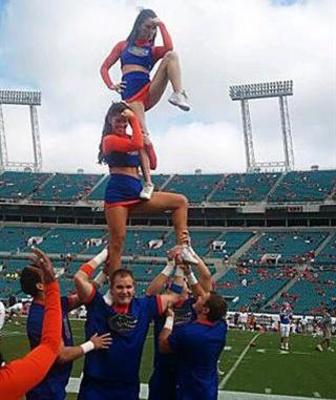 Cheerleaders at Tim Tebow's alma mater are contractually obligated to Tebow at least once every hour. Obviously kidding! They do it at least once an hour not because they want to, not because they have to.
Bonus: Girl Who Wants Teboned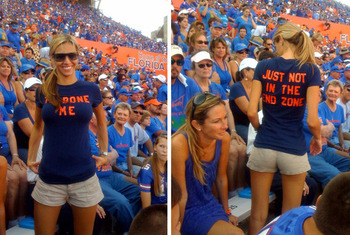 This is a Gators fan who knows what she wants. Mom and dad, who may or may not have dished out 50 G's for her education, must be so proud.
Keep Reading