2012 NFL Free Agency: Predicting the 10 Biggest Free Agent Steals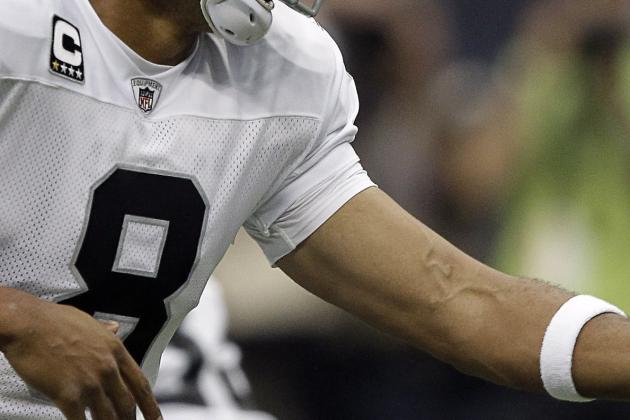 Bob Levey/Getty Images

Apparently, the football gods have decided that after a spastically condensed free agent period in 2011, they will reimburse us with one of the deepest markets in recent history as we enter free agency this winter.
At first glance, there are a number of marquee players who will undoubtedly attract the most attention from potential suitors. There are game breakers aplenty as talent like Drew Brees, Matt Forte, Arian Foster, and even Wes Welker enters the open market. Even up and coming superstars like Matt Flynn and Mike Tolbert enter the fray as potential breakout players, demanding high dollars for their future services.
I believe though, that the true girth of talent in this market can be found in those players who might become casualties of their current team's priority list. Teams like the New Orleans Saints have their hands mightily full this offseason with a flurry of players becoming free agents, including invaluable all-pro quarterback Brees.
Here are 20 players who might become collateral damage from the distracted attention of a General Manager, and could end up being the bargain basement deal a team in need is looking for.
Begin Slideshow

»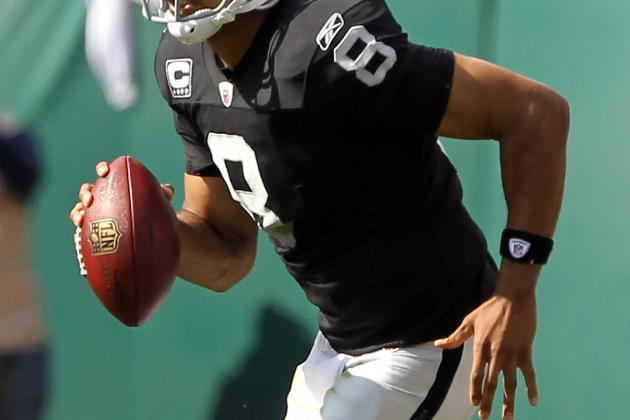 Ezra Shaw/Getty Images

Last year's signal caller for the Oakland Raiders is not the first player to be sacrificed at the altar of Davis, and he certainly will not be the last. For the first time in decades though, a player's fate in Oakland will not be sealed by King Al, instead sent away by Prince Mark, yet the writing still remains clearly on the wall for Jason Campbell.
The moment the Raiders made the fateful decision to mortgage their future on obtaining the rights to ex-Bengals signal caller Carson Palmer, Campbell became expendable to the silver and black.
Campbell's injury in week six against the Cleveland Browns prematurely finished a promising season for Campbell. Completing over 60% of his passes for over 1,100 yards and six touchdowns, Campbell led the Raiders to a respectable 3-2 start including wins against formidable opponents before suffering a season-ending broken collarbone.
Campbell's resurgence as a viable quarterback early in the 2011 season increases his stock in this free agent market. The likelihood that there are other quarterbacks available that will be more sought after than Campbell, make the probability that he will be picked up at a discount even greater.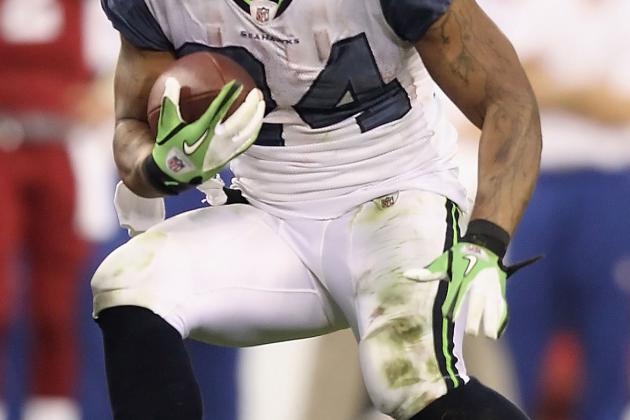 Christian Petersen/Getty Images

Only in Seattle could a rusher provide a team with 1,200 yards and 12 touchdowns and is rewarded by languishing on the open free agent market.
Many teams are justified in letting free agent contract negotiations wait until after season's end. The Saints did not handle their talks with Drew Brees; the Patriots have yet to talk to Wes Welker about anything other than an AFC Championship; the Ravens have not decided how many zero's will be scribbled in Ray Rice's next contract: and the 49'ers will not concern themselves over who will be under center next season for at least another week.
For the Seattle Seahawks, they had plenty of free time to consider their future relationship with their only legitimate offensive weapon.
With the NFC West divisional title decided months ago and a cluttered wild card race that certainly did not include the Seahawks, Seattle's reluctance to sign Lynch to a long-term contract leads me to believe they would (fool heartily) be open to letting him go free.
Lynch miraculously compiled a career year in 2011 with an organization that more often than not cannot seem to get out of its own way. I'm not sure if the Seahawks are under the impression that, like others on this list, interest will be limited in Lynch given the more prominent names on the availability list, but they surely need to get the ball rolling on retaining their prized rusher.
I can say with total confidence that while there is a vast number of teams that would love to add a 1,200-yard rusher to their offense, there are even more than would leap at the chance to do so at a discounted rate.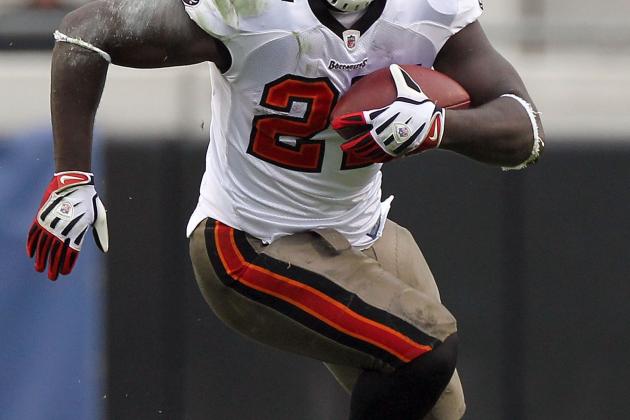 Sam Greenwood/Getty Images

As much as I absolutely despise the thought, my crystal ball sees the former Oregon standout dressed in Patriots red and blue next season. Blount has all the earmarks of another Belichick restoration project, a player who is unable to fulfill his vast potential until he is properly positioned for success.
Whether or not Blount actually does end up in Foxboro, he remains one of the most undervalued talents in this market. Rushing for more than 1,000 yards and six touchdowns in 2010, Blount was unable to repeat that level of performance in 2011 for the Tampa Bay Buccaneers.
In only his second year as a pro, Blount again showed glimpses of the raw talent that made him a collegiate standout but was unable to overcome a stagnant Tampa offense. In spite of the poor performances often put forth by the Bucs this year, Blount's 4.2 yards per carry average is sure to pique the interest of a team looking to boost their rushing attack.
Like most of the players on this team, Blount may also slip under the market radar because of the shadow cast by the more preeminent names at the top of the free agent list. With the majority of the football world wondering if beasts like Arian Foster, Matt Forte, Ray Rice, and even Peyton Hillis will stay put, Blount often becomes an afterthought.
Enter Mr. Belichick.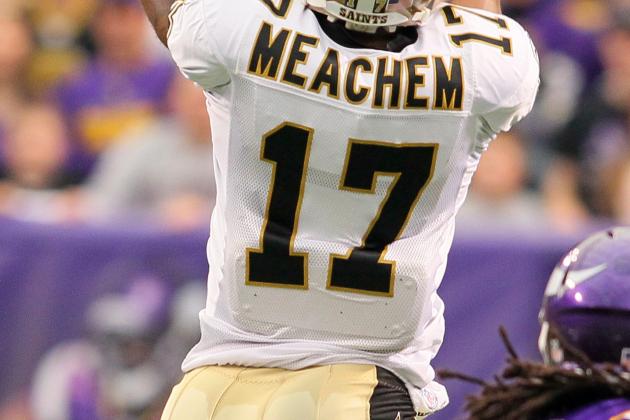 Adam Bettcher/Getty Images

The New Orleans Saints have a tremendous task in front of them this offseason with three huge components of their offensive core entering free agency.
The prized jewel of this free agent class, unrestricted free agent Drew Brees will undoubtedly command a contract of historic expense. The amount of effort that will have to go into those negotiations will require everyone adorned in gold and black to take a nap afterwards while the Saints bank account smolders.
The Saints will awaken to quite a delicate decision as it pertains to their offense. With receivers Robert Meachem and Marques Colston entering the free agent market together, which will be made a higher priority?
It would be difficult to imagine any NFL franchise being able to make three huge withdrawals in succession in order to pay for all three of these players without sacrificing their entire available salary cap. Meachem may end up being the odd man out.
Starting in only 8 games in the 2011 season, Meachem still accumulated a respectable 620 receiving yards and 6 touchdowns in those outings. Meachem's role in the Saints offense was limited even further this year thanks in part to an exploding Jimmy Graham at tight end.
Meachem can be a solid contributor on any vertically inclined spread offense and will more than likely be available at a reduced price. Meachem is an attractive option as a number two receiver and will surely attract suitors around the league.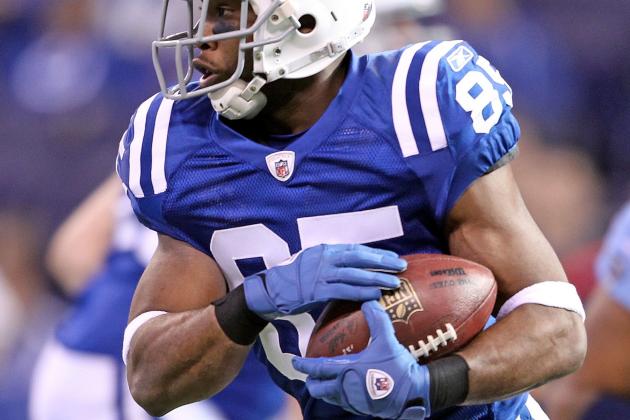 Andy Lyons/Getty Images

The Indianapolis Colts just may be the most intriguing organization going into this 2012 offseason. The hurricane conditions of their front office have led everyone to question where their path will lead them, including their position on retaining current talent.
The Colts reluctance to commit to several of their long tenured players leads one to wonder whom they would keep around should they topple the ultimate domino by releasing Peyton Manning.
A complete renovation of the Colts foundation has already begun, and it would be easy to envision the Colts stripping themselves of just about every preexisting piece, including receiver Pierre Garcon.
Garcon led the Colts in receiving with 960 receiving yards, nearly twice the yards as number two receiver Austin Collie. Considering the Colts anemic offense and atrocious rushing attack, it is clear that Garcon was the team's only satisfactory performer in 2011, but the imminent danger of a Colts' clearinghouse remains.
I believe Garcon, along with several other marquee names will be saying farewell to Indianapolis.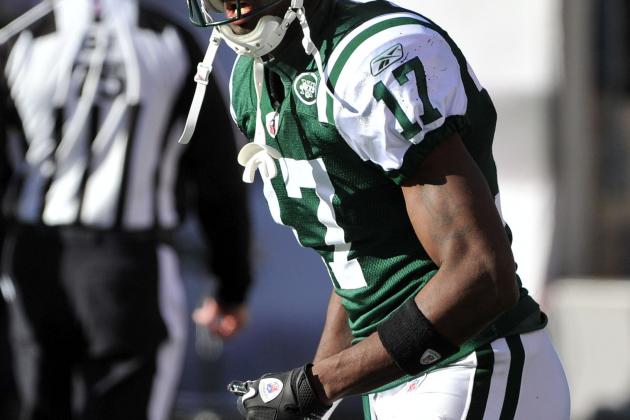 Christopher Pasatieri/Getty Images

The market viability of Plaxico Burress will be very interesting this off-season. Burress showed glimpses of the red zone effectiveness that made him a Pro Bowl selection with the New York Giants before his two-year sabbatical from the game.
Burress' play was also considerably inconsistent in 2011 for Rex Ryan and the Jets. Burress often struggled with gaining leverage on opposing defenders, and was often unable to find open space due to his noticeably limited mobility.
The intrigue that may be found in Plaxico, from a marketability standpoint, is in what could be and not what has been. How much of Burress' struggles in 2011 can be attributed from the veritable tire fire that was the NY Jets organization throughout the season? Can his limited touches be accredited to the ineffectiveness of quarterback Mark Sanchez?
A team that is looking for a complimentary receiver used in specific scoring situations may reach out for the former All Pro and given the discontentment within the current Jets locker room, Burress may be uncontested for by his current team on the open market.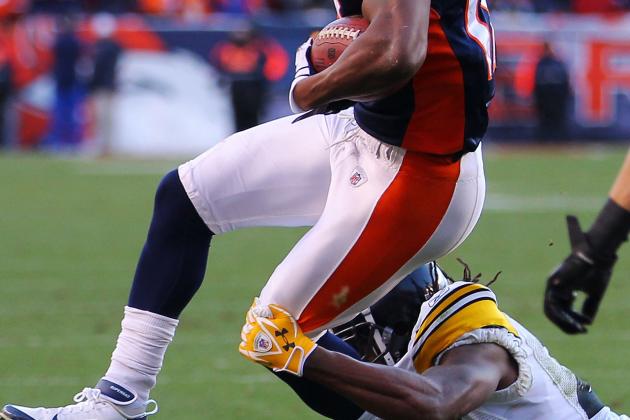 Doug Pensinger/Getty Images

The four-year roller coaster continues for enigmatic Broncos receiver Eddie Royal. After a breakout 980-yard rookie season, Royal has spent every alternating year since then falling short of expectations.
Royal seemed to right the wayward ship in 2010, nearly doubling his receiving yards from the previous season but returned to his underachieving ways in 2011, catching only 19 passes for a minute 155 yards and one touchdown.
It should be noted that the Broncos are interested in retaining Royal's services for at least the 2012 season as they look to build around freshly anointed franchise quarterback Tim Tebow, but Royal may be the only player on this list who may actually be better suited elsewhere and because of this may in fact end up there.
With the evolution of receivers Demaryius Thomas and Eric Decker as Tebow's most favored targets, and the rush-centric offense employed by Head Coach John Fox, the talented Royal may once again find himself as the odd man out in Denver next season.
I would argue that Eddie Royal might be the diamond in this free agent rough. Placed on the right team and given the right opportunity, Royal could easily reclaim his status as an elite receiver in the NFL. A team like Miami could benefit greatly from a reunion of former Bronco compatriots Royal and Brandon Marshall.
The possibilities are surely out there for the former Virginia Tech Hokie, but they may only be found outside the confines of Tebowmania.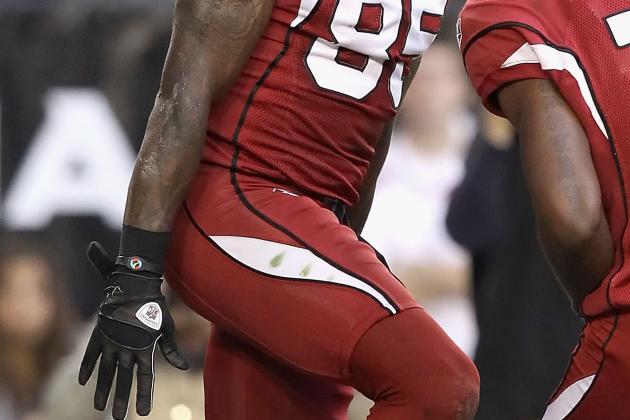 Christian Petersen/Getty Images

A precious commodity within the free agent market is a player who has quietly improved over the first few years of a young career while on a struggling team.
Like a boiling pot on a stove top, potential energy of an offensive weapon is released upon the world when its cover is removed. I believe Early Doucet will soon establish himself as one of these type players in the near future. Doucet has nearly tripled his rookie receiving yards in his sophomore season, improved upon that total in his third season, and more than doubled that number in his fourth season.
Doucet established himself as a strong secondary target in Arizona this season, behind only Larry Fitzgerald and raised his market value tremendously in spite of a struggling Cardinals offense.
Again, given the proper coaching and nurturing, Early Doucet could very easily become a viable number one receiver for a team in need. A team in a rebuilding phase such as Indianapolis could certainly put Doucet's talents to good use while taking the time to cultivate his skill set and allowing him to grow.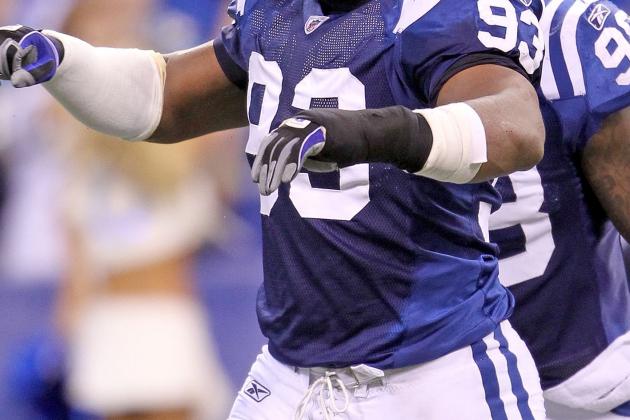 Andy Lyons/Getty Images

Yet again, we turn our attention to the whirlwind that is Indianapolis, this time looking closely at their most prized defensive free agent. A former three-time Pro Bowler, defensive end Robert Mathis enters his tenth NFL season with the potential of, for the first time in his career, entering a locker room not bejeweled in blue horseshoes.
Mathis' productivity dipped slightly in 2011, producing only 29 tackles over 15 starts, but his 9.5 sacks as a member of the Colts defense keeps him along the most valuable defenders on the market.
Mathis' age may be the only thing keeping him from being a more prominent free agent this season, as an inevitable reduction in quickness and agility that accompanies passing years jeopardizes a pass rusher's value.
Teams like the New York Jets may be able to slither their way into obtaining Mathis' services next season, as he would be a perfect situational bookend compliment to the resurgent Aaron Maybin. I would imagine it difficult for defensive guru Rex Ryan to pass on the potential combination of two edge rushers who combined for 15.5 sacks last season.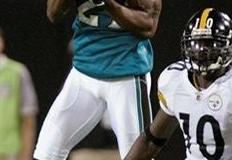 I have combined these two players as one final entry because of their similar situations as market commodities.
Both of these players entered the 2011 season fresh off very productive seasons on their respective sides of the football only to have their campaigns cut drastically short by knee injuries. These knee injuries unquestionably hindered their free agent value and rendered them among the possible steals, instead of the most prized jewels.
I have included them though because of the potential they both share should they be able to recover from their equally broken wheels.
Mathis ranked fourth on the Jacksonville Jaguar defense as a tackler, amassing 47 over the course of sixteen games while becoming one of the most dependable tackling corners in the league. In the nine games Mathis took the field for in 2011, he accrued 32 tackles and was on pace for 67 before his injury sidelined him.
In this, the era of the dive-and-miss tackling technique from the vast majority of NFL defensive backs, these statistics describe Mathis' value as a free agent.
Edwards, an integral part of the Jets consecutive runs to the AFC Championship game, never had the opportunity to get his feet underneath him in San Francisco this season. There is little to nothing to speak of for Edwards' 2011 campaign other than it was a season that could have been, but surely never was.
Edwards' value may be found though in the fact that he never proposed himself to be an overly quick vertical threat for any offense. His large 6'3", 211-pound frame and smooth body control made him a viable threat inside of tight coverages and made him a solid red zone weapon. Similar to the situation Plaxico Burress finds himself in, Edwards will likely become a concentrated role performer on a team looking to improve on an established offense.