Los Angeles Angels: Can They Permanently Steal LA Away from the Dodgers?
January 18, 2012

Stephen Dunn/Getty Images
It's right there for the taking.
The "City of Angels" could actually belong to them if the Halos play their cards right.
The signing of the game's greatest player is a start, but if the Angels truly have designs on replacing the Dodgers as L.A.'s "A-Team," as billboards a few years back suggested, then they will need to capitalize on the momentum they've built from their December shopping spree.
With the Dodgers in limbo (from an ownership standpoint) and fan morale in that city as low as I can remember, there has never been a more opportune time for the Angels to swoop in and claim L.A. County as Angel Country.  Here's how they can do it:
Led by Pujols, the Angels need to be more aggressive in courting fans from L.A.'s multi-cultural neighborhoods.  In every sport, there are many great players that fans want to see, but when you have a guy on your team who is the unquestioned greatest player in the game, as Albert Pujols is, that opens up all kinds of marketing opportunities.  And the fact that the greatest player in baseball is bilingual means the Angels can utilize Pujols to reach a very, very large segment of L.A.'s population. 
Imagine Pujols putting on a baseball clinic for children in Boyle Heights.  Or Pujols signing autographs at a supermarket in Pico Rivera.  Think that wouldn't draw a crowd?  It's all about giving those fans a reason to go to the ballpark.  Pujols is that reason, and it would be a shame if the Angels didn't take full advantage of that to broaden their fan base.
Now that you've managed to get them in the door, you need to wow them, which leads me to part two of my plan: a sparkling new ballpark.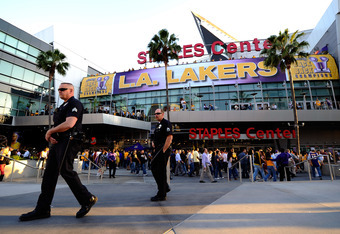 Kevork Djansezian/Getty Images
As the team's new cable deal indicates, interest in the Angels is at an all-time high.  Fox wouldn't be shelling out the kind of money they are if they thought they were dealing solely with an Orange County fanbase.  They know the Angels' potential reach is as far and wide as the line for Space Mountain and that the L.A. market is fertile ground for expanding their already impressive fan base.
That's where the new ballpark comes into play. 
Baseball fans go to the yard to see their favorite players and/or teams.  Casual fans, of which there are many, need something more.  They are looking for an overall entertainment venue in which the game is only part of the show. 
Look at Staples Center and L.A. Live and what it has done for the Clippers.  People who wouldn't necessarily classify themselves as basketball fans hang out there all the time.  Eventually, some of them find their way inside to watch basketball.  Either way, interest in the team remains high as the Staples Center complex with all its surrounding entertainment options continues to draw fans in.
That's what the Angels need.
My older brother, who couldn't even tell you how many points a field goal is worth, was in Dallas last year on business, and guess what he did while he was there?  He toured the Cowboys' new stadium.  Now, I'm not suggesting some billion-dollar "Artie World," but if the Angels were to build something that would give L.A. residents, not to mention tourists and non-baseball fans everywhere, a place to go and have a great time, many of them would do just that.  The trickle-down effect of that would be more Angels fans from L.A. zip codes. 
Next up is finding a play-by-play announcer that symbolizes Angels baseball. 
Look around.  Whether it's Chick Hearn and the Lakers, Bob Miller and the Kings or Vin Scully and the Dodgers, L.A. teams in their heyday have always had that iconic personality calling the games.  As with those teams and other successful sports teams around the country, the Angels should bring in someone who is more than just good at their job, but is emotionally invested in the team.  Someone who bleeds Angel red, so to speak, and can fill that role for the next generation of L.A. baseball fans.     
Last but not least, of course, the Angels need to win.  They've done a good job being competitive every year since Artie Moreno bought the team, and their efforts to win are commendable, but it just hasn't translated into the ultimate prize. 
The Los Angeles fanbase is largely comprised of two types: front-runners who love a winner and will gladly switch allegiances depending on who is playing better, and loyal fans who want nothing more than to be acknowledged and respected for their loyalty.  The Dodgers are vulnerable to losing both. 
If the Angels can win another title soon, parlay that success into a new ballpark and aggressively pursue L.A.'s disaffected Dodger fans by showing them they are worthy of acknowledgement and respect, the team could be the Los Angeles Angels in more than just name alone.