UFC: 10 Most Outrageous Moments in Quinton Jackson's Career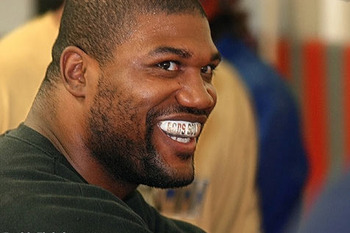 Arguably the most enigmatic fighter in the business, Quinton "Rampage" Jackson has produced some of the best memorable moments in mixed martial arts history.
The light heavyweight great has fought some of the best fighters in the world, earned championship titles and all the while has remained a goofy, lovable and sometimes confusing man.
Here are some of Jackson's more outrageous moments that have caught the ire and praise of both the fans and media alike.
Jackson Arrested Thanks to "Rampage"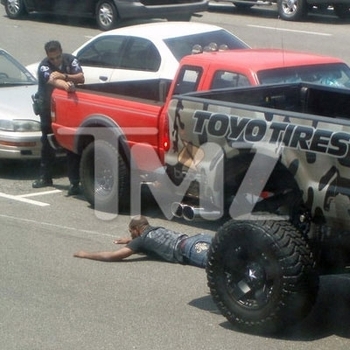 In 2008, after his disappointing loss to Forrest Griffin at UFC 86, Quinton Jackson went on a "Rampage" of his own in Costa Mesa, California, where the troubled fighter drove at high speeds, weaving in and out of traffic.
A chase ensued, as Jackson performed several hit-and-runs before police detained him in Newport Beach at gunpoint. He was charged with hit-and-run driving, felony evading and reckless driving.
Jackson Humping Reporter in Japan
Whilst under the Pride banner, Jackson became one of the promotion's leading fighters, thanks to his fan-friendly style of fighting and also his awkward personality.
If humping a reporter enlists the usually stoic Mirko Cro Cop to chuckle, than you know you've done something right.
Because One Hump Isn't Good Enough
In typical Jackson fashion, Rampage proceeded to hump yet another reporter, who mistakenly asked the libido-driven to perform some "acting" scenes with her. Bad move.
Jackson Humps a Tiger
After garnering the ire of the media, Jackson instead opted to hump tigers, rather than women. Smart but dangerous move.
Jackson Motorboats
The always colorful Jackson stepped up his game from humping reporters to now motorboating them, starting with Karyn Bryant of MMAHeat.
Jackson Goes to K-1
Pride Fighting Championships had a funny way of showing their most coveted fighters the respect they deserve, though for Jackson, this particular move paid off in spades.
The mixed martial arts import was pitted against Cyril Abidi, a rising K-1 star who earned victories over Peter Aerts and Ray Sefo in recent outings.
Jackson made quick work of the Frenchman, knocking him out inside of the first round.
Jackson Can Dance
In a leaked video put out by friend and teammate Michael Bisping, "The Count" shows just how Quinton Jackson gets down, as the former UFC champ freestyles a creative little number.
Because One Dance Video Isn't Good Enough
Here, Jackson tries to outdo his original dance, when he takes to the mean streets of England again for another memorable performance.
The Power Bomb Heard Around the World
It's a move that will live in highlight reel infamy, as Jackson slams opponent Ricardo Arona to the canvas, showing his unrivaled strength, which was a signature of some of his early career accomplishments.
Quinton Jackson vs. Wanderlei Silva Near Riot
After Jackson's emphatic victory over former UFC champion Kevin Randleman, Rampage calls out rival Wanderlei Silva, who was sitting cage side during the action.
The Brazilian responded in kind, stepping inside the ring and shoving Jackson before all hell broke loose.
Keep Reading