2012 NFL Draft Projections: Alshon Jeffery and Underrated WRs Who Will Shine
January 18, 2012

Kevin C. Cox/Getty Images
Evaluating wide receivers is among the toughest tasks for every team. Since their production is directly linked to how effective their quarterback was in college, it's often tough to get a clear read on a player's ability. That's why so many potential stars end up slipping through the cracks.
With that in mind, here are three wide receivers that will shine even though they likely won't get selected in the first round.
Alshon Jeffery, South Carolina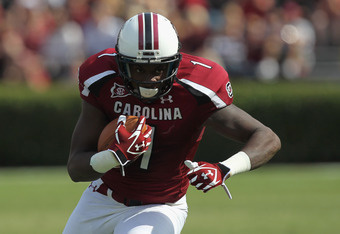 Streeter Lecka/Getty Images
South Carolina's turmoil at the quarterback position caused Jeffery's production to drop like a rock during his junior season, but he decided to declare for the draft anyway. It's an interesting choice simply because his stock isn't going to be nearly as high as it should be.
Jeffery has all the tools that teams should be looking for in a wide receiver. He's got terrific size, which will make him a major red-zone threat, and has shown a tendency to make amazing catches. Even his speed is more than serviceable for a player of his size.
Whichever team snags him in Round 2 will be getting an absolute steal. I'd put him on the shortlist for Rookie of the Year honors assuming he lands in a capable offense.
Nick Toon, Wisconsin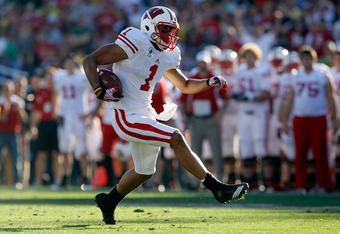 Jeff Gross/Getty Images
Toon benefited greatly from the arrival of Russell Wilson. He posted the best numbers of his four-year career with the Badgers in 2011, which is always the hope in the year before heading to the NFL. He'll still need strong offseason workouts to boost his stock, though.
He's never going to become a dominant, do-it-all receiver in the same mold of a Calvin Johnson or Larry Fitzgerald. The reason Toon makes this list is because he'll carve out a niche for himself in virtually any offense because he's willing to do the dirty work on underneath routes.
Barring an unforeseen jump, he'll likely be drafted near the end of Round 2. That's not necessarily a bad thing since it will give him a chance to shine on a playoff contender.
Dwight Jones, North Carolina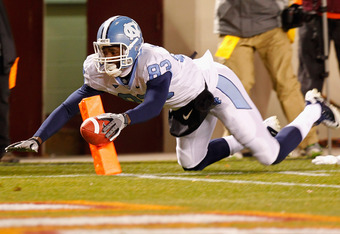 Geoff Burke/Getty Images
Jones finally had his breakout season in 2011 and enters the draft process on a high note. There will be some character questions after an incident involving a New Year's party flier with his image, but it shouldn't have a major impact on him moving forward.
He possesses a rare combination of size and speed that makes him one of the most intriguing wideouts in the entire class. There's still room for improvement in terms of route running and understanding the finer points of the position, but the potential is impossible to ignore.
While it will take him a couple of seasons to reach his peak, he'll be a force to be reckoned with after that. That makes him a solid third-round sleeper.