2012 NFL Mock Draft: Justin Blackmon and More Instant-Impact Offensive Studs
January 18, 2012

Donald Miralle/Getty Images
The 2012 NFL draft was shaken up quite a bit by the news of Alabama junior cornerback Dre Kirkpatrick's arrest.
The former Crimson Tide player is one of the top defensive studs in the draft and was a potential top 10 pick. His boneheaded mistake opens the doors to multiple scenarios, including movement for playmakers on the other side of the ball.
Offensively, this draft not only has some potential game-changers, but it has players, like Justin Blackmon, who'll make an immediate impact next year.
With the latest look at the first round, we'll focus on those offensive studs and a potential trade that could shake up the entire draft.
1. Indianapolis Colts (2-14): Andrew Luck, QB, Stanford
The draft's top player is going to go No. 1 regardless of who the pick belongs to. With the Colts' firing of Jim Caldwell, it looks even more likely that Luck will be in Indianapolis.
It remains to be seen if Peyton Manning will be the Colts QB next year, and that directly affects Andrew Luck's impact as a rookie.
2. $$ Cleveland Browns (2-14): Robert Griffin III, QB, Baylor
Trade
The St. Louis Rams could sit here and take their pick between Matt Kalil and Justin Blackmon, or they could let the hype of Robert Griffin III help them acquire more picks.
Both Washington and Cleveland are heavily rumored to be in the mix for the Heisman Trophy-winning quarterback, but the Browns have more ammunition with two first-round picks, and the Redskins could involve themselves with Peyton Manning should he become available.
The Rams also wouldn't want to risk the chance of losing out on Justin Blackmon by dropping to No. 6 rather than No. 4.
RG3 still has plenty of developing to do, but his overall athleticism and arm are more of an immediate help to the Browns than Colt McCoy showed last year.
3. Minnesota Vikings (3-13): Matt Kalil, OT, USC
The Vikes will have a tough decision between Kalil and Morris Claiborne, but their offensive backfield—the strength of this team—benefits more from adding a new franchise tackle.
4. $$ St. Louis Rams (4-12): Justin Blackmon, WR, Oklahoma State
Trade
The Rams, as discussed in pick No. 2, would much rather assure themselves a shot at Blackmon than risk the Bucs snagging him at No. 5. The Vikes could get in the mix, but both Kalil and Claiborne are bigger needs for them.
Thus, Blackmon, arguably the draft's biggest playmaker, is the perfect fit for a team that lacks exactly that on the outside.
Sam Bradford is going to be very happy with the addition of the 6'1", 215-pound star, and he'll step in from day one and be his go-to receiver.
Blackmon can make plays at every level of the field, can turn a quick slant into an 80-yard strike and plays bigger and more physical than his size suggests.
He's not overly fast, but he has great football speed and will rise to the occasion when challenged by a top corner.
5. Tampa Bay Buccaneers (4-12): Morris Claiborne, CB, LSU
Not only is Claiborne the best available player on the board here, but he fits the Bucs' biggest need.
6. Washington Redskins (5-11): Ryan Tannehill, QB, Texas A&M
The Redskins will certainly be involved with the RG3 sweepstakes and possibly the Matt Flynn and potential Peyton Manning race, but if they completely miss out there they'll have to turn to the draft.
Despite his recent injury, there are a number people around the league who are extremely high on Tannehill's NFL potential.
If Washington doesn't snap him up in the first round, somebody else certainly will.
7. Jacksonville Jaguars (5-11): Quinton Coples, DE/DT, UNC
A bit of a reach for Coples in my opinion, but GM A.J. Smith has already shown a propensity for doing that. The Jags are also screwed out of a shot at Blackmon, and South Carolina's Alshon Jeffery is not worthy of a top 10 pick. They could look to trade out.
8. Carolina Panthers (6-10)*: Devon Still, DT, Penn State
The Panthers were also looking for another top playmaker, but Still is the best available defensive player left on the board and will help their awful run D.
9. Miami Dolphins (6-10)*: Riley Reiff, OT, Iowa
The Dolphins have an interesting dilemma at the quarterback position, but the only player they could see here is Ryan Tannehill. If he goes early or they opt to go elsewhere, a surefire starter at right tackle is a great fit for them.
10. Buffalo Bills (6-10): Courtney Upshaw, DE/OLB, Alabama
The BCS Championship Game MVP has always been a star on the big stage, and he'll ride that to a top 12 selection.
11. Seattle Seahawks (7-9)*: Trent Richardson, RB, Alabama
The Crimson Tide junior plays the one position teams devalue on draft day. With Cleveland jumping up to snag RG3 and the Mo Claiborne falling to Tampa Bay, Richardson—a top-five player in this draft—unjustly falls out of the top 10.
That said, the Seahawks have a tough decision to make on 25-year-old running back Marshawn Lynch. He's coming off the best season of his career and is looking at what will be his last opportunity at a big contract.
The Seahawks cannot overlook the fact that he performed his best in a contract year and that he's already played five-and-a-quarter full seasons in the league (played four games in 2010).
Richardson is too good a value to pass up and arguably the best insurance pick in this draft.
If the Seahawks do find a way to not overpay or commit long-term to Lynch then they'll have themselves a great one-two punch in the backfield.
12. Kansas City Chiefs (7-9)*: Jonathan Martin, OT, Stanford
If the Chiefs win the toss for the 11th pick, don't surprised to see them jump on Richardson, too. Jamaal Charles is great, but coming off an ACL injury always brings about question marks to longevity and productivity at the position.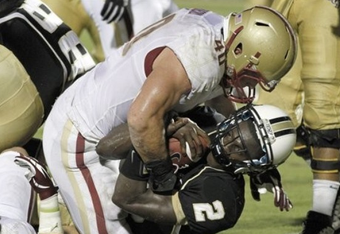 That said, Martin is an ideal plug-in for this O-line as they continue to shuffle players around.
13. Arizona Cardinals (8-8): Luke Kuechly, LB, Boston College
Kuechly's by far the best value left on the board for a Cardinals team that cannot trust its investment in Stewart Bradley.
14. Dallas Cowboys (8-7): David DeCastro, OG, Stanford
The draft's best interior lineman is a great fit for a Cowboys team that struggled to consistently run the football in the 2011.
15. Philadelphia Eagles (8-8): Michael Floyd, WR, Notre Dame
There is perhaps no better complementary fit to any offense in this draft than Michael Floyd to the Eagles.
Philadelphia has two speedy deep threats in Jeremy Maclin and DeSean Jackson but has no big-bodied red-zone target with reliable hands.
Michael Floyd is exactly that.
The Notre Dame senior has had some drops here and there, but he's a dynamic touchdown machine with great size and football speed.
He'll come in immediately and be a perfect target for Michael Vick.
16. New York Jets (8-8): Melvin Ingram, DE/OLB, South Carolina
Rex Ryan's defense needs help hitting the opposing quarterback, and Ingram is one of the draft's top pass-rushers.
17. Cincinnati Bengals (via OAK 8-8): Dre Kirkpatrick, CB, Alabama
And here falls the aforementioned Dre Kirkpatrick. The Bengals never met a talented player with red flags they didn't like, and he fills a need.
18. San Diego Chargers (8-8): Nick Perry, DE/OLB, USC
The Chargers have yet to find the pass-rusher they desperately need. Perry could rise higher than this come draft day.
19. Chicago Bears (8-8): Peter Konz, C, Wisconsin
Konz will make an immediate impact if the Bears add him. His presence helps them solidify their interior O-line the best way possible.
20. Tennessee Titans (9-7): Michael Brockers, DT, LSU
New addition to the mock, Brockers is only a redshirt sophomore and is only beginning to realize how good he can be. Titans can coach him up.
21. Cincinnati Bengals (9-7): Lamar Miller, RB, Miami
If Miller finds a home in Cincinnati, his production will be directly tied to their decision on whether or not to re-sign Cedric Benson. That said, he's a speedy prospect with very good size and potential.
22. Cleveland Browns (via ATL 10-6): Alshon Jeffery, WR, South Carolina
Plain and simple, Alshon Jeffery can be great if he wants to be. With his size and athleticism, it is all on him.
This pick could very well belong to the Rams if the proposed trade at the top of the draft goes through.
St. Louis will have already added Justin Blackmon, meaning they'll look toward players like Cordy Glenn, Alfonzo Dennard, Fletcher Cox or even Janoris Jenkins.
23. Detroit Lions (10-6): Alfonzo Dennard, CB, Nebraska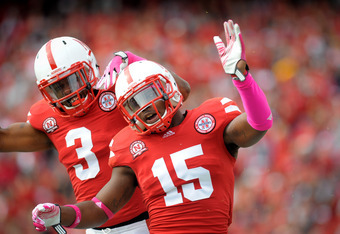 Eric Francis/Getty Images
The Lions secondary was finally exposed later in the season, and Dennard will be an immediate help to them.
24. Pittsburgh Steelers (12-4): Cordy Glenn, OG, Georgia
The Steelers had trouble running the ball and, like usual, protecting Ben Roethlisberger this year. Glenn can help in both areas.
25. Denver Broncos (8-8): Fletcher Cox, DT, Mississippi State
Cox's versatility and size are perfect for what the Broncos need in their defensive front.
26. Houston Texans (10-6): Mark Barron, S, Alabama
The Crimson Tide senior could go much higher than this and is the most complete safety in the draft.
27. New England Patriots (via NO 13-3): Andre Branch, DE, Clemson
This pick has long belonged to Mohamed Sanu of Rutgers, but the Patriots' needs on defense are too great to ignore. Branch will step in and give them a boost on the D-line immediately.
28. Green Bay Packers (15-1): Jerel Worthy, DT, Michigan State
The powerful Spartan D-lineman flashes brilliance at times but still has some maturing to do. The Packers can work with that.
29. New York Giants (9-7): Zach Brown, OLB, UNC
Brown's athleticism and speed will allow the Giants to play a more tradition 4-3 base defense by shifting a slightly slowing Michael Boley to the inside. Brown is a freak athlete.
30. Baltimore Ravens (12-4): Dont'a Hightower, LB, Alabama
The 6'4", 260-pound redshirt junior is an ideal candidate to potential replace Ray Lewis.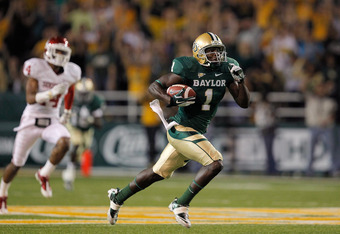 Sarah Glenn/Getty Images
31. San Francisco 49ers (13-3): Kendall Wright, WR, Baylor
Wright's speed and potential could easily drive him up the board, but he's not a complete prospect yet.
32. New England Patriots (13-3): Janoris Jenkins, CB, North Alabama
Bill Belichick likes his Florida boys, and this former Gator isn't going to be overlooked. Belichick used to have a game-changing defensive back like Jenkins when he drafted Asante Samuel.
*Order determined by coin flip at NFL Scouting Combine
$$ - Potential trade
Chuckin' the rock on Twitter too.