Chicago Bulls: 6 Things We Saw During Their Victory over the Phoenix Suns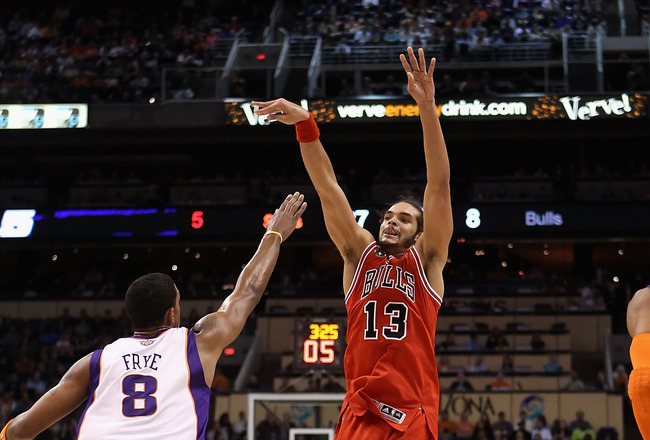 Christian Petersen/Getty Images
The Bulls beat the Suns in a blowout tonight.
A lot of things went right for this team. This is exactly the kind of play fans were hoping for from a Bulls team that's waiting for Derrick Rose to return from his turf toe injury.
It's unclear whether the Bulls superstar will need to miss any more games.
Here are six things we learned from this Derrick Rose-less victory.
C.J. Watson Hears You Chicago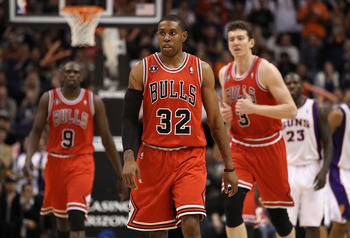 Christian Petersen/Getty Images
After watching the past two games, you get the feeling that C.J. Watson stewed on the bench with his dislocated elbow as Chicago cheered for John Lucas. Watson has come out aggressive in his two games back since then, averaging 20 points a game in that span.

Watson started the game against the Suns and ended up with 23 points on 66.7 percent shooting, five assists and four rebounds. He connected on all three of his three-pointers.

This is while still feeling some pain from the injury which saw him miss nine games.
Steve Nash Still Has Game and He's Alone on the Suns with It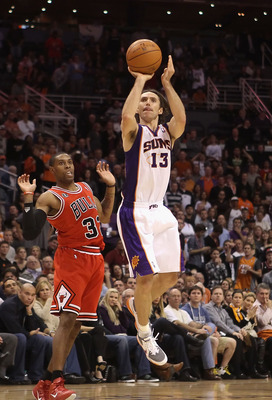 Christian Petersen/Getty Images
Steve Nash, despite five turnovers, had an incredibly solid night.
He had 25 points on 76.9 percent shooting and posted nine assists. This is after putting up 20 points in a losing effort against the Kings on Sunday.

Even with Nash's inspired play, the Suns are on a five-game losing streak. The Suns' future is bleak with no real assets besides Nash to trade. It's extremely unlikely that they'll make the playoffs.

That may be true for as long as Nash wears a Suns' jersey. It's unfortunate that a two-time MVP isn't on a team which can give him a chance to win a championship title. It would be the first of his career.
Carlos Boozer and Joakim Noah Show Signs of Life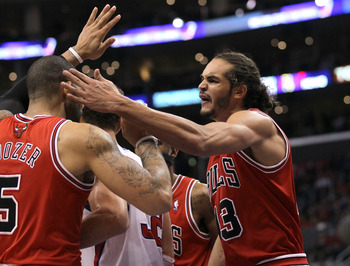 Stephen Dunn/Getty Images
Carlos Boozer put up a season-high 31 points against the Suns. Joakim Noah had a respectable 13 points and added 12 rebounds.

Both Boozer and Noah have taken flak from fans over the course of this young season and last season's playoff run. Some injuries last season kept them apart, but this is effectively their second season together.

Many fans expected more production out of players who signed such lucrative contracts with the Bulls. Boozer and Noah earned their paychecks against the Suns.

It's vital that Boozer and Noah learn to co-exist as the Bulls keep their eye on the postseason. They have the rest of the season to work the kinks out.
Luol Deng Practically Had the Night off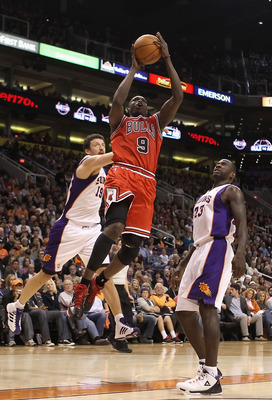 Christian Petersen/Getty Images
Luol Deng only played 27 minutes against the Suns. That's the lowest number of minutes he's played all season.

Deng has been the Bulls' ironman over the past two seasons.
Coach Tom Thibodeau likes to leave Deng out in the second quarter as the only starter out with the bench players. Some fans have questioned this move, especially with perfectly good backups sitting on the bench.

It's good to see that the coach recognized that this game was one for the win column and let Deng sit early. I had hoped that time would translate into more minutes for Jimmy Butler, but he only played four minutes against the Suns.

Giving Deng a rest should be considered more often if only to see what the rookie Butler can do.
The Rip Effect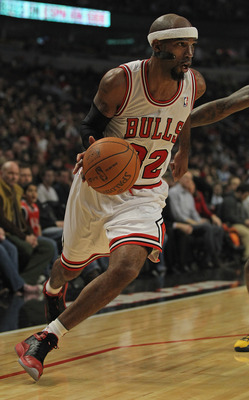 Jonathan Daniel/Getty Images
It's almost amazing how a team which usually struggles to score looks so effortless with Rip Hamilton in the game. Hamilton returned against the Suns for the first time in eight games. He managed 11 points and had six big assists.

Keith Bogans was the starting shooting guard for the Bulls last season. Despite being a scapegoat for fans, he played to his abilities and didn't make many mistakes. You could expect two things from him. Tenacious defense and either shooting the three or passing the ball back to Derrick Rose.

The Bulls entire lineup is benefiting from having a playmaker at the shooting guard position as well as an offensive threat. The spacing finally looks right, and on the strength of Hamilton's passing and the defensive attention he requires, the Bulls are able to maximize their scoring ability.
Derrick Rose on the Bench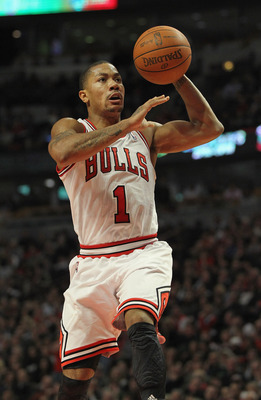 Jonathan Daniel/Getty Images
Derrick Rose watched his second straight game from the bench.
The only time Bulls fans want to see Rose in a suit is when he's up on stage accepting his second MVP award.
Enough said.
Keep Reading

Chicago Bulls: Like this team?