2012 Fantasy Baseball Rankings: Top 20 Third Basemen (Updated)
January 22, 2012

Brad White/Getty Images
1. Jose Bautista, Toronto Blue Jays*
He's averaged 48.5 HRs and 113.5 RBIs the last two seasons.  He also walked 132 times last season.
2. Evan Longoria, Tampa Bay Rays
In just 483 at-bats in 2011, Longoria hit 31 HRs and 99 RBIs.
3. Michael Young, Texas Rangers*
Young isn't showing his age after 213 hits and 106 RBIs last season.
4. David Wright, New York Mets
The fences have been brought in and the walls have been lowered at Citi Field.  If Wright can stay healthy, he could definitely be a top five-third baseman this season.
5. Ryan Zimmerman, Washington Nationals
Zimmerman was another star third baseman who missed a lot of time in 2011.  But when he sees 600 ABs or more in a season, he's good for at least 25 HRs and 85 RBIs, not to mention around a .300 batting average

6. Adrian Beltre, Texas Rangers
Believe it or not, statistically speaking, Beltre had the second-best season of his career in 2011 with 32 HRs and 105 RBIs.
7. Kevin Youkilis, Boston Red Sox
Youkilis only played in 120 games in 2011 but still hit 17 HRs and 80 RBIs.
8. Alex Rodriguez, New York Yankees
Rodriguez was hampered by poor health in 2011, but we know what he can do when he plays a full season.
9. Pablo Sandoval, San Francisco Giants
Sandoval hit 23 HRs and 76 RBIs in just 426 ABs in 2011.
10. Brett Lawrie, Toronto Blue Jays
The Blue Jays promoted Lawrie to the big leagues very late last season, but it didn't take Lawrie long to prove he belonged, hitting .293 with nine HRs and 25 RBIs in 150 ABs.
11. Aramis Ramirez, Chicago Cubs
Aside from Michael Young, Ramirez was the only one in this group with a .300-plus AVG last season.
12. Emilio Bonifacio, Miami Marlins*
Bonifacio hit .295 and stole 40 bags last season.
13. Mark Reynolds, Baltimore Orioles
It's hit or miss with Reynolds, but the past four seasons he has averaged 35 HRs.
14. Johnny Peralta, Detroit Tigers* 
Peralta had one of the best seasons of his career while helping the Tigers to the playoffs. He eclipsed 20-plus HRs and 80-plus RBIs in the same season for just the second time in nine seasons.
15. Chipper Jones, Atlanta Braves 
In only 126 games in 2011 Jones showed glimpses of his old self, hitting 18 HRs and 70 RBIs.
16. Ryan Roberts, Arizona Diamondbacks
Roberts came out of nowhere en route to 19 HRs, 65 RBIs and 18 stolen bases in 2011.  He was and is an integral part of Arizona's lineup.
17. Martin Prado, Atlanta Braves*
Prado only batted .260 in 2011, well under his career average of .293, but he'll still be hitting second in the Braves' potent lineup.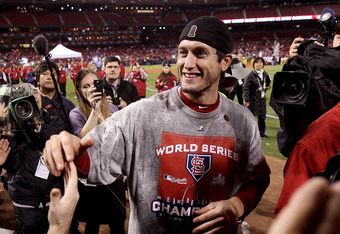 Ezra Shaw/Getty Images
18. David Freese, St. Louis Cardinals
The 2011 World Series MVP only saw 333 ABs last season but hit 10 HRs and 55 RBIs.  He'll be leaned on more heavily for offense in 2012 with the departure of Albert Pujols.
19. Pedro Alvarez, Pittsburgh Pirates
The main reason why Alvarez is in the top 20 is because of his potential.  He still has a lot to prove but is capable of 25-plus HRs and 80-plus RBIs if he gets going.
20. Danny Valencia, Minnesota Twins
Valencia didn't get a lot of recognition in 2011, but he was on the Twins so that's to be expected.  Although, he didn't have too shabby a season with 15 HRs and 72 RBIs.
*Not primary position but eligible for third base