2012 MLB Fantasy Baseball Rankings: Top 15 Shortstops
January 21, 2012

Jeff Curry/Getty Images
1. Troy Tulowitzki, Colorado Rockies
Tulo reached over 100 RBI for the first time in his career in 2011 despite playing in just 143 games.
2. Hanley Ramirez, Miami Marlins
Last year was extremely disappointing for Ramirez, but if he's healthy, his power and speed make him one of the best fantasy options in baseball.
3. Jose Reyes, Miami Marlins
Reyes would thrive leading off for any lineup, especially the Marlins.
4. Elvis Andrus, Texas Rangers
Andrus was second and third among shortstops in runs and stolen bases in 2011.
5. Asdrubal Cabrera, Cleveland Indians
Not enough credit went to Cabrera for the season he had last year—a season that included 25 HR and 92 RBI.
6. Starlin Castro, Chicago Cubs
Castro was the only shortstop in baseball with at least 200 hits in 2011.  He hit .307 in 674 AB.
7. Jimmy Rollins, Philadelphia Phillies
He's been in the league for more than a decade, but Rollins is still stealing 30 bases a season like he did in 2011.  Keep in mind that he only played in 142 games.
8. Alexei Ramirez, Chicago White Sox
Ramirez is an unsung hero in Chicago's lineup.  He hit 15 HR and 70 RBI in 2011.
9. Jhonny Peralta, Detroit Tigers
Peralta had one of the best seasons of his career while helping the Tigers to the playoffs.  He eclipsed 20-plus HR and 80-plus RBI in the same season for just the second time in nine seasons.
10. J.J. Hardy, Baltimore Orioles
Hardy and Tulo were tied for most HR among shortstops with 30 in 2011.
11. Derek Jeter, New York Yankees
It was a ho-hum kind of a season for Jeter in 2011, but he was still tied for sixth among shortstops with 162 hits.
12. Erick Aybar, Los Angeles Angels
Aybar ranked second among shortstops in doubles in 2011 (33) and fourth in stolen bases (30).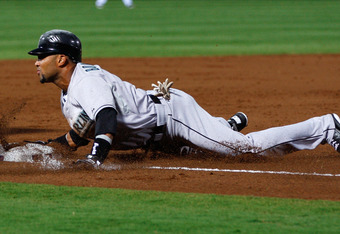 Kevin C. Cox/Getty Images
13. Emilio Bonifacio, Miami Marlins
Bonifacio hit .295 while leading shortstops in stolen bases with 40 last season.
14. Stephen Drew, Arizona Diamondbacks
It looked like the makings of a great season before Drew broke his right ankle in late July of last season, but in just 321 ABs, he brought in 45 runs.
15. Dee Gordon, Los Angeles Dodgers
Gordon was a late addition to L.A.'s lineup last season, but it didn't take long for him to prove that he belonged.  In just 56 games, he stole 24 bases.