2012 Fantasy Baseball Rankings: Top 15 Second Basemen (Updated)
January 20, 2012

Patrick McDermott/Getty Images
1. Robinson Cano, New York Yankees
Batting third in the Yankees lineup is one of the best places to be in baseball. Cano led all second basemen in RBI last season (118) and he could very well do it again.
2. Ian Kinsler, Texas Rangers
Kinsler hit a career-high 32 HR in 2011, although his average was a meager .255. His power and speed (30 SB in 2011) makes him the best second baseman in fantasy baseball.
3. Dustin Pedroia, Boston Red Sox
Pedroia led all MLB primary second basemen in hits, average, and on-base percentage in 2011.
4. Michael Young, Texas Rangers*
Young is getting old but he's not showing any signs of slowing down. He had over 200 hits for the first time in four years last season, not to mention a career-high in RBIs (106).
5. Brandon Phillips, Cincinnati Reds
Joey Votto may be the head of the Reds but Phillips is the feet, if you will. He hit a career-high 38 doubles and .300 AVG in 2011.
6. Chase Utley, Philadelphia Phillies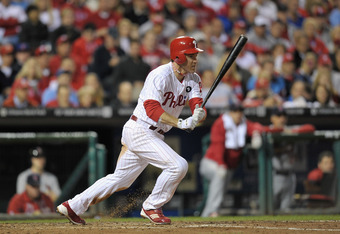 Drew Hallowell/Getty Images
If Utley can stay healthy for a full season, he's a top three fantasy second baseman, but he hasn't shown us he can stay healthy for a full season in two years.
7. Dan Uggla, Atlanta Braves
Uggla has hit at least 30 long ones in each of the past five seasons.
8. Ben Zobrist, Tampa Bay Rays*
The 2011 season was a great one for Zobrist, reaching career-highs in AB (588), R (99), H (158), 2B (46), and RBI (91).
9. Rickie Weeks, Milwaukee Brewers
Weeks only played in 118 games because of injury last season but he still hit 20 HR.
10. Howard Kendrick, Los Angeles Angels
Kendricks' 18 HR in 2011 were eight more than his previous career-high. He'll see more opportunities at the plate with Pujols batting third.
11. Jemile Weeks, Oakland Athletics
Weeks was impressive after joining the big leagues. He played in only 97 games in 2011 but stole 22 bases and led all second basemen with eight triples.
12. Danny Espinosa, Washington Nationals
After playing in 28 games in 2010 Espinosa had a nice coming out party last season en route to 21 HR and 66 RBI.
13. Martin Prado, Atlanta Braves*
Prado only batted .260 in 2011, well under his career average of .293, but he'll still be hitting second in the Braves' potent lineup.
14. Aaron Hill, Arizona Diamondbacks
Hill turned it on after being traded to Arizona late in the season. He also stole 21 bases last season, nearly half of his career total after playing seven seasons.
15. Jason Kipnis, Cleveland Indians
He has one of the coolest names in baseball.  He'll be a decent second baseman for your fantasy teams too.
*Not primary position but eligible for second base