Why UFC Primetime Won't Make Nick Diaz or Carlos Condit More Marketable
January 18, 2012
UFC Primetime will air later this month for a match between Nick Diaz and Carlos Condit following the FX card featuring Melvin Guillard and Jim Miller, according to MMAFighting.com
The platform is an excellent choice and the timing makes sense. It will be a compelling piece that longtime fans will enjoy.
If the primetime special for Velasquez-Dos Santos proved anything, it is that the show might end up being more interesting then the fights: It just won't sell anyone on the fighters in a new way.
A better way of putting it: There is nothing the UFC can do to market Nick Diaz more, while there is nothing they can do to market Condit period.
Diaz has already made a name for himself.  He is the bad boy of MMA, flipping people off and cussing out whoever he chooses.  He doesn't show up for press conferences and calls in late for phone interviews.
He couldn't market himself any better than when he got into a brawl on CBS.
In Hollywood, he would be the troubled young actor with the drug addiction who is constantly in jail.
Diaz is the rare breed who is fun to watch before he steps into the cage because it is uncertain what he will do next.  The second the fight starts, all of his foolish antics melt away and he becomes the perfect professional.
He is able to play to his opponent's strengths and uses the openings he gets to take them out.  There is nothing the UFC can say or do that will change his image.  Truth is, there is nothing they need to do to change his image—it will be the reason fans buy the pay-per-view.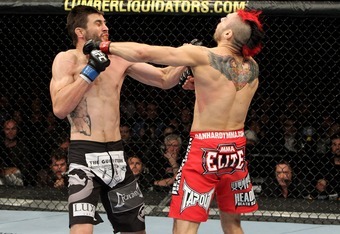 Carlos Condit is the good guy, but that is because Diaz is the famous villain.  As long as Condit doesn't try to become Chael Sonnen, fans will root for him just because he is less caustic then Diaz.
Condit is a great fighter, but his personality is quiet.  There is nothing wrong with that, and in the long-run it helps the sport.  
It just isn't going to help him sell the fight.
His fights with Rory McDonald and Dan Hardy will help him sell the fight, but that only helps him with the fans who already watched those fights.
He doesn't need to be marketed to fans who have already seen him win, he needs to draw in viewers who have no idea who he is.  Clips of his knockouts will help, but without an ability to sell fans on those skills, he isn't going to bring in the casual viewer.
Both Condit and Diaz can fight, and their match is one of the best that the UFC can make right now, but the difference is that Diaz can sell people on his personality.
Condit Can't.
Using a show with the fighters lives and backgrounds to sell a fight is a great tool to bring in new fans, but for fighters like Condit who let their actions in the cage speak for them, it doesn't work.
On fight night, both men will show everyone why they're fighting for the interim title. But in selling the fight, neither man is going to do anything to change viewers minds.
Matthew Hemphill writes for the boxing, MMA, and professional wrestling portion of Bleacher Report.  He also hosts a blog elbaexiled.blogspot.com which focuses on books, music, comic books, video games, film, and generally anything that could be related to the realms of nerdom.