Alabama Football 2012: 4 Sets of Brothers on Tide's 2012 Roster
January 20, 2012

Kevin C. Cox/Getty Images
The bonds teammates create are like family, but what happens when a teammate actually is a family member?
Eight players next year will be able to say, "I play football with my brother at the University of Alabama." 
Sports movie buffs would agree that most are about the underdogs, the nobodies or the unlikely allies. "Rocky," "Invincinble," "Hoosiers," "Rudy" and "Remember the Titans" are some familiar movies that represent the unlikeliest of heroes.  
Recently, a sports movie came out that examined the bonds of blood in sports, something uncommon in the sports flick genre as there's a lack of "based on a true story" events involving brothers.
"Warrior," the first big-budget movie to feature mixed martial arts as the sport, is an emotional trip albeit a fictitious one. If you're a grown man and said you didn't cry when you saw the movie, I dare say you are fibbing.  
It was a display of how special family bonds can be in sports. Whether it's brothers, fathers and sons or another family bond, there's just something kind of cool when a family takes the field of play together.  
Alabama will have four sets of brothers on the team next year.  
Here's a look at them.
Arie and Cyrus Kouandjio, Offensive Linemen:
The two brothers out of Dematha Catholic High School in Hyattsville, MD, were quite a catch for Nick Saban and far-removed from his typical pipeline recruiting states.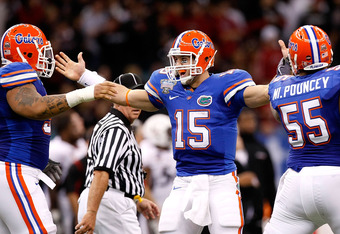 Kevin C. Cox/Getty Images
Arie entered in 2010 and redshirted his first season, and Cyrus signed for the 2011. During this past season, both of them suffered season-ending knee injuries that required surgery. 
Cyrus looks to be the clear-cut heir at the left tackle position, and Arie will likely end up as a guard. He may become the starting right guard next year or try to claim the left guard position when incumbent Chance Warmack graduates after the '12 season.  
He's certainly physically capable of playing right tackle as well, as D.J. Fluker is almost certain to declare early for the NFL draft after next season.
The odds of them both becoming starters in the same season before one of them leaves look high.
A similar duo from recent history is the Pouncey brothers from Florida, Mike and Maurkice (both now in the NFL), except the Kouandjio brothers aren't twins.
Tyler and Wilson Love, Offensive and Defensive Linemen:
Tyler is a pure offensive tackle, and Wilson plays defensive end.  
The two brothers attended the same high school as William Vlachos, Mountain Brook, a suburb of Birmingham, AL.  Tyler played on the same offensive line.    
Tyler Love was a highly touted recruit, but after an injury derailed his freshman 2008 campaign, he never quite recovered and has yet to become a starter.
The younger Love, Wilson, joined the Tide in 2010.  He has yet to crack the depth chart on the defensive line, but those positions are supremely competitive, and Saban just doesn't play "above-average" players on the three-man line.  
His weight is listed around 270 lbs., depending on the source. If I were coach Saban, I would be telling Wilson to work on his speed and cut a few pounds.  If he does that, he becomes a great candidate at the Jack linebacker position.  
I would love (pun intended) to see these two on the field some day, but they have a lot of competition in their way.
A bit of humor:  What do you get when you combine the Love brothers, Tyler and Wilson? An Arkansas quarterback.  OK, it was funnier when I was thinking it.  
Barrett and Harrison Jones, Offensive Lineman and Tight End:
Big brother Barrett is known to every Tide fan.  He won the Outland Trophy and was a starting offensive linemen during the Tide's past two national championship seasons.
His younger brother, Harrison, is a bit smaller, standing at 6'4", 248 lbs.  He's my pick to replace departed Brad Smelley as the starting H-back for the Crimson Tide in 2012.  
Everyone knows about Barrett, but Harrison has yet to become a household name.  I believe that will change. His soft hands should prove to be a valuable asset to quarterback A.J. McCarron in the passing game.  
A.J. and Corey McCarron, Quarterback and Tight End/H-Back:
As with the Jones brothers, everybody knows the eldest McCarron.  A.J. is the starting quarterback for a team that just won the 2012 BCS National Championship Game, but Corey is quite the unknown.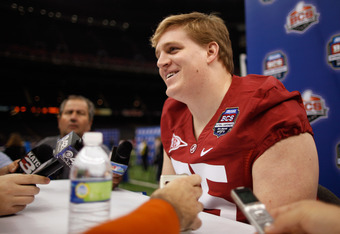 Chris Graythen/Getty Images
He recently announced he will transfer to Alabama and become a walk-on.  
You can see the resemblance between the two in their faces, but their sizes are complete opposites.
A.J. is 6'4" and Corey is 6'0".  A.J. is 205 lbs., and Corey is 240 lbs.  Their sizes may differ, but they're both well-built for their respective positions, though Corey is a better suited to play fullback—a position that Alabama (sadly) doesn't use.  
A.J. McCarron has a bright future and should easily be the undisputed starting quarterback in 2012 and will be in the NFL one day should he continue his impressive trends.
Corey, however, has a very long road ahead of him. The path a walk-on takes at Alabama is a long and difficult road. If he can prove to be an effective run-blocker who can catch a ball or two, he'll see some time on the field.  
Again, it's a pretty neat thing to see family members playing big-time football together.
I don't like Florida, but I liked the Pouncey brothers playing together and hoped they would both end up with the Pittsburgh Steelers, where Maurkice was drafted.  Mike ended up being picked up by the Miami Dolphins.
I also don't care for Oregon State, but I loved seeing James and Jacquizz Rodgers on the field together, especially since they're short little guys like myself.  
Boise State is one of my least favorite schools.  I dislike them almost as much as I dislike LSU. At the same time, I got a real kick out of seeing quarterback Kellen Moore throwing passes to his "little" brother, Kirby.  
In 2012, Alabama will not be short on brotherly love.