NCAA Tournament 2012: 8 Teams That Look Most Likely to Make Final Four Runs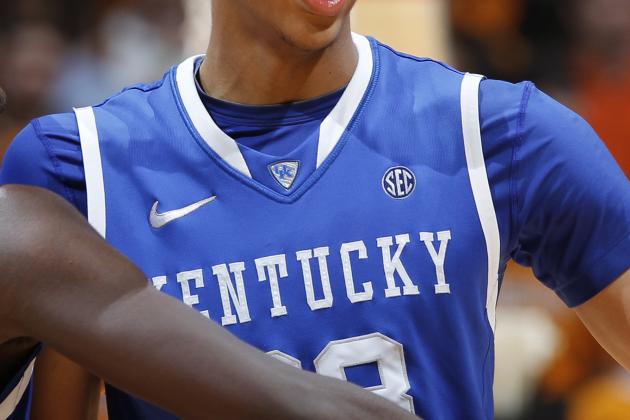 Joe Robbins/Getty Images

It's an exciting time of the year for college basketball fans. As teams delve deeper into conference play, the pretenders and contenders begin to reveal themselves.
Although the NCAA tournament doesn't tip off for another month-and-a-half, it is becoming more apparent with every passing game which teams have the necessary ingredients to reach New Orleans for the 2012 Final Four.
The following is a look at the eight teams who, as of today, stand the best chance of reaching New Orleans and cutting down the nets.
Begin Slideshow

»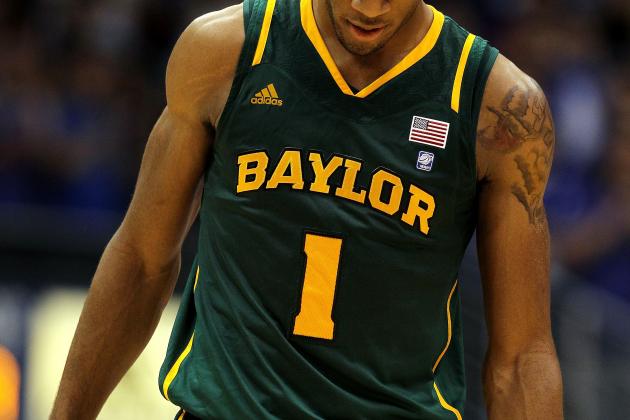 Jamie Squire/Getty Images
Perry jones III is Baylor's best all-around player and also a favorite of NBA scouts.
Despite a tough loss to Kansas at Allen Fieldhouse on Tuesday, this Baylor team is a legitimate Final Four contender.
Baylor has exceptional length, particularly on the interior in Perry Jones III, Quincy Acy and Quincy Miller. Their length enables them to eat up a lot of space on defense (especially in their 2-3 zone) and forces opponents to take tough, contested shots at the rim even after successfully penetrating.
On the other side of the ball, Baylor has a multifaceted offensive attack. They can hurt you from behind the three-point line with snipers Brady Heslop and Pierre Jackson. They can hurt you inside with Jones, Acy and Miller. And they can hurt you off penetration with AJ Walton, Deuce Bello and Jackson.
I always consider a balanced scoring attack a prerequisite for a Final Four contender because it's almost a given that at some point during the tournament a good opponent is going to take away one of your preferred methods of scoring, and Baylor certainly has a nice balance.
Baylor has shown a toughness to them, winning 17 of 18 games so far this year including tough, gutsy wins over Mississippi State, West Virginia and at BYU. Clearly, they are a team that has confidence in close games and know where they want to go with the ball late in the game. In that sense, Baylor is ahead of the curve, as a lot of teams don't figure that out until late February or early March...if they figure it out at all.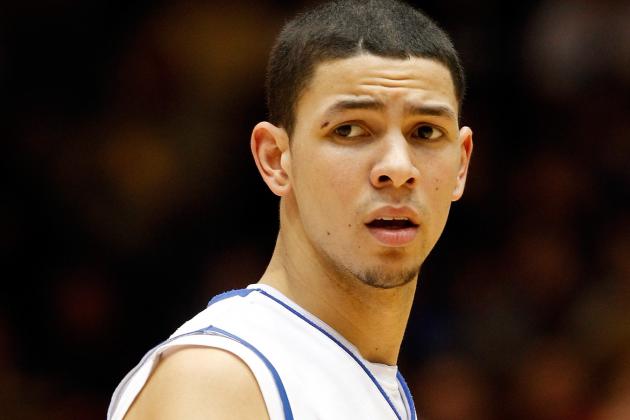 Streeter Lecka/Getty Images

Perhaps no college basketball team is more consistently scrutinized than Duke. Analysts and opposing teams' fans often spend all season long pointing out Duke's weaknesses and predicting their demise in March instead of recognizing the things Duke does well.
And one thing Duke does extremely well that will help them in March is shoot the three-point shot. Not many teams have as many perimeter threats as Duke, as Seth Curry (40 percent), Andre Dawkins (39 percent), Austin Rivers (37 percent) and Ryan Kelly (44 percent) are all exceptional outside shooters who thrive off Duke's penetrate-and-kick offense and put tremendous pressure on opponents. As a team, Duke shoots 40 percent from behind the three-point line which is the 13th-best percentage in Division I.
Duke also has good size up front with Myles and Mason Plumlee, both of whom have continued to improve since arriving in Durham. If both Plumlees are locked in and playing well come March, not many teams will go into a matchup with Duke feeling as though they have an advantage in the frontcourt.
If this Duke team has one glaring weakness it's the inability to prevent penetration from opposing guards. This was a major problem for Duke in their loss at Temple, as the Temple guards routinely sped right by Curry and Dawkins.
Coach Mike Krzyzewski will have to come up with a remedy to this problem by March if Duke is going to make it to New Orleans, but I wouldn't put it past the Hall of Fame coach to do just that and perhaps install some matchup zone that would allow Duke to contain quicker, more explosive teams.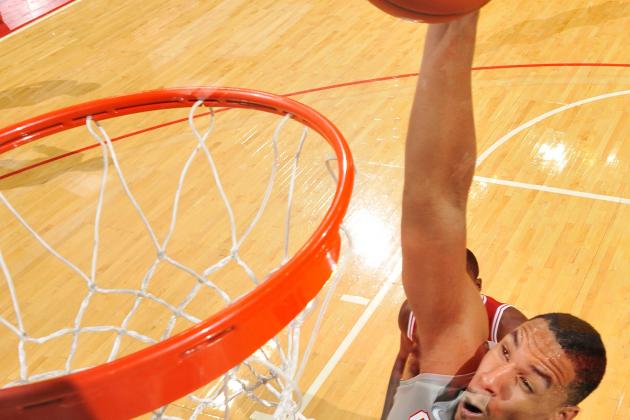 Jamie Sabau/Getty Images

Fresh off a revenge drubbing of Indiana, this Ohio State team, with its combination of size and outside shooting, looks primed for a deep run in March.
Perhaps the most promising development for Ohio State over recent weeks has been the emergence of sophomore guard Lenzelle Smith Jr. After scoring only 24 points all of last season, Smith Jr. scored 28 points this past Sunday against Indiana, and has emerged as the glue guy for this loaded Ohio State team. Smith is a willing defender who does all the little things which enable stars Jared Sullinger and William Buford to focus primarily on what they do best—scoring the basketball.
Another good sign for the Buckeyes has been the progression of point guard Aaron Craft. Craft had a strong freshman season, but has become an even more adept playmaker during his sophomore campaign, as he's averaging 5.3 assists per game and only 2.1 turnovers. Craft is also one of the best on-ball defenders in the country, and his ball pressure often creates turnovers and fast-break opportunities for the Buckeyes.
While Smith Jr. and Craft have been tremendous, the Buckeyes' fate in March will depend a lot on how Sullinger, Buford and Deshaun Thomas play. All three are capable of dropping 20 on an opponent on any given night, but if one or two of the "Big Three" is off, I'm not sure the Buckeyes can win a shootout against another Final Four-caliber opponent.
Still, this may be the most well-rounded team in the country, and after they win the Big Ten the Buckeyes will be a trendy national champion pick come March.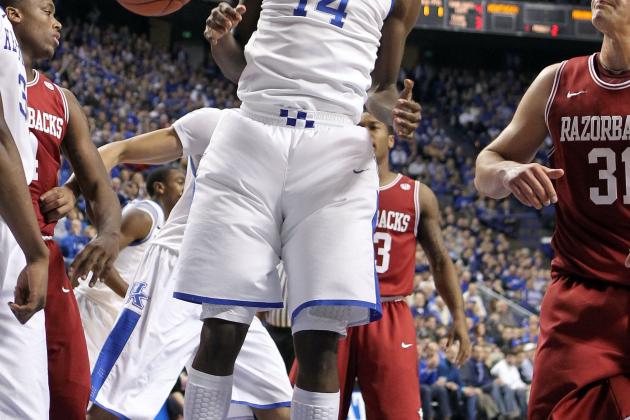 Andy Lyons/Getty Images

No team in the country possesses more talent than the Kentucky Wildcats. John Calipari has had a number of talented teams, but not often has he had a combination of talent and experience like this Wildcats team has.
Anthony Davis and Michael Kidd-Gilchrist may well be the two best freshmen in the country, and could conceivably go No. 1 and No. 2 in the 2012 NBA draft, yet you wouldn't know it by how hard they play. Davis and Kidd-Gilchrist have seemingly endless motors and both have incredibly raw talent which leads to them being regularly featured on SportsCenter's Top 10.
Davis is perhaps the best shot-blocker the college game has seen since Emeka Okafor or Marcus Camby, and Kidd-Gilchrist has a rare feel for the game that only a handful of players in the world possess. Dick Vitale has already called this duo the best freshman tandem of the past decade, and when it's all said and done they may be among the best of all time.
They have plenty of help, however, as sophomore Doron Lamb is a lethal outside shooter who leads the team in scoring at 14 points per game and Terrence Jones is a versatile forward who would likely have been selected in the lottery of the 2011 NBA draft before he decided to return to school.
The Wildcats also rely heavily on senior forward Darius Miller. Miller is another versatile Wildcat who can score in the post or from the perimeter and is probably the best sixth man in the country not named Dion Waiters (although he has started the last three games).
If anything prevents this Wildcats team from making it to New Orleans, it could be the play of their enigmatic freshman point guard Marquis Teague. Teague has been better of late, but he's had a little bit of trouble adjusting to the college game. He turns the ball over a bit too much and often over-penetrates and gets himself into trouble. If Teague struggles in March, it could cost Kentucky a chance at perhaps its best chance at a national championship since 2003.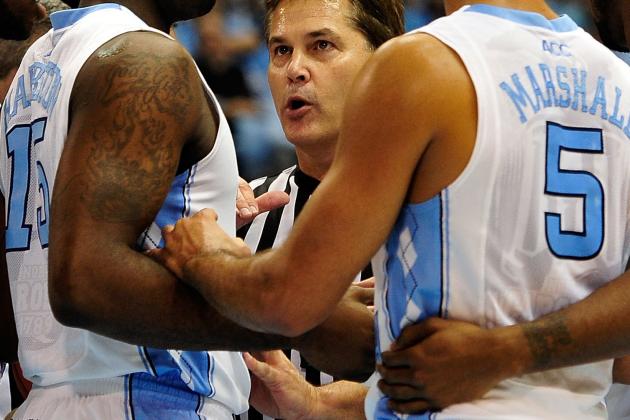 Grant Halverson/Getty Images

I know what you're thinking—the same UNC team that just got demolished by Florida State in Tallahassee? Well, sort of.
Needless to say, if the UNC team that lost by 31 to the Seminoles on Saturday shows up in March, they won't make it past the first weekend. Rest assured, Roy Williams won't let that happen.
This UNC team just has too much talent to not make a run at a Final Four. Tyler Zeller and John Henson make up a huge frontcourt that can score and rebound with the best of them. PJ Hairston and Reggie Bullock have proven to be reliable sources of points off the bench for the Tar Heels. Kendall Marshall is probably the best passing point guard in the country, although he needs to look to score more.
Harrison Barnes is the team's leading scorer and, despite disappointing at times, is still as lethal a scorer as anyone in the country when he's on.
Perhaps the most surprising thing about UNC's uninspired play thus far is that reaching the Final Four and winning a title was the main motivation behind Zeller, Henson and Barnes returning to school this year. But perhaps that's why UNC has looked a bit underwhelming so far—maybe they're cruising through the regular season just waiting for March to roll around.
Or maybe they're just overrated; it's a little too early to say.
Still, come March, UNC's size and scoring ability will overwhelm opponents and allow them to make a deep tournament run, even if they never become the team that the pundits predicted they would prior to the season.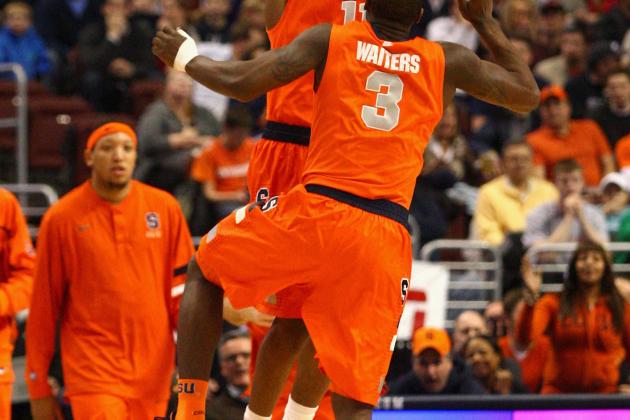 Chris Chambers/Getty Images

Despite the legitimate questions surrounding the quality of Syracuse's opponents and Jim Boeheim's reluctance to leave the state of New York, this Syracuse team has the talent, experience and depth to make a deep tournament run in March.
However, in order to do so, this 'Cuse team will have to do something that only three other Boeheim teams have done—advance past the Sweet Sixteen. Despite Boeheim's remarkable career, not many coaches have struggled in the tournament to the extent that Boeheim has.
At the end of the day, however, talent tends to win out and Syracuse has a seemingly endless supply of it.
Scoop Jardine and Brandon Triche make up the starting backcourt for the Orange, and right behind them is the best sixth man in America: Dion Waiters. Waiters is averaging 13.1 points and 2.8 assists in only 22.1 minutes per game, which is truly remarkable.
In the frontcourt, 'Cuse has a stable of long, athletic big men. Fab Melo has made great strides since his freshman year and can now be counted on for 20 productive minutes a night. CJ Fair is a versatile forward who causes matchup problems for opponents. And Kris Joseph, the lanky senior forward who can get to the basket, is the leading scorer on the team at 13.7 points per game.
Boeheim also relies heavily on James Southerland and Rakeem Christmas off the bench, and more often than not they reward his trust with production.
Simply put, there is no deeper team in America than Syracuse, and few with the overall talent that Syracuse has. For that reason, 'Cuse is 20-0, No. 1 in the country and poised to make a Final Four run for the first time since 2003 when Carmelo Anthony was in school.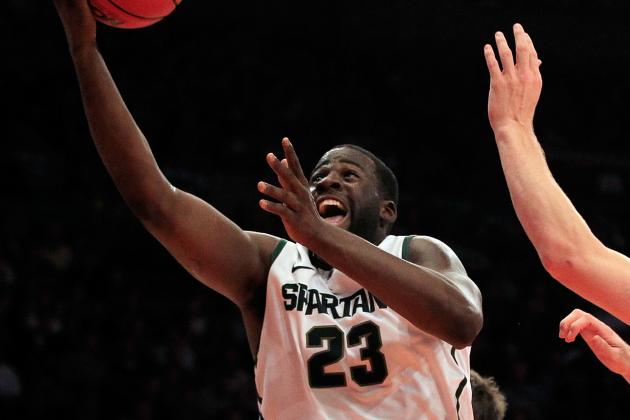 Chris Trotman/Getty Images

Coming into the season not many people were expecting much out of Michigan State, which is exactly how Tom Izzo likes it. Izzo has always done best with workmanlike teams that are devoid of true superstars and are somewhat overlooked by the college basketball world.
However, don't be fooled by their lack of preseason accolades—this team has plenty of talent and a mean streak that is a frequent characteristic of Izzo-coached teams.
Adreian Payne and Derrick Nix have both improved dramatically since last season and are two of the better frontcourt players in the Big Ten. And both can really crash the glass, which is seemingly a prerequisite for Michigan State big men.
Draymond Green is the team's leader and its best player, and he does a little bit of everything. The 6'7" senior forward is a National Player of the Year candidate and can score, rebound and pass the ball proficiently. If the Spartans make a deep run in March, rest assured Green will be right in the middle of it.
Another key development for the Spartans has been the improvement of sophomore guard Keith Appling, who has quickly become one of the better scorers in the Big Ten, and the scoring ability of freshman Travis Trice and senior transfer Brandon Wood. The backcourt has been a lot better than many expected it to be, and that's the main reason Michigan State is currently sitting in the Top 10 after being left off many people's preseason Top 25.
If the Spartans get the right matchups in March and continue to get strong guard play, look for Tom Izzo to lead his Spartans to yet another Final Four appearance much to the chagrin of the analysts and experts.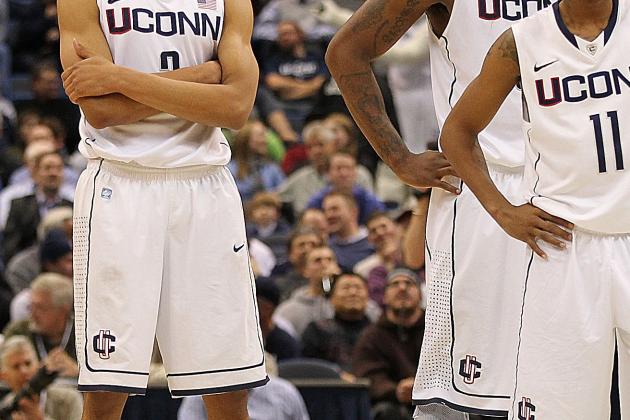 Jim Rogash/Getty Images

This may come as a bit of a surprise pick and Connecticut has been underwhelming thus far, but they still have as talented a starting five as anyone in the country, outside of Kentucky and maybe North Carolina.
Jeremy Lamb is the best wing player in the country on the offensive side of the ball. The sophomore has assumed the leading role for the Huskies this year now that Kemba Walker is gone, and he's done so admirably despite not getting much help from his teammates at times.
Shabazz Napier is really the X-factor for this team. Napier is a talented player but is well-known for taking ill-advised shots late in games when he should be focusing on facilitating rather than scoring. If Calhoun can get Napier playing like a real point guard by the time March rolls around, the Huskies all of a sudden look a lot more threatening.
Another key factor is the development of Andre Drummond. Drummond has an incredible body and is a good shot-blocker, but his offensive game is a bit raw. However, he did score 20 points in a recent game against West Virginia, so it seems as though he's improving rapidly on the offensive side of the floor. If Drummond can become a 15- to 16-PPG guy by March, that should be enough to take some of the scoring load off of Lamb and Napier.
And while the development and play of Connecticut's aforementioned "Big Three" will be integral to their success in March, another big factor will be the eligibility of Ryan Boatright. Boatright is an extremely talented freshman point guard who Calhoun trusts late in games, but is currently being forced to sit out by the NCAA pending an investigation into his eligibility. If Boatright is deemed ineligible, it will be a big blow for UConn and perhaps turn this potential Final Four team into more of a Sweet Sixteen-type team come March.