2012 NFL Draft: Position Rankings After the Underclassmen Declarations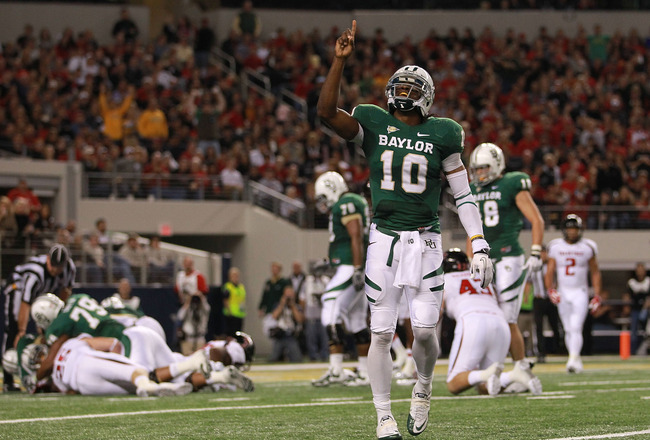 QB Robert Griffin III is the No. 1 prospect available in the 2012 NFL Draft
Ronald Martinez/Getty Images
A record 65 underclassmen have declared for the 2012 NFL draft, shattering the previous record of 56, which was set last year.

Now that the declaration deadline has passed, and we know exactly which players are staying in school and which ones are ready to make millions in the NFL, it's time to start figuring out how all of the top prospects really stack up.

With the Senior Bowl coming up in a week and then the NFL combine and pro day part of the process to follow after that, a lot is surely going to change in the next couple of months. Different players will see their stocks rise and fall as we continue the countdown until draft weekend, which will once again take place in late April.

I'll probably be putting out a complete top 100 prospects list some time after the NFL combine, but for now, here's a look at how I think the top prospects currently stack up by position as we move into the postseason phase of the evaluation process.
I also included some very early and preliminary position rankings for the 2013 NFL draft, as we now know which players will be heading back to school for the 2012 season.
The Top QB: Robert Griffin III, Baylor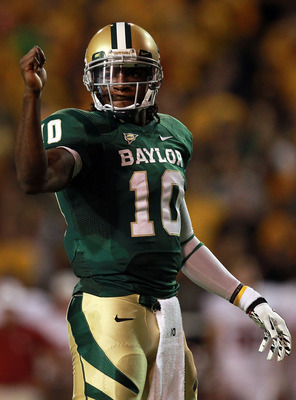 Robert Griffin III
Ronald Martinez/Getty Images
Let me start off by saying that I'm a huge fan of both Andrew Luck and Robert Griffin III, and there's no doubt in mind that they'll be the first two players to come off the board on draft night.
Even though I expect Luck to likely be the No. 1 overall pick when all is said and done, I just personally think the ceiling for Griffin is a little bit higher, given the giant leap he took this past season after fully recovering from a torn ACL that cut his 2009 season short.

Griffin entered his junior year known simply as an "intriguing athletic quarterback," but it only took one game for him to show the college football world that he was so much more than just your average dual-threat signal-caller.

The super speedster surprised onlookers by using his arm, instead of his legs, to torch a highly respected TCU defense by throwing for 359 yards and five touchdown strikes in a wild and shocking 50-48 upset of the Horned Frogs in Baylor's season opener.

What we didn't realize at the time was that performance was just the beginning of what turned out to be an eye-opening campaign for the 2011 Heisman winner.

This year, Griffin completed a whopping 72 percent of his passes, threw for over 4,300 yards and 37 touchdown strikes, finished with the second-highest passer rating in the country (189) and added 699 yards and 10 touchdowns on the ground—a campaign that was certainly one of the most impressive individual seasons we've seen in recent college football history.

His stats don't truly tell the whole story, though, as RG3 gave us so many "wow" moments and made so many clutch throws that you couldn't see by simply reading through a box score.

The 34-yard game-winning touchdown pass that beat Oklahoma is probably Griffin's most famous and memorable highlight from this past season, but it was just one of the many money balls that Griffin put exactly where it needed to be this year.

Long bombs and big plays became the norm in Waco in 2011, as Griffin developed a habit of hitting deep 50-yard go routes with what seemed to be a simple flick of the wrist.

The type of arm strength that Griffin displayed this year and the kind of accuracy he showed on deep passes is certainly going to make more than a few pro scouts rewind the tape with disbelief when they watch the Baylor game film.

I haven't seen a college quarterback throw the ball with that kind of zip and velocity since Matt Stafford left Georgia after the 2008 season.

That's why I'm hoping the media doesn't typecast Griffin as just another dual-threat quarterback who's more athlete than passer, because that's certainly not the case.

This season, RG3 displayed the type of pocket presence and awareness that you look for in a future franchise NFL signal-caller, and he's got all the skills and tools to develop into an upper-echelon passer in the pros. Accuracy, arm strength, vision, intangibles, athleticism, brains, leadership ability—Griffin's got it all. He's the absolute total package.

And that's why I have a feeling that the RG3 bandwagon is only going to get more and more crowded over these next few months.

Right now, Andrew Luck is the consensus favorite to go to the Indianapolis Colts with the No. 1 overall pick, but don't be surprised if Robert Griffin starts to invade Luck's territory soon.

Everyone seems to want to put Luck in the Hall of Fame before he even takes an NFL snap. Don't get me wrong, I think he's an elite prospect and deserving of all of the hype he received this past year; but if you look at him and Griffin, at least in my opinion, I think there's definitely a debate to be had about who's the better prospect and who really has the most NFL potential.

Luck's the most efficient quarterback we've seen come out of the college ranks in years, maybe even decades, but RG3's just as explosive as Luck is efficient, and in a league that's trending toward a culture where you want to collect as many explosive game-breakers on your roster as you possibly can, it wouldn't hurt to have a dangerous weapon like Robert Griffin leading your offense.

Sure, Luck fits the prototype of how you would build a perfect pro-style drop-back passer from scratch and he's got everything you're looking for in a franchise quarterback, but judging from what we saw from Griffin these past two seasons, he at least belongs in the conversation with the golden boy of the 2012 draft.

The question is, will he actually be able to give Luck a true run for his money?

Maybe, maybe not.

I'd say right around late February is when we'll see the RG3 fever really start to spread.
For those of you who aren't avid draft followers, that's when the annual NFL combine takes place.

If Griffin chooses to work out at the combine and Luck opts to wait for his own private workout to show scouts his stuff, you could see Griffin really start to build some big-time momentum if he performs like he's capable in the workouts and throwing drills at the combine.

This was the chance that Luck took by returning to school for his junior season. He ran the risk of someone stealing his thunder, and Griffin did just that as he rose up and took center stage and snatched away the Heisman from Luck, who entered the season as the heavy favorite to win the award.
Now, we'll see if RG3 can actually steal away the No. 1 pick from his cover boy counterpart as well.

Even if Griffin can't catch Luck and has to settle for going to a place like Cleveland, Washington or whichever other team decides to trade up to the No. 2 pick to nab him, that doesn't mean that he'll have any less of a chance of becoming a bona fide superstar in the NFL.

I've been following college football and the NFL draft intently since 2004, and I can honestly say that I've never seen a player that's as intriguing as Robert Griffin is.

Is he a perfect prospect?

No, nobody is, but with his skill set, he's got the chance to be a dangerous difference-maker in the NFL and the type of impact player that can change the complexion of an entire franchise.

The way I see it, he's Cam Newton in Aaron Rodgers' body.

Griffin's a world-class athlete, possesses a rocket for an arm and, oh yeah, he's also got a little charisma and personality too (I can't wait for the first time Roger Goodell fines him for wearing SpongeBob SquarePants socks during a game).

No matter how it all ends up on draft night, one thing's for sure: It's been a ton of fun watching Robert Griffin's rise to prominence this season. The next few months leading up to draft promise to be very interesting.

I can remember back when I wrote my first article about RG3 back during the 2010 season, and seeing how far he's come since then has been truly remarkable.

After watching him step up and become the savior that the Baylor program so desperately needed, now it's time to see what he can do at the next level.

After taking over the college football world and becoming the biggest breakout star of the 2011 season, the electric and explosive signal-caller sure looks ready for the pro game, and who knows, maybe RG3 is simply another member of the new wave of quarterbacks we're seeing enter the NFL.

With the growing popularity of spread offense at the high school and college levels, get ready to see a lot more dynamic athletes who can chuck it and run it with equal effectiveness coming up through the ranks in the next few years. Guys like Cam Newton and Robert Griffin III might just be ushering in a new era of quarterbacking in the NFL.
2012 NFL Draft: The Top 10 Quarterbacks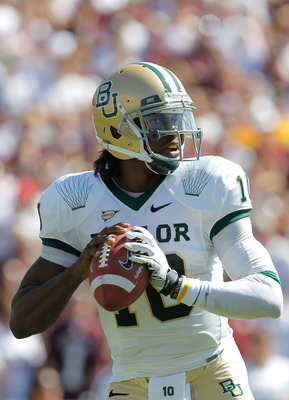 Robert Griffin III
Sarah Glenn/Getty Images
1. Robert Griffin III, Baylor

2. Andrew Luck, Stanford

3. Nick Foles, Arizona

4. Ryan Tannehill, Texas A&M

5. Brandon Weeden, Oklahoma State

6. Brock Osweiler, Arizona State

7. Ryan Lindley, San Diego State

8. Kirk Cousins, Michigan State

9. Russell Wilson, Wisconsin

10. Kellen Moore, Boise State
2012 NFL Draft: 10 Quarterbacks to Watch
Patrick Witt
Elsa/Getty Images
1. Patrick Witt, Yale

2. Chandler Harnish, Northern Illinois

3. B.J. Coleman, Chattanooga

4. Case Keenum, Houston

5. Darron Thomas, Oregon

6. John Brantley, Florida

7. Dominique Davis, East Carolina

8. Austin Davis, Southern Miss

9. G.J. Kinne, Tulsa

10. Zach Collaros, Cincinnati
The Top RB: Trent Richardson, Alabama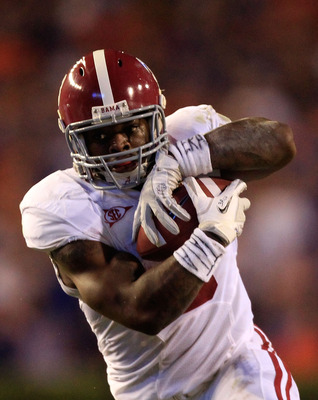 Trent Richardson
Sam Greenwood/Getty Images
Power—that's the only word you need to sufficiently describe Alabama junior sensation Trent Richardson.
Richardson was the strongest and most powerful running back in college football this past season, and he's got the type of talent that will warrant potential Top-five interest in the 2012 draft. Richardson's combination of balance, strength, speed and vision is something you rarely see, and it's what sets him apart from the rest of the running backs in this year's class.
Teams largely stay away from running back prospects in the Top 10 of the draft, but they don't often see a running back the caliber of Trent Richardson.

The NFL may be a passing league nowadays, but that's because backs like Richardson don't come along very often.

Richardson's physical ferocity and raw power combined with his fluid and strangely elegant running form is what makes him a true freak of football nature.

There's not a defensive player in the NFL that wouldn't shake in their cleats just a little bit if Trent Richardson was running right at them with a full head of steam.

Richardson is a star who shined bright throughout the 2011 season, and he put the question of whether or not he could be a capable replacement for Heisman-winning former teammate Mark Ingram way back in the rear view mirror.
The former 5-star recruit made the most of his one year as a starter in 2011, rushing for 1,679 yards and scoring 24 total touchdowns, as he played a key role in Alabama's run to a national championship.
In my opinion, Richardson is like Ahmad Bradshaw, Maurice Jones-Drew and Michael Turner wrapped into one big, muscular package.

This 5'11'', 225-pound powerhouse is truly in a class of his own, and he managed to elevate himself to elite status this past season.
2012 NFL Draft: The Top 10 Running Backs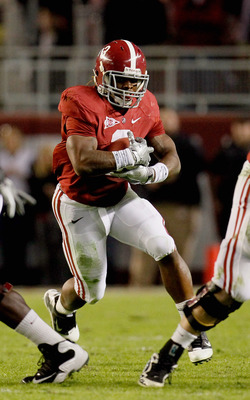 Trent Richardson
Kevin C. Cox/Getty Images
1. Trent Richardson, Alabama

2. Lamar Miller, Miami

3. David Wilson, Virginia Tech

4. Chris Polk, Washington

5. Bernard Pierce, Temple

6. Doug Martin, Boise State

7. LaMichael James, Oregon

8. Terrance Ganaway, Baylor

9. Robert Turbin, Utah State

10. Cyrus Gray, Texas A&M
2012 NFL Draft: 10 Running Backs to Watch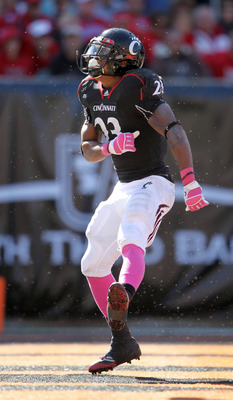 Isaiah Pead
Andy Lyons/Getty Images
1. Isaiah Pead, Cincinnati

2. Davin Meggett, Maryland

3. Vick Ballard, Mississippi State

4. Tauren Poole, Tennessee

5. Ronnie Hillman, San Diego State

6. Boom Herron, Ohio State

7. Lennon Creer, Louisiana Tech

8. Brandon Bolden, Ole Miss

9. Alvester Alexander, Wyoming

10. Bobby Rainey, Western Kentucky
The Top WR: Justin Blackmon, Oklahoma State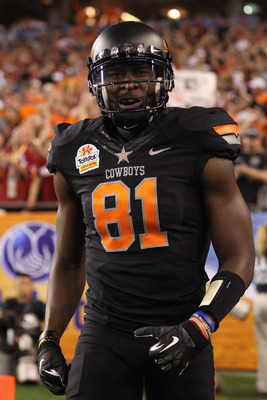 Justin Blackmon
Christian Petersen/Getty Images
Like I said, I've been seriously following the NFL draft since 2004, and during that time, there have been four wide receivers who I considered truly elite prospects—Larry Fitzgerald, Calvin Johnson, A.J. Green and Julio Jones. And I'll be honest, after watching him take over college football these past two years, I think Oklahoma State's Justin Blackmon definitely belongs in that same category.
Sometimes you see a receiver who is just physically superior to any cornerback he could possibly go up against, and Justin Blackmon certainly fits that mold, as he completely dominated and embarrassed almost every poor defensive back that got in his way these past two seasons.

Blackmon is one of those rare ones.

When I look at him, I see a similar physical makeup to Baltimore's Anquan Boldin, because he's got all the physical skills to make cornerbacks look foolish, even though he lacks true breakaway long speed.
Unlike Boldin, though, Blackmon rarely disappears in games.

In his final two seasons, the 6'1'', 205-pound junior caught an astonishing total of 232 passes for 3,304 yards and scored 38 total touchdowns, capping his career off with a brilliant performance against Stanford in the Fiesta Bowl.
Blackmon is a special talent in every sense, and he possesses the type of supreme playmaking ability that any NFL coach would love to add to their offense.

There's no way Blackmon will escape the Top 10 of the 2012 draft, and if he doesn't completely blow his 40-yard dash, it's hard to see him making it out of the Top five.
2012 NFL Draft: The Top 10 Wide Receivers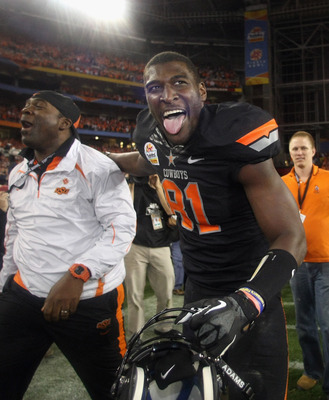 Justin Blackmon
Donald Miralle/Getty Images
1. Justin Blackmon, Oklahoma State

2. Kendall Wright, Baylor

3. Michael Floyd, Notre Dame

4. Mohamed Sanu, Rutgers

5. Alshon Jeffery, South Carolina

6. Dwight Jones, North Carolina

7. Rueben Randle, LSU

8. Nick Toon, Wisconsin

9. Jarius Wright, Arkansas

10. Chris Givens, Wake Forest
2012 NFL Draft: 10 Wide Receivers to Watch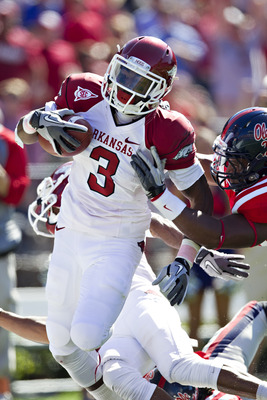 Joe Adams
Wesley Hitt/Getty Images
1. Joe Adams, Arkansas

2. Brian Quick, Appalachian State

3. Stephen Hill, Georgia Tech

4. Jeff Fuller, Texas A&M

5. Eric Page, Toledo

6. A.J. Jenkins, Illinois

7. Ryan Broyles, Oklahoma

8. B.J. Cunningham, Michigan State

9. Marvin McNutt, Iowa

10. Tommy Streeter, Miami
The Top TE: Dwayne Allen, Clemson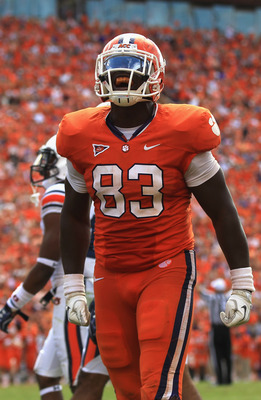 Dwayne Allen
Streeter Lecka/Getty Images
QB Tajh Boyd and WR Sammy Watkins hogged up most of the attention on the Clemson offense this season, but in terms of the NFL draft, this year's top Tiger offensive prospect was actually TE Dwayne Allen.
Allen, who won the Mackey Award as the top tight end in the country this year, has the speed and route-running ability to be a huge factor in the passing game in the NFL, and he was the most athletic and naturally gifted tight end in all of college football this past season.
The 6'4'', 255-pound junior hauled in 50 passes for 598 yards and scored eight touchdowns in 2011, and he tore up secondaries down the seam on a routine basis all year long.
Allen may not be the strongest run-blocker, but he fits into that current trend of tight ends who look like they could be basketball forwards. And while he may just be a glorified receiver in a tight end's body, he should become a valuable weapon in the passing game for whichever team ends up taking him.
2012 NFL Draft: The Top 10 Tight Ends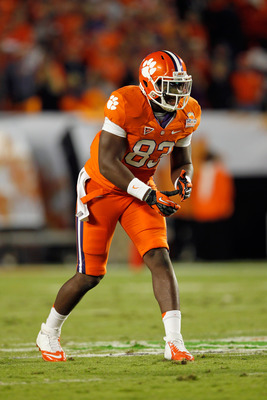 Dwayne Allen
Streeter Lecka/Getty Images
1. Dwayne Allen, Clemson

2. Orson Charles, Georgia

3. Coby Fleener, Stanford

4. Brian Linthicum, Michigan State

5. Ladarius Green, Louisiana-Lafayette

6. Michael Egnew, Missouri

7. Rhett Ellison, USC

8. George Bryan, North Carolina State

9. David Paulson, Oregon

10. Kevin Koger, Michigan
2012 NFL Draft: 10 Tight Ends to Watch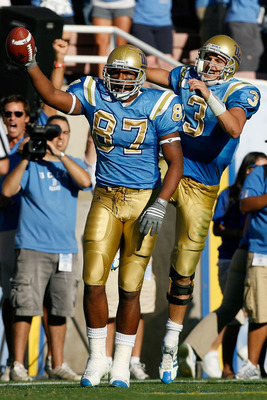 Cory Harkey
Harry How/Getty Images
1. Cory Harkey, UCLA

2. Evan Rodriguez, Temple

3. Tyler Urban, West Virginia

4. Deangelo Peterson, LSU

5. Nick Provo, Syracuse

6. Josh Chichester, Louisville

7. James Hanna, Oklahoma

8. Brad Herman, Iowa

9. Blake Ayles, Miami

10. Anthony Miller, California
The Top OT: Matt Kalil, USC
Former USC OT Tyron Smith was the best offensive line prospect in the 2011 NFL draft, and he ended up being taken No. 9 by the Dallas Cowboys and becoming an instant reliable starter in his rookie season.

The fact that Smith was forced to man the right side for the Trojans during his junior season in order to make room for Matt Kalil to man the all-important left side just goes to show you the type of special tackle that Kalil really is.
The super-athletic former All-American recruit excelled in his first season as a starter, and he picked up right where he left off in 2011.
Kalil made it his mission to stonewall every opposing pass-rusher he went up against this season, and his run-blocking noticeably improved in his second year as a starter.

The 6'7'', 295-pound junior won the battle of the tackles with Stanford's Jonathan Martin earlier in the season when the Trojans and Cardinal squared off, and he has since solidified himself as the top offensive tackle prospect in the country.
Kalil is one of the most athletic tackle prospects to come out of the college ranks in years, and if he stays on track and develops as expected, he's going to become a valuable offensive line leader and franchise-type stalwart for the next decade.
2012 NFL Draft: The Top 10 Offensive Tackles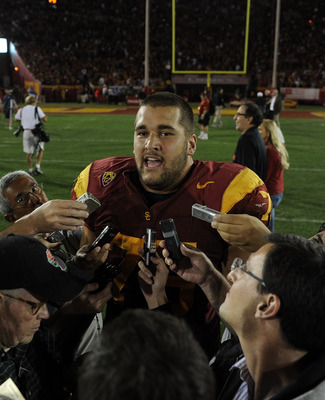 Matt Kalil
Harry How/Getty Images
1. Matt Kalil, USC

2. Riley Reiff, Iowa

3. Jonathan Martin, Stanford

4. Zebrie Sanders, Florida State

5. Mike Adams, Ohio State

6. Cordy Glenn, Georgia

7. Kelechi Osemele, Iowa State

8. Matt McCants, UAB

9. Jeff Allen, Illinois

10. Nate Potter, Boise State
2012 NFL Draft: 10 Offensive Tackles to Watch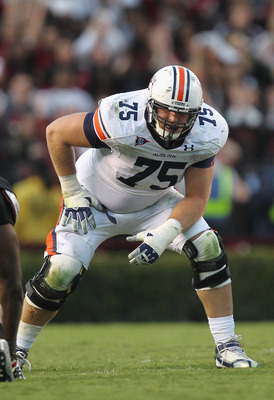 Brandon Mosley
Streeter Lecka/Getty Images
1. Brandon Mosley, Auburn

2. Levy Adcock, Oklahoma State

3. Bobby Massie, Mississippi

4. Andrew Datko, Florida State

5. Matt Reynolds, BYU

6. Tony Bergstrom, Utah

7. James Carmon, Mississippi State

8. Al Netter, Northwestern

9. Marcel Jones, Nebraska

10. James Brown, Troy
The Top IL: David DeCastro, Stanford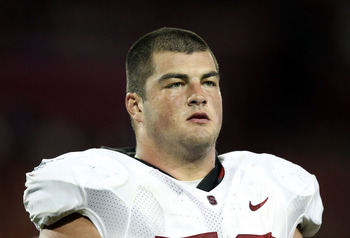 David DeCastro
Christian Petersen/Getty Images
Even though the Eagles took Danny Watkins and the Dolphins took Mike Pouncey with their first overall picks in 2011, it's still rare to see interior offensive linemen crack the first round of the NFL draft.

Guard and center are two of the least glamorous positions in football, but they're also two of the most important.

If an offense is strong up the middle, not only does it allow the running game to flourish, but it also helps out pass protection as well, as great guards can take a lot of pressure off the tackles on the outside.

This year's top interior offensive line prospect is without a doubt Stanford guard David DeCastro, who could have entered the 2011 draft as a redshirt sophomore and likely been a first-round pick.
The 6'5'', 310-pound junior is an absolute monster as a run-blocker, as he's paved the way for some mighty successful rushing attacks over the last two years. He also happened to be a favorite butt to run behind for Stanford running back Stepfan Taylor.

DeCastro is strong, athletic, tenacious and fearless, and he has the type of mean-streak and makeup to flourish in the NFL trenches.
2012 NFL Draft: The Top 10 Interior Linemen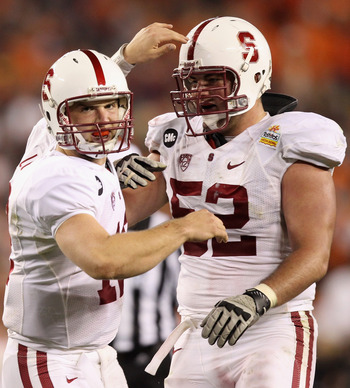 David DeCastro
Christian Petersen/Getty Images
1. David DeCastro, Stanford

2. Peter Konz, Wisconsin

3. Senio Kelemete, Washington

4. Kevin Zeitler, Wisconsin

5. Amini Silatolu, Midwestern State

6. Brandon Washington, Miami

7. Phillip Blake, Baylor

8. Mike Brewster, Ohio State

9. Lucas Nix, Pittsburgh

10. Ben Jones, Georgia
2012 NFL Draft: 10 Interior Linemen to Watch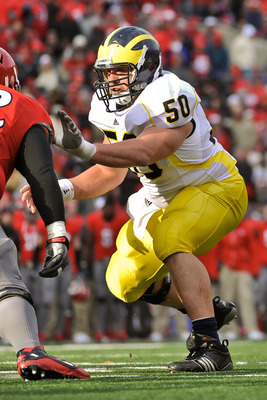 David Molk
Jamie Sabau/Getty Images
1. David Molk, Michigan

2. Joe Looney, Wake Forest

3. Ryan Miller, Colorado

4. Kelvin Beachum, SMU

5. Quentin Saulsberry, Mississippi State

6. Jaymes Brooks, Virginia Tech

7. Rokevious Watkins, South Carolina

8. Brandon Brooks, Miami (Ohio)

9. Will Blackwell, LSU

10. Desmond Wynn, Rutgers
The Top DT: Michael Brockers, LSU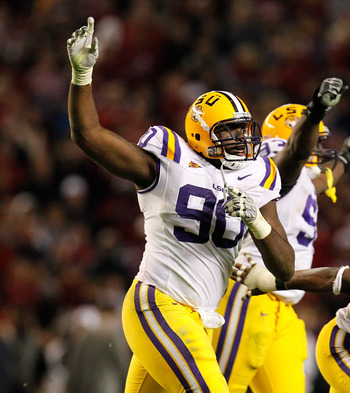 Michael Brockers
Kevin C. Cox/Getty Images
Warning: Michael Brockers is about to take over the 2012 NFL Draft!
With defensive ends Sam Montgomery and KeKe Mingo hogging up the attention on the defensive line, and Tyrann Mathieu and Mo Claiborne making a ton of noise in the secondary, DT Michael Brockers quickly became the most overlooked and undervalued member of the LSU defense this season.
But now that he's decided to declare early for the NFL, it's going to be Brockers' time to shine over these next few months, as he flies up draft boards and becomes the biggest riser of this year's draft class.
The 6'6'', 305-pound redshirt sophomore may have only started for one year down in Baton Rouge, but he certainly made his presence felt in 2011, as Brockers was one of the most dominant interior forces in the country this past season.
LSU has produced a ton of high-profile defensive line prospects in recent years such as Drake Nevis, Tyson Jackson, Glenn Dorsey and Marcus Spears. And while most of them haven't exactly lived up to expectations, that certainly doesn't mean that teams should shy away from selecting Brockers.
With the way he can shed blocks and make plays in the backfield, Brockers has the chance to develop into a perennial pro-bowl defensive tackle. If he performs well in postseason workouts, it's tough to see him making it out of the Top 10 on draft night.
2012 NFL Draft: The Top 10 Defensive Tackles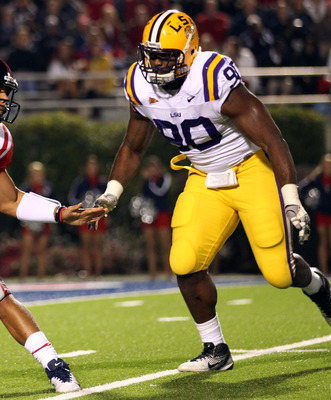 Michael Brockers
Joe Murphy/Getty Images
1. Michael Brockers, LSU

2. Dontari Poe, Memphis

3. Devon Still, Penn State

4. Fletcher Cox, Mississippi State

5. Brandon Thompson, Clemson

6. Jerel Worthy, Michigan State

7. Billy Winn, Boise State

8. Jared Crick, Nebraska

9. Kendall Reyes, Connecticut

10. Alameda Ta'amu, Washington
2012 NFL Draft: 10 Defensive Tackles to Watch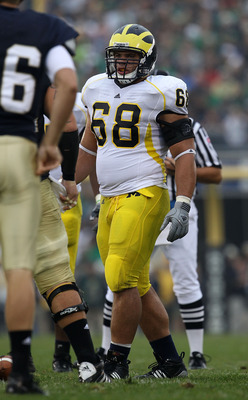 Mike Martin
Jonathan Daniel/Getty Images
1. Mike Martin, Michigan

2. DaJohn Harris, USC

3. Brett Roy, Nevada

4. Jaye Howard, Florida

5. Josh Chapman, Alabama

6. Marcus Forston, Miami

7. Kheeston Randall, Texas

8. Derek Wolfe, Cincinnati

9. Matt Conrath, Virginia

10. Dominique Hamilton, Missouri
The Top DE: Melvin Ingram, South Carolina
Melvin Ingram
Streeter Lecka/Getty Images
Devin Taylor and Jadeveon Clowney were supposed to be the two stars of the South Carolina defensive line this season, but defensive tackle/end tweener Melvin Ingram swooped in and stole their thunder.

This year, Ingram proved that he was one of the most versatile defenders in the country, as he enjoyed a dominant breakout campaign in 2011.

The 6'2'', 275-pound senior has the size and strength to be a major threat against the run, but he also possesses the type of rare speed and burst for his size that makes him a menace as a pass-rusher.

Ingram, who led South Carolina with 15 tackles for loss and 10 sacks, is the top defensive end prospect available this year, and he showed some tremendous feats of power and athleticism this season, enough to warrant legitimate Top-15 interest.
His eye-opening fake-punt touchdown run against Georgia put him on the map and he kept building on that momentum all season long.
There aren't many prospects who caught the attention of NFL scouts like Ingram did this season.
It will be interesting to see which team ultimately ends up with Ingram, as he has the type of diverse skill-set that could fit into a variety of different defensive schemes and packages. There are a bunch of different roles he could play in the NFL, ranging from defensive tackle to defensive end, and he could possibly even fit in as a rush linebacker in a 3-4 system.
2012 NFL Draft: The Top 10 Defensive Ends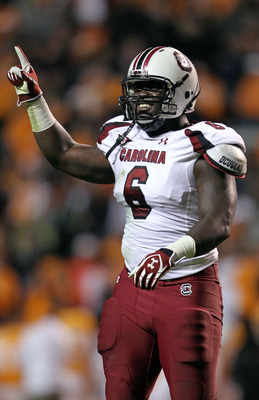 Melvin Ingram
Andy Lyons/Getty Images
1. Melvin Ingram, South Carolina

2. Quinton Coples, North Carolina

3. Whitney Mercilus, Illinois

4. Andre Branch, Clemson

5. Trevor Guyton, California

6. Vinny Curry, Marshall

7. Cam Johnson, Virginia

8. Derrick Shelby, Utah

9. Julian Miller, West Virginia

10. Jake Bequette, Arkansas
2012 NFL Draft: 10 Defensive Ends to Watch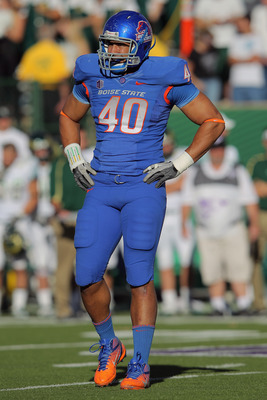 Tyrone Crawford
Doug Pensinger/Getty Images
1. Tyrone Crawford, Boise State

2. Taylor Thompson, SMU

3. Malik Jackson, Tennessee

4. Olivier Vernon, Miami

5. Scott Solomon, Rice
6. Ryan Van Bergen, Michigan

7. Jack Crawford, Penn State

8. DeAngelo Tyson, Georgia

9. Justin Francis, Rutgers

10. Vince Browne, Northwestern
The Top 3-4 LB: Courtney Upshaw, Alabama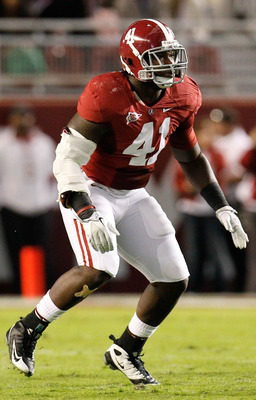 Courtney Upshaw
Kevin C. Cox/Getty Images
With the continued growth and popularity of the 3-4 defense in this NFL era, the 3-4 rush linebacker is becoming one of the draft's premium positions. If you can find an elite young pass-rusher to set loose off the edge in a 3-4 front, you better snatch him up when you can.

In recent years, we've seen a rising trend in converting smaller pass-rushing defensive ends into rush linebackers, and we witnessed that this season with Aldon Smith. However, this year's best rush-linebacker prospect is actually a real linebacker.

It's Alabama's steady defensive star, Courtney Upshaw. At 6'2'', 265 pounds, Upshaw not only has the size but also the edge speed to be a pass-rushing force in a 3-4 defense in the NFL.

Last year, Upshaw was one of the most consistent performers on a superbly talented Alabama defense, as he made a living in opponents' backfields, racking up 14.5 tackles for loss and seven sacks.

This season, he was even more of a nightmare for opposing offenses to deal with. Upshaw racked up 18 tackles for loss and 9.5 sacks, and he capped off his career with a sensational showing in his final collegiate game. As one of the centerpieces of Alabama's dominating defensive performance against LSU in the BCS championship game, Upshaw earned MVP honors for his efforts.
He may not have the spectacular athletic package like Von Miller and Aldon Smith offered up in last year's draft, but Upshaw makes up for it with his physical demeanor and ability to make crucial stops when it counts.

The seasoned senior is the type of impact player who can step in and immediately make an NFL defense better, and I think he has the chance to be a LaMarr Woodley-type of defender in the NFL.

If he performs well in offseason workouts, Upshaw has done enough on the field to warrant serious Top-10 interest.
2012 NFL Draft: The Top 10 Rush Linebackers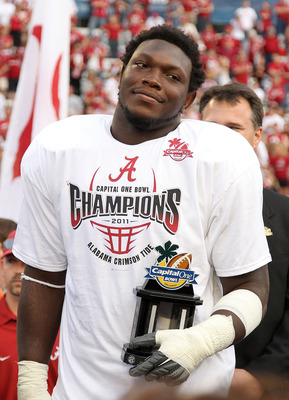 Courtney Upshaw
Mike Ehrmann/Getty Images
1. Courtney Upshaw, Alabama

2. Nick Perry, USC

3. Bruce Irvin, West Virginia

4. Ronnell Lewis, Oklahoma

5. Chandler Jones, Syracuse

6. Jonathan Massaquoi, Troy

7. Brandon Lindsey, Pittsburgh

8. Donte Paige-Moss, North Carolina

9. Shea McClellin, Boise State

10. Darius Fleming, Notre Dame
2012 NFL Draft: 10 Rush Linebackers to Watch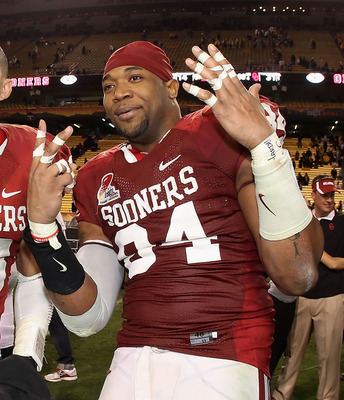 Frank Alexander
Christian Petersen/Getty Images
1. Frank Alexander, Oklahoma

2. Jacquies Smith, Missouri

3. Dezman Moses, Tulane

4. Darius Nall, Central Florida

5. Cordarro Law, Southern Miss

6. Adrian Robinson, Temple

7. Kyle Wilber, Wake Forest

8. Kentrell Lockett, Mississippi

9. Matt Broha, Louisiana Tech

10. Josh Biezuns, Wyoming
The Top Traditional LB: Zach Brown, North Carolina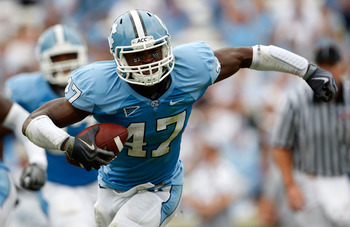 Zach Brown
Streeter Lecka/Getty Images
The North Carolina defensive front seven was loaded with future NFL talent this past season, and one of the real leaders of that group was LB Zach Brown, who took a huge step forward last season and really boosted his pro stock this year.

Brown wasn't even a full-time starter in 2010, yet he still finished second on the team with 72 tackles, outperforming both Bruce Carter and Quan Sturdivant. This year, he led the Tar Heels with 105 tackles, and he also racked up 5.5 sacks, 13.5 tackles for loss, three interceptions and three forced fumbles.

The 6'2'', 230-pound senior could end up playing either inside or outside in the pros, but it's likely he'll end up manning the weak side in a 4-3 system like he did at North Carolina, a position that he seems to be perfectly built for.

Brown is a quick-twitch athlete who has proven that he has the range to track down ball-carriers from sideline to sideline and make big plays and stops on a regular basis, and he's shown that he's strong enough to shed blockers and make tackles in the open field without a problem.

D.J. Williams and Jon Beason are two good reference points when trying to project Brown as a pro player.
2012 NFL Draft: The Top 10 Traditional Linebackers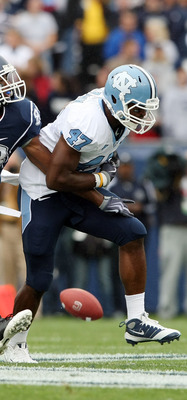 Zach Brown
Elsa/Getty Images
1. Zach Brown, North Carolina

2. Luke Kuechly, Boston College

3. Vontaze Burfict, Arizona State

4. Dont'a Hightower, Alabama

5. Audie Cole, North Carolina State

6. Lavonte David, Nebraska

7. Bobby Wagner, Utah State

8. Terrell Manning, North Carolina State

9. Sean Spence, Miami

10. Travis Lewis, Oklahoma
2012 NFL Draft: 10 Traditional Linebackers to Watch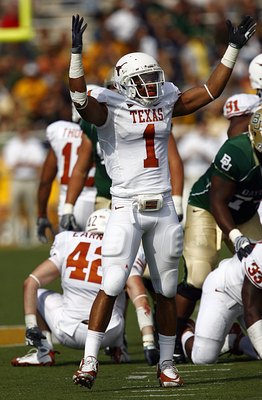 Keenan Robinson
Tom Pennington/Getty Images
1. Keenan Robinson, Texas

2. James Michael-Johnson, Nevada
3. Nigel Bradham, Florida State

4. Emmanuel Acho, Texas

5. Tyler Nielsen, Iowa

6. Najee Goode, West Virginia

7. Mychal Kendricks, California

8. Danny Trevathan, Kentucky

9. Tank Carder, TCU

10. Miles Burris, San Diego State
The Top CB: Morris Claiborne, LSU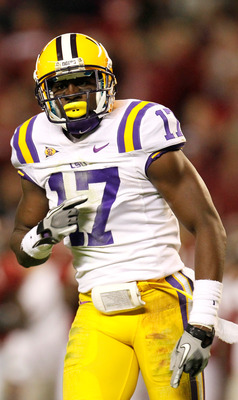 Morris Claiborne
Kevin C. Cox/Getty Images
It only took one play for me to realize what kind of impact player LSU CB Morris Claiborne really is.

The scene: With time winding down in the third quarter, West Virginia had just scored a touchdown to cut LSU's lead to 27-21, and Milan Puskar Stadium was rocking with energy as the Mountaineers booted a kickoff deep to Claiborne, who was patiently waiting on the goal line. Ten seconds and 99 yards later, Claiborne had managed to stick a dagger in the hearts of the Mountaineers and mercilessly twisted it by sealing the game with a ridiculously clutch kickoff return.

Backfield mate Tyrann Mathieu may have received all the hype and publicity this past season with his Honey Badger gimmick, but if you actually watched any LSU game in 2011, it was clear who the best player on the Tigers' defense actually was.

Claiborne shut down every receiver that dared to line up in front of him, forcing teams to test Mathieu on a regular basis, which is why he was able to make so many plays and garner so much attention.

The All-American corner proved that he can handle any route you could possibly try to test him with, whether it be a screen, a quick slant, or even a daring deep go-route.

It didn't seem to matter to Claiborne, because he handled it all without a hitch. You simply can't fool him.

His instincts are almost too good to be true, and it helps that he has enough recovery speed to track down any receiver that may somehow find a way to get a step on him.

The 6'0'', 185-pound junior is long, fast and instinctive—three main traits that any elite cornerback prospect needs to possess.

Claiborne is a better pure cornerback prospect than his former teammate Patrick Peterson was, as he has everything you look for in a potential lock down corner. It's almost impossible to see him dropping past Tampa Bay, who owns the fifth pick in the draft.
2012 NFL Draft: The Top 10 Cornerbacks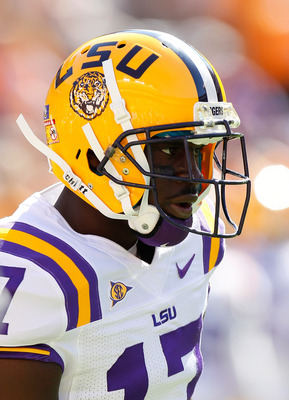 Morris Claiborne
Kevin C. Cox/Getty Images
1. Morris Claiborne, LSU

2. Dre Kirkpatrick, Alabama

3. Chase Minnifield, Virginia

4. Alfonzo Dennard, Nebraska

5. Janoris Jenkins, North Alabama

6. Stephon Gilmore, South Carolina

7. Leonard Johnson, Iowa State

8. Casey Hayward, Vanderbilt

9. Trumaine Johnson, Montana

10. Jayron Hosley, Virginia Tech
2012 NFL Draft: 10 Cornerbacks to Watch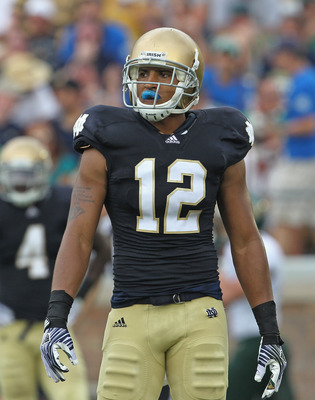 Robert Blanton
Jonathan Daniel/Getty Images
1. Robert Blanton, Notre Dame

2. Jamell Fleming, Oklahoma

3. Brandon Boykin, Georgia

4. Coryell Judie, Texas A&M

5. Shaun Prater, Iowa

6. Josh Robinson, Central Florida

7. Donnie Fletcher, Boston College

8. Omar Bolden, Arizona State

9. Ryan Steed, Furman

10. Cliff Harris, Oregon
The Top S: Mark Barron, Alabama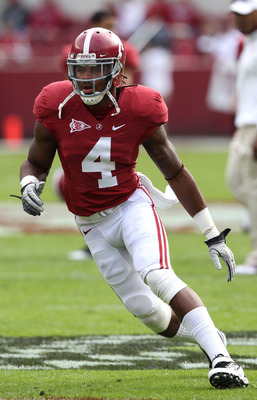 Mark Barron
Mike Zarrilli/Getty Images
There's a lot of different traits that I look for in a safety prospect—size, speed, range, instincts and physicality. But the main trait I look for is field presence, as it's something only the true standout safeties possess.

If you look at some of the great safeties that we've seen during the last decade such as Troy Polamalu, Ed Reed, Brian Dawkins and Sean Taylor, they all had that special type of presence about them, and you could tell that every skill-position player on the opposing offense always knew where they were on every play.

Great safeties almost have an aura surrounding them, and no matter where they line up, whether it's right at the line of scrimmage ready to blitz or 20 yards down the field in deep pass coverage, you can always feel their presence on the field.

Alabama's Mark Barron displayed that same type of field presence during his time in Tuscaloosa.
Barron has been an impact player in the Tide secondary since he first stepped into the starting lineup as a sophomore in 2009. As soon as he was inserted into the lineup, Barron became an instant key leadership figure on the extremely talented Alabama defense. It's a role he truly thrived in during the 2010 season, as the Tide tried to replace the nine starters they lost after their national championship run the year before.

Barron has been a dependable and reliable playmaker for three straight years, and he's really made some great strides under the tutelage of Nick Saban and the Alabama coaching staff during that time.
The 6'2'', 215-pound senior racked up 231 total tackles and notched 12 interceptions in his four years in a Crimson Tide uniform, but his numbers don't tell the whole story.

Barron's leadership and intangibles are what really sets him apart from the rest of the crowd in this year's safety class. He's the type of figure that players in the locker room will look up to and respect not just for his play, but for how he conducts himself and how he goes about his work.

Even though he may not have the same type of awe-inspiring physical gifts of Top-10 safety prospects like Eric Berry or Laron Landry, Barron's got a great deal of natural skills. He's the type of safety who you can stick on the back end of your defense as a rookie and watch him grow into a consistent pro-bowl caliber defensive back over the next decade.
2012 NFL Draft: The Top 10 Safeties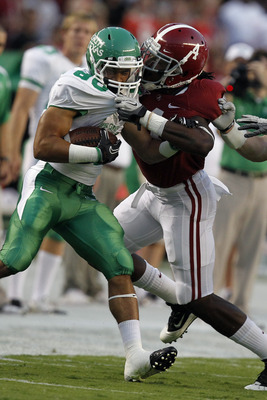 Mark Barron
Butch Dill/Getty Images
1. Mark Barron, Alabama

2. Markelle Martin, Oklahoma State

3. Antonio Allen, South Carolina

4. George Iloka, Boise State

5. Trenton Robinson, Michigan State

6. Winston Guy, Kentucky

7. Duke Ihenacho, San Jose State

8. Harrison Smith, Notre Dame

9. Kelcie McCray, Arkansas State

10. Aaron Henry, Wisconsin
2012 NFL Draft: 10 Safeties to Watch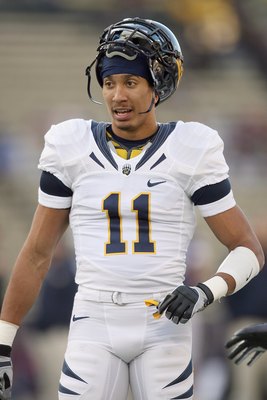 Sean Cattouse
Otto Greule Jr/Getty Images
1. Sean Cattouse, California

2. Brandon Taylor, LSU

3. Christian Robinson, South Carolina State

4. Sean Richardson, Vanderbilt

5. Charles Mitchell, Mississippi State

6. Tony Dye, UCLA

7. Delano Howell, Stanford

8. Jerrell Young, South Florida

9. Eddie Pleasant, Oregon

10. Tysyn Hartman, Kansas State
2012 NFL Draft: The Top 5 Kickers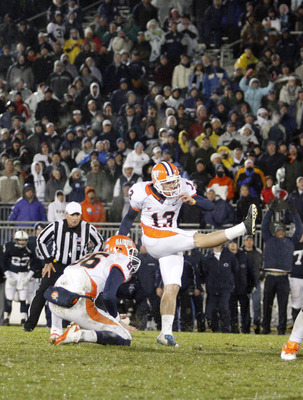 Derek Dimke
Justin K. Aller/Getty Images
1. Derek Dimke, Illinois

2. Blair Walsh, Georgia

3. Phillip Welch, Wisconsin

4. Danny Hrapmann, Southern Miss

5. Carson Wiggs, Purdue
2012 NFL Draft: The Top 5 Punters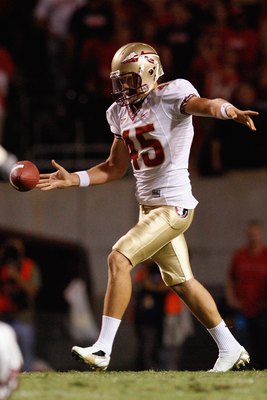 Shawn Powell
Kevin C. Cox/Getty Images
1. Shawn Powell, Florida State

2. Drew Butler, Georgia

3. Bryan Anger, California

4. Kyle Martens, Rices

5. Brian Stahovich, San Diego State
2013 NFL Draft: The Top 10 Quarterbacks: Seniors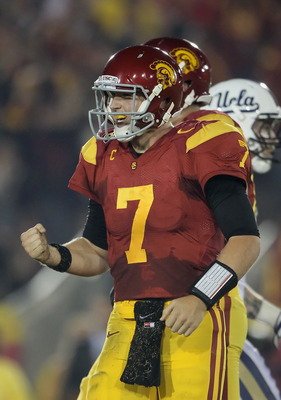 Matt Barkley
Jeff Gross/Getty Images
1. Matt Barkley, USC
2. Tyler Wilson, Arkansas
3. Geno Smith, West Virginia
4. Landry Jones, Oklahoma
5. Mike Glennon, North Carolina State
6. E.J. Manuel, Florida State
7. Jeff Tuel, Washington State
8. Alex Carder, Western Michigan
9. James Vandenberg, Iowa
10. Collin Klein, Kansas State
2013 NFL Draft: The Top 10 Quarterbacks: Underclassmen
Aaron Murray
Kevin C. Cox/Getty Images
1. Aaron Murray, Georgia
2. Logan Thomas, Virginia Tech
3. Casey Pachall, TCU
4. Tyler Bray, Tennessee
5. A.J. McCarron, Alabama
6. Tajh Boyd, Clemson
7. Keith Price, Washington
8. Bryn Renner, North Carolina
9. James Franklin, Missouri
10. Derek Carr, Fresno State
2013 NFL Draft: The Top 10 Running Backs: Seniors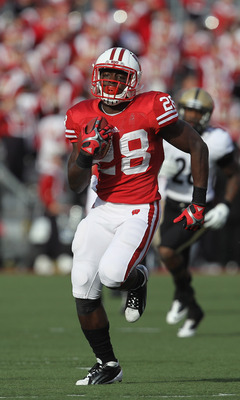 Montee Ball
Jonathan Daniel/Getty Images
1. Montee Ball, Wisconsin
2. Stepfan Taylor, Stanford
3. Andre Ellington, Clemson
4. Johnathan Franklin, UCLA
5. Ray Graham, Pittsburgh
6. Christine Michael, Texas A&M
7. Kenjon Barner, Oregon
8. John White, Utah
9. Onterio McCalebb, Auburn
10. Cameron Marshall, Arizona State
2013 NFL Draft: The Top 10 Running Backs: Underclassmen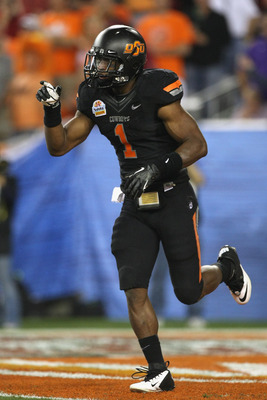 Joseph Randle
Donald Miralle/Getty Images
1. Joseph Randle, Oklahoma State
2. Marcus Lattimore, South Carolina
3. Knile Davis, Arkansas
4. Giovani Bernard, North Carolina
5. Cierre Wood, Notre Dame
6. Spencer Ware, LSU
7. Henry Josey, Missouri
8. Le'Veon Bell, Michigan State
9. Eddie Lacy, Alabama
10. Silas Redd, Penn State
2013 NFL Draft: The Top 10 Wide Receivers: Seniors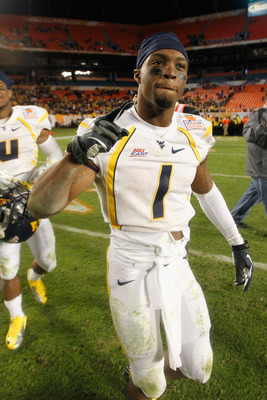 Tavon Austin
Streeter Lecka/Getty Images
1. Tavon Austin, West Virginia
2. Terrance Williams, Baylor
3. Cobi Hamilton, Arkansas
4. Emory Blake, Auburn
5. Erik Highsmith, North Carolina
6. Denard Robinson, Michigan
7. Tavarres King, Georgia
8. Ryan Swope, Texas A&M
9. Markus Wheaton, Oregon State
10. Keenan Davis, Iowa
2013 NFL Draft: The Top 10 Wide Receivers: Underclassmen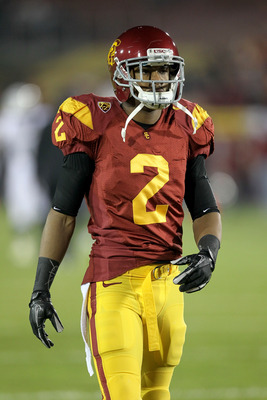 Robert Woods
Stephen Dunn/Getty Images
1. Robert Woods, USC
2. Marquess Wilson, Washington State
3. Da'Rick Rogers, Tennessee
4. Keenan Allen, California
5. Kenny Stills, Oklahoma
6. DeAndre Hopkins, Clemson
7. Stedman Bailey, West Virginia
8. Josh Gordon, Utah
9. Jalen Saunders, Fresno State
10. Mike Davis, Texas
2013 NFL Draft: The Top 10 Tight Ends: Seniors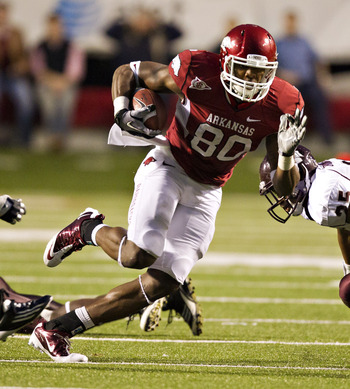 Chris Gragg
Wesley Hitt/Getty Images
1. Chris Gragg, Arkansas
2. Joseph Fauria, UCLA
3. Michael Williams, Alabama
4. Philip Lutzenkirchen, Auburn
5. Jake Stoneburner, Ohio State
6. Jack Doyle, Western Kentucky
7. Kyler Reed, Nebraska
8. Ryan Otten, San Jose State
9. Ryan Griffin, Connecticut
10. Lucas Reed, New Mexico
2013 NFL Draft: The Top 10 Tight Ends: Underclassmen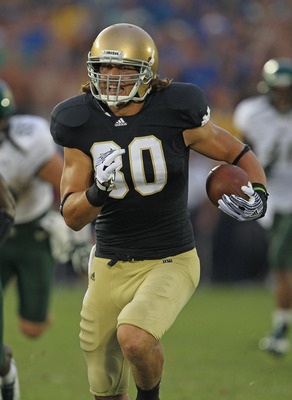 Tyler Eifert
Jonathan Daniel/Getty Images
1. Tyler Eifert, Notre Dame
2. Zach Ertz, Stanford
3. Dion Sims, Michigan State
4. Gavin Escobar, San Diego State
5. Arthur Lynch, Georgia
6. Levine Toilolo, Stanford
7. Randall Telfer, USC
8. Jacob Pedersen, Wisconsin
9. Jordan Najvar, Baylor
10. Jordan Reed, Florida
2013 NFL Draft: The Top 10 Offensive Tackles: Seniors
Barrett Jones
Butch Dill/Getty Images
1. Barrett Jones, Alabama
2. Ricky Wagner, Wisconsin
3. Alex Hurst, LSU
4. Justin Pugh, Syracuse
5. Tanner Hawkinson, Kansas
6. Oday Aboushi, Virginia
7. LaAdrian Waddle, Texas Tech
8. Brennan Williams, North Carolina
9. Fou Fonoti, Michigan State
10. Matt Summers-Gavin, California
2013 NFL Draft: The Top 10 Offensive Tackles: Underclassmen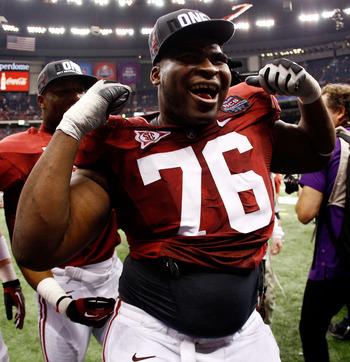 D.J. Fluker
Chris Graythen/Getty Images
1. D.J. Fluker, Alabama
2. Morgan Moses, Virginia
3. Luke Joeckel, Texas A&M
4. Taylor Lewan, Michigan
5. Zack Martin, Notre Dame
6. Chris Faulk, LSU
7. Cyril Richardson, Baylor
8. Seantrel Henderson, Miami
9. Jake Matthews, Texas A&M
10. James Hurst, North Carolina
2013 NFL Draft: The Top 10 Interior Linemen: Seniors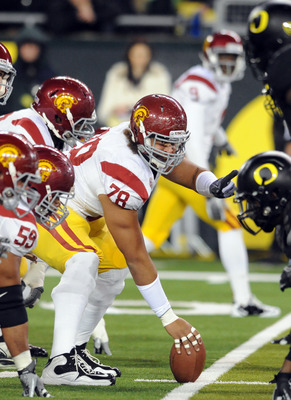 Khaled Holmes
Steve Dykes/Getty Images
1. Khaled Holmes, USC
2. Chance Warmack, Alabama
3. Larry Warford, Kentucky
4. Chris Barker, Nevada
5. Jonathan Cooper, North Carolina
6. Omoregie Uzzi, Georgia Tech
7. Braden Hansen, BYU
8. John Sullen, Auburn
9. Ben Habern, Oklahoma
10. Lane Taylor, Oklahoma State
2013 NFL Draft: The Top 10 Interior Linemen: Underclassmen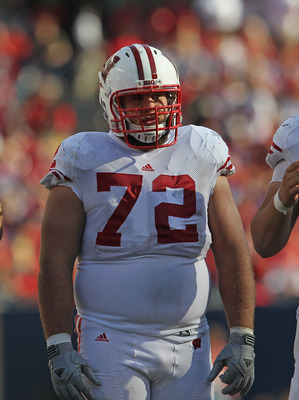 Travis Frederick
Jonathan Daniel/Getty Images
1. Travis Frederick, Wisconsin
2. Gabe Ikard, Oklahoma
3. Alvin Bailey, Arkansas
4. Gabe Jackson, Mississippi State
5. Andrew Norwell, Ohio State
6. Mason Walters, Texas
7. Andrew Rodriguez, Nebraska
8. Chris Watt, Notre Dame
9. Tyler Larsen, Utah State
10. Jonotthan Harrison, Florida
2013 NFL Draft: The Top 10 Defensive Tackles: Seniors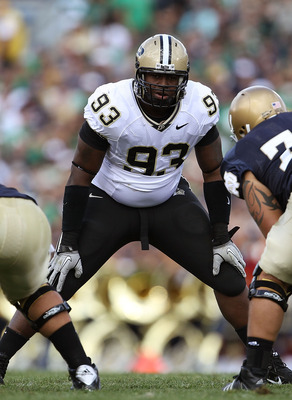 Kawann Short
Jonathan Daniel/Getty Images
1. Kawann Short, Purdue
2. Sylvester Williams, North Carolina
3. Jordan Hill, Penn State
4. Star Lotulelei, Utah
5. John Jenkins, Georgia
6. Baker Steinkuhler, Nebraska
7. Jesse Williams, Alabama
8. Sheldon Richardson, Missouri
9. Kaleb Ramsey, Boston College
10. Joe Vellano, Maryland
2013 NFL Draft: The Top 10 Defensive Tackles: Underclassmen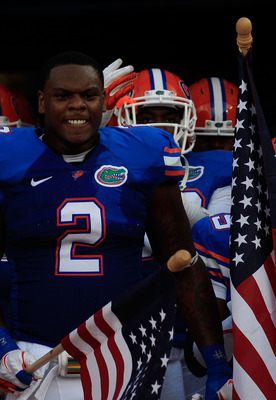 Dominique Easley
Sam Greenwood/Getty Images
1. Dominique Easley, Florida
2. Byran Jones, Arkansas
3. Johnathan Hankins, Ohio State
4. Bennie Logan, LSU
5. Kwame Geathers, Georgia
6. Ashton Dorsey, Texas
7. Akeem Spence, Illinois
8. Justin Washington, Arizona
9. Louis Nix, Notre Dame
10. Jordan Kohout, Wisconsin
2013 NFL Draft: The Top 10 Defensive Ends: Seniors
Alex Okafor
Ronald Martinez/Getty Images
1. Alex Okafor, Texas
2. Dion Jordan, Oregon
3. Devin Taylor, South Carolina
4. John Simon, Ohio State
5. Malliciah Goodman, Clemson
6. Brad Madison, Missouri
7. Cameron Meredith, Nebraska
8. Margus Hunt, SMU
9. Wes Horton, USC
10. Datone Jones, UCLA
2013 NFL Draft: The Top 10 Defensive Ends: Underclassmen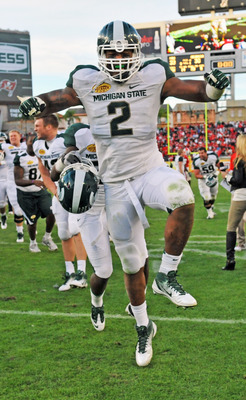 William Gholston
Al Messerschmidt/Getty Images
1. William Gholston, Michigan State
2. Kareem Martin, North Carolina
3. Stansly Maponga, TCU
4. Bjoern Werner, Florida State
5. Daryl Cato-Bishop, North Carolina State
6. Shariff Floyd, Florida
7. Chidera Uzo-Diribe, Colorado
8. Ryne Giddins, South Florida
9. Ben Gardner, Stanford
10. Will Clarke, West Virginia
2013 NFL Draft: The Top 10 Rush Linebackers: Seniors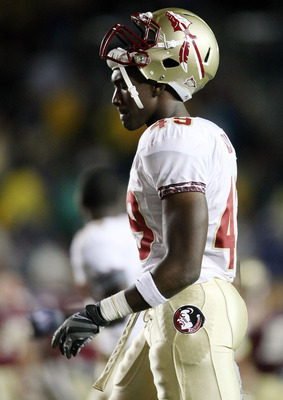 Brandon Jenkins
Elsa/Getty Images
1. Brandon Jenkins, Florida State
2. Sean Porter, Texas A&M
3. Chase Thomas, Stanford
4. Michael Buchanan, Illinois
5. Walter Stewart, Cincinnati
6. Travis Long, Washington State
7. Trevardo Williams, Connecticut
8. Toben Opurum, Kansas
9. Devon Kennard, USC
10. Sean Progar, Northern Illinois
2013 NFL Draft: The Top 10 Rush Linebackers: Underclassmen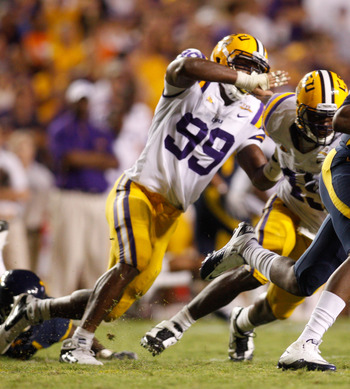 Sam Montgomery
Chris Graythen/Getty Images
1. Sam Montgomery, LSU
2. Jarvis Jones, Georgia
3. Barkevious Mingo, LSU
4. Corey Lemonier, Auburn
5. Jackson Jeffcoat, Texas
6. Ronald Powell, Florida
7. James Gayle, Virginia Tech
8. Jeremiah Attaochu, Georgia Tech
9. Damontre Moore, Texas A&M
10. Trevor Reilly, Utah
2013 NFL Draft: The Top 10 Traditional Linebackers: Seniors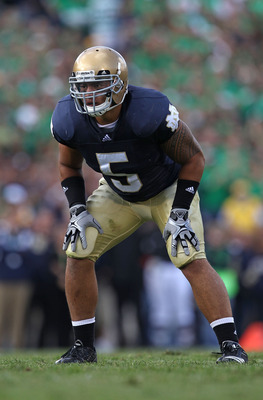 Manti Te'o
Jonathan Daniel/Getty Images
1. Manti Te'o, Notre Dame
2. Kevin Reddick, North Carolina
3. Nico Johnson, Alabama
4. Shayne Skov, Stanford
5. Kenny Tate, Maryland
6. Gerald Hodges, Penn State
7. Kenny Demens, Michigan
8. Arthur Brown, Kansas State
9. Khaseem Green, Rutgers
10. Mike Taylor, Wisconsin
2013 NFL Draft: The Top 10 Taditional Linebackers: Underclassmen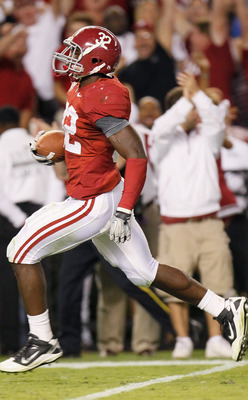 C.J. Mosley
Kevin C. Cox/Getty Images
1. C.J. Mosley, Alabama
2. Jonathan Brown, Illinois
3. Alec Ogletree, Georgia
4. Kevin Minter, LSU
5. James Morris, Iowa
6. Tom Wort, Oklahoma
7. Jelani Jenkins, Florida
8. Andrew Wilson, Missouri
9. Jordan Hicks, Texas
10. Kevin Pierre-Louis, Boston College
2013 NFL Draft: The Top 10 Cornerbacks: Seniors
Johnthan Banks
Butch Dill/Getty Images
1. Johnthan Banks, Mississippi State
2. Desmond Trufant, Washington
3. Johnny Adams, Michigan State
4. Brodrick Brown, Oklahoma State
5. Micah Hyde, Iowa
6. Rod Sweeting, Georgia Tech
7. Demontre Hurst, Oklahoma
8. Nigel Malone, Kansas State
9. Greg Reid, Florida State
10. Jordan Poyer, Oregon State
2013 NFL Draft: The Top 10 Cornerbacks: Underclassmen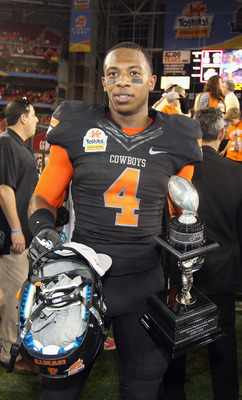 Justin Gilbert
Christian Petersen/Getty Images
1. Justin Gilbert, Oklahoma State
2. Xavier Rhodes, Florida State
3. David Amerson, North Carolina State
4. Tyrann Mathieu, LSU
5. Nickell Robey, USC
6. Dee Milliner, Alabama
7. Carrington Byndom, Texas
8. Kyle Fuller, Virginia Tech
9. Deron Wilson, Southern Miss
10. Logan Ryan, Rutgers
2013 NFL Draft: The Top 10 Safeties: Seniors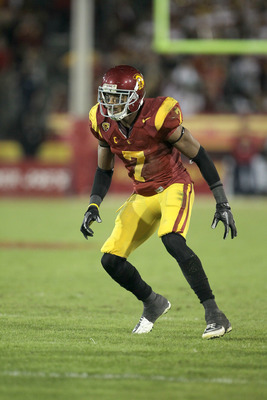 T.J. McDonald
Stephen Dunn/Getty Images
1. T.J. McDonald, USC
2. Robert Lester, Alabama
3. Bacarri Rambo, Georgia
4. Ray-Ray Armstrong, Miami
5. Kenny Vaccaro, Texas
6. Phillip Thomas, Syracuse
7. DeVonte Holloman, South Carolina
8. John Boyett, Oregon
9. Prentiss Waggner, Tennessee
10. D.J. Swearinger, South Carolina
2013 NFL Draft: The Top 10 Safeties: Underclassmen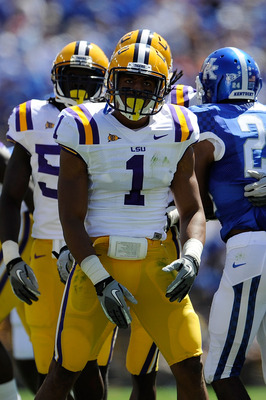 Eric Reid
Stacy Revere/Getty Images
1. Eric Reid, LSU
2. Tony Jefferson, Oklahoma
3. Lamarcus Joyner, Florida State
4. Matt Elam, Florida
5. Nickoe Whitley, Mississippi State
6. Craig Loston, LSU
7. Hakeem Smith, Louisville
8. Tre Boston, North Carolina
9. Ty Zimmerman, Kansas State
10. Tanner Miller, Iowa
Keep Reading