4 Reasons the New York Jets Will Be Back in the Playoffs in 2012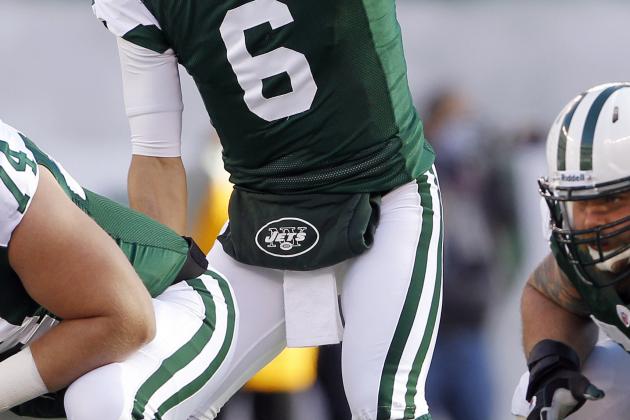 Rich Schultz/Getty Images

For the first time in three years, the New York Jets failed to make the playoffs after what was expected to be their best season in recent history.
With an emotional victory over the Dallas Cowboys to kick off the season and a rout against the Jacksonville Jaguars in Week 2; it seemed the Jets had completely forgot about what happened in Pittsburgh in January 2011 and were picking up where they left off against the Patriots in the divisional round.
After a crucial injury to their offensive line and some clubhouse turmoil, things did not look good for the Jets who ran the risk of entering their bye week already out of playoff contention. As usual, they rebounded but failed to keep up their quality performance down the stretch, ultimately culminating in an 8-8 record and finishing the season early.
Even though the Jets failed to complete their ultimate goal of winning their second Super Bowl in franchise history this season, it does not mean that 2012 will have the same result. In fact, it's quite possible that the Jets will see themselves back in the postseason in January of 2013.
Don't believe me, check out the next few slides. As always, feedback is welcome. Enjoy!
Begin Slideshow

»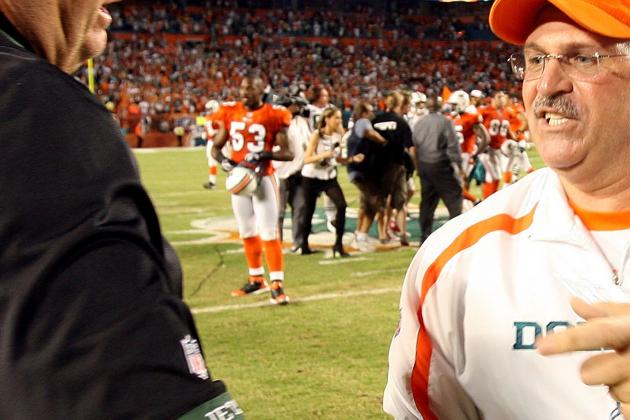 Doug Benc/Getty Images

Let's be honest with this one, any other option besides Brian Schottenheimer could have been considered an upgrade at offensive coordinator for the Jets.
Last week, New York chose to part ways with their offensive coordinator of six years and brought on former Miami Dolphins head coach Tony Sparano to call the shots on offense next season.
Sparano will make a nice addition to the Jets coaching staff. His innovative thinking brought back the wildcat in 2008, which electrified the Dolphins and propelled them into the playoffs after edging the Jets out in a tight divisional race that ended with the Dolphins travelling to New York and taking the divisional title with former Jet quarterback Chad Pennington leading the way.
With the weapons Sparano will have next season, he can do a lot more than he could have done with the Dolphins in 2011.
This season, expect a whole new offensive look, but embrace this new Jets fans, cause it will be better than Brian Schottenheimer's predictable play-calling.
Nick Laham/Getty Images

Rex Ryan has been promising Super Bowls in New York for three years now. Can you guess how many the Jets have won since he began making is guarantee?
That's right, none.
After a 2011 season where the Jets could not even make the playoffs, New York Jets fans are starting to grow restless watching their talent-filled team crumble when it matters most. The two-consecutive AFC Championship Game appearances mean nothing without rings.
Entering their fourth year together, Rex Ryan and Mark Sanchez need to start displaying better results.
For Rex, he needs to stop worrying about the next show he's going to put on for the press and start worrying about his game plan for the next game so that the Jets can win some games.
As for Sanchez, he needs to work on the one thing he's getting paid for, completing passes to his teammates. Although Sanchez threw 26 touchdowns in 2011, he still threw 18 costly interceptions.
If Jets fans and those in the front office, like general manage Mike Tannenbaum, do not see the results they have been promised, it's possible that these two could find themselves out of jobs by this time next year.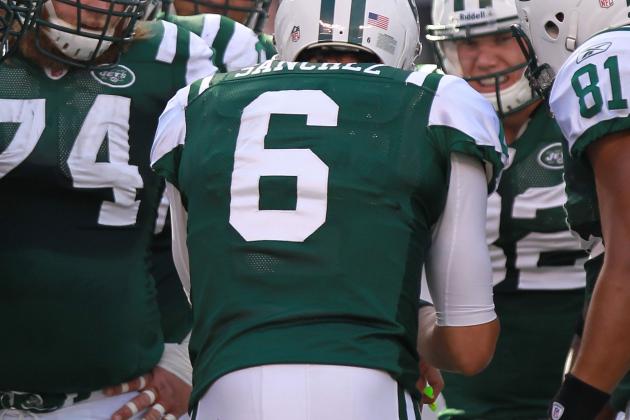 Nick Laham/Getty Images

The 8-8 finish the New York Jets had this season is not indicative of how good their roster really is.
With some improvements at the safety position, offensive line and linebacker, the Jets can once again be the team with the target on their back in the AFC.
They are already set for a few years in their secondary with top cornerback Darrelle Revis, up-and-comer Kyle Wilson and Antonio Cromartie. Other talented players on the roster who have and will make big contributions are David Harris, Nick Mangold, Dustin Keller, Shonn Greene, Sione Pouha and Mike DeVito.
With a roster like this, you cannot say that the Jets will not be contenders next season. It will be a matter of them working as a unit, putting together all of their individual talents to produce when it matters the most—something they did not do in 2011.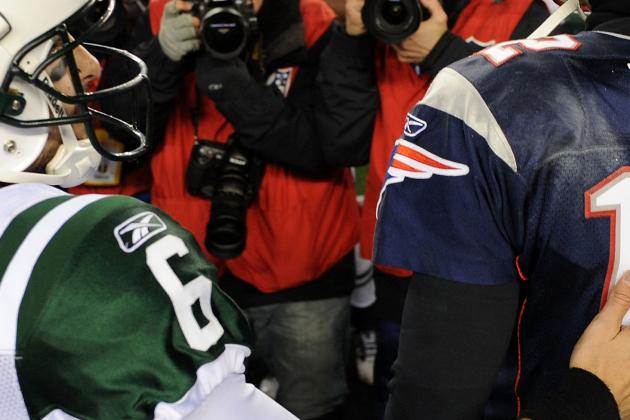 Michael Heiman/Getty Images

Building off the last slide, the AFC East will likely come down to the same battle it was in 2009 and 2010: Jets or Patriots.
While the Buffalo Bills and Miami Dolphins are still improving, the Bills are a team that has yet to find a way to keep a good season alive down the stretch, and until they do, they will not be considered as legitimate contenders. Meanwhile, the Miami Dolphins are still a young team that will be going through a coaching change that may take a year or two to really go into effect.
Therefore, it will likely come down to how these two perform in the AFC East, especially against one another. In 2011, the Jets were swept by the Patriots who may be on their way to Indianapolis for the Super Bowl, but with improved play by the team and not just individual players, the Jets have a chance of finally winning the division and getting back into the NFL postseason after missing out this year.