Jon Jones vs. the Heavyweights: A Clash of Titans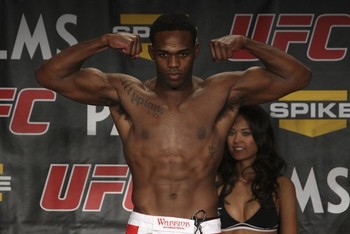 There are an incredible number of ways to lose in the sport of mixed martial arts.
Despite this, one man has managed to stand on top of the light heavyweight landscape while avoiding any real danger in the course of his short yet promising UFC career: Jon "Bones" Jones.
With his vicious elbow strikes, chokes and superb wrestling, Jones has climbed the ladder to the top of the light heavyweight division, sometimes skipping a few rungs on the way up.
Many fans are left wondering, "Who can beat this guy?" The answer may be for Jones to trade the light heavyweight landscape for the chance to stand among the giants of the UFC.
Let's take a look at how the top heavyweights currently match up against Jon Jones.
Cheick Kongo, Height: 6'4", Reach 82"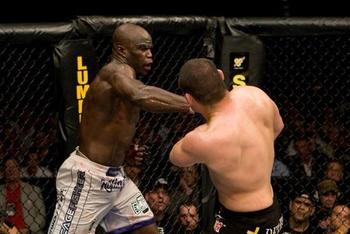 Cheick Kongo is coming off a unanimous decision win over Matt Mitrione, a former Ultimate Fighter contestant. His last defeat in the Octagon came in 2009 at the hands of Frank Mir.
Jon Jones would only enjoy a 2.5-inch reach advantage in this fight and would have to avoid Kongo's kickboxing. Kongo has shown that he is susceptible to submissions, and given the wrestling pedigree and nasty submissions of Jones, the edge has to go to the young phenom.
Prediction: Jones by second-round submission
Frank Mir, Height: 6'3", Reach: 79"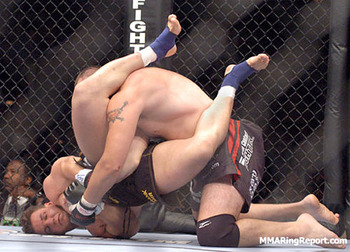 Frank Mir is a highly skilled Brazilian jiu-jitsu practitioner who has recently sharpened his stand-up skills, as showcased by his defeat of Antonio Rodrigo Nogueria and former Pride champion Mirko Filipovic.
While some question the level of strikers that he has faced, his record speaks for itself. Mir has been on the receiving end of strikes from heavyweight behemoth Brock Lesnar, and the power and control that Jones presents with his top game will be easier to handle in comparison to the competition that he has faced in his career.
Jones' long limbs will also leave him open to submissions, which Mir will capitalize on.
Prediction: Frank Mir by first-round submission
Shane Carwin, Height: 6'2", Reach: 80"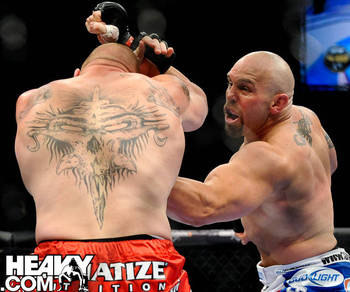 Carwin has not stepped into the Octagon since his defeat at the hands of current heavyweight champion Junior dos Santos. However, he poses a legitimate threat to Jones if the fight remains standing.
Carwin's brutal knockout power has decimated the likes of Frank Mir and nearly ended Brock Lesnar's title reign. Recurring neck and back problems do pose a problem for this heavyweight behemoth and at 37, one has to wonder how much time he has left in the Octagon.
If this fight happens, expect Carwin to come out with fists flying while Jones weathers the storm and keeps him at distance with his four-and-a-half-inch reach advantage.
Prediction: Jones by third-round submission
Alistair Overeem, Height: 6'5", Reach: 81.5"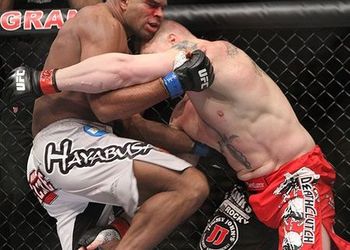 After dismantling Brock Lesnar at UFC 141, Alistair Overeem is next in line for a title shot against current champion Junior Dos Santos. His intimidating figure coupled with his world-class kickboxing skills will be sure to give Jon Jones a fit.
Jones will not be able to out-muscle his opponent and his best chance is to take the fight to the ground and out-wrestle Overeem. In the end, the leg kicks of Overeem will wear Jones down and leave him open to strikes.
Prediction: Alistair Overeem by third-round KO
Cain Velasquez, Height: 6'1", Reach: 77"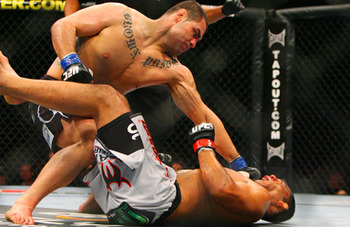 Cain Velasquez is possibly one of the best strikers that Jon Jones would face. Despite critics questioning Velasquez's ability to take a punch and the level of competition that he has faced, he remains one of the top threats in the heavyweight division.
Velasquez, a two-time All-American collegiate wrestler from Arizona State University, has a wrestling pedigree that speaks for itself and this would give him a slight edge if the fight goes to the ground.
Although Velasquez would be at an eight-inch-reach disadvantage, his ability to close the distance and pounce on his opponent will prove to be Jones' kryptonite.
Lyoto Machida had success against Jones at UFC 140 when he aggressively pursued him with strikes; Cain will be able to emulate that and throw Jones off his game plan.
Prediction: Velasquez by second-round KO
Junior Dos Santos, Height" 6'4" Reach: 77'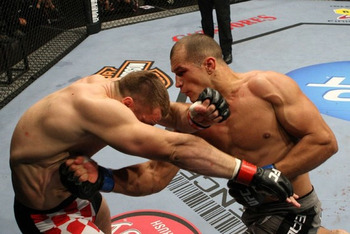 The current heavyweight champion has shown his dominance by knocking out former champion Cain Velasquez in the first round of UFC on Fox. Dos Santo's crisp boxing will prove too much for Jon Jones to handle. He will keep the young challenger at bay with strikes from the outside, and weave past Jones' reach.
Jones will test the Jiu Jitsu skills of Dos Santos and may steal a couple rounds by grappling against the cage and completing a few successful takedowns. In the end, Dos Santos will adapt to Jones' fighting style and put on a boxing clinic, much similar to the one seen in the Carwin fight.
Prediction: Junior Dos Santos by split decision.
Keep Reading