2011 NFL Draft
2012 NFL Mock Draft: The Effect of Dre Kirkpatrick's Arrest on the First Round

Kevin C. Cox/Getty Images
January 19, 2012
How does the arrest of Alabama's premier cornerback prospect Dre Kirkpatrick affect the rest of the first round of the 2012 NFL draft?
His marijuana possession charge was the first and hopefully the last off-field blunder by anyone in this year's class. 
Riding high (no pun intended) after the beat down of the LSU Tigers to win the national championship, Kirkpatrick along with a handful of other Crimson Tide defenders are bound to get long, hard looks by teams in dire need of defensive help. 
Because of his athleticism and size (6'3'' 195 pounds) the solid corner had a shot to be picked in the top 15. With a strong showing at the Combine in February, he may have vaulted into the top 10. 
Now, organizations will be leery of using such a high selection on a player with off-field issues with other defensive backs available.
Nebraska's Alfonzo Dennard should be extremely thankful. There's a great chance he'll now be the second cornerback selected. South Carolina's Stephon Gilmore should be the next corner picked. Both are solid prospects, but neither is worth "reaching" for in the top 15.
Kirkpatrick was the only corner with the skills, speed and upside to sneak into the top 10 after Morris Claiborne. 
Essentially, all the cornerbacks with first-round grades should move up a spot on league-wide draft boards. 
He'll have an effect on other positions too—and one team in particular.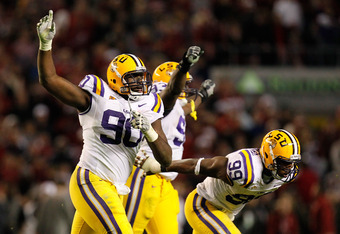 Kevin C. Cox/Getty Images
Although the Carolina Panthers would love to add more offensive weapons to aid Cam Newton's growth, they understand adding talent on defense is a must.
They have to improve on that side of the ball playing in a division with the high-powered New Orleans Saints and Atlanta Falcons.
They could take a chance on the youthful physical specimen, defensive lineman Michael Brockers out of LSU.  
There's still a long way to go in the pre-draft process, but as of now, Kirkpatrick's arrest has dropped him out of the first round and will result in some changes in the opening 32 selections.   
2012 NFL Mock Draft (January 18th Update, post-Kirkpatrick arrest)
1. Indianapolis Colts: Andrew Luck, QB, Stanford
2. St. Louis Rams: Justin Blackmon, WR, Oklahoma State
3.  Minnesota Vikings: Matt Kalil, OT, USC
4.  Cleveland Browns: Trent Richardson, RB, Alabama
5.  Tampa Bay Buccaneers: Morris Claiborne, CB, LSU
6.  Washington Redskins: Robert Griffin III, QB, Baylor
7.  Jacksonville Jaguars: Alshon Jeffery, WR, South Carolina
8.  Carolina Panthers: Michael Brockers, DE/DT, LSU
9.  Miami Dolphins: Courtney Upshaw, DE/OLB, Alabama
10.  Buffalo Bills: Nick Perry, OLB, USC
11.  Seattle Seahawks: Whitney Mercilus, DE/OLB, Illinois
12.  Kansas City Chiefs: Luke Kuechly, LB, Boston College
13.  Arizona Cardinals: Jonathan Martin, OT, Stanford
14.  Dallas Cowboys: David DeCastro, OG, Stanford
15.  Philadelphia Eagles: Vontaze Burfict, LB, Arizona State
16.  New York Jets: Melvin Ingram, DE/OLB, South Carolina
17.  Cincinnati Bengals (from Oakland Raiders): Lamar Miller, RB, Miami  
18.  San Diego Chargers: Riley Reiff, OT, Iowa 
19.  Chicago Bears: Michael Floyd, WR, Notre Dame
20.  Tennessee Titans: Zach Brown, LB, North Carolina
21.  Cincinnati Bengals: Alfonzo Dennard, CB, Nebraska
22.  Cleveland Browns (from Atlanta Falcons): Dont'a Hightower, LB, Alabama 
23.  Detroit Lions: Stephon Gilmore, CB, South Carolina
24.  Pittsburgh Steelers: Cordy Glenn, OL, Georgia
25.  Denver Broncos: Chris Polk, RB, Washington
26.  Houston Texans: Kendall Wright, WR, Baylor 
27.  New York Giants: Mike Adams, OT, Ohio State
28.  Baltimore Ravens: Quinton Coples, DE, UNC
29.  New England Patriots (from New Orleans Saints): Devon Still, DT, Penn State
30.  San Francisco 49ers: Peter Konz, C, Wisconsin
31.  New England Patriots: Mark Barron, S, Alabama
32.  Green Bay Packers: Chase Minnifield, CB, Virginia
Like the new article format? Send us feedback!