Rafael Nadal's Girlfriend: Maria Perello and Nadal Are Exception to Rule
January 17, 2012

These types of relationships aren't supposed to last. Rafael Nadal and Maria Perello prove that love can endure the paparazzi and constant pressure of the truly famous. 
Another year makes for another round of Grand Slams, where Rafael Nadal will be taxed with the pressure of proving that he is still the best in the game. 
While the field is always treacherous, last year proved that Novak Djokovic would make the last years of Nadal's career, no matter how many there might be, perilous ones. 
Supporting Nadal will be his long-time girlfriend Maria Xisca Perello. The two come from the same small town and have been dating for over six years. That sounds like the relationship of an unassuming couple from a quaint town, not a legendary tennis player and his stunning girlfriend. 
Those in America are used to seeing a carousel of relationships for stars like Derek Jeter and Alex Rodriguez.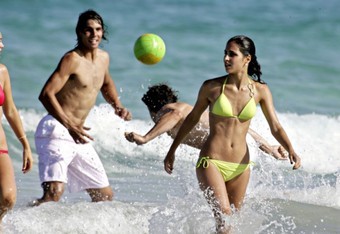 We just witnessed a farce of a love affair for Kim Kardashian and Kris Humphries. That debacle was enough to have fans question whether true love could actually exist for the rich and famous. 
At some point, or so the thinking goes, people just don't value loyalty. Well, Nadal and Perello have been going strong, and perhaps it's the way that they tuck away their relationship that matters. 
Perello will often times be at Nadal's matches and support her main man like any other loving girlfriend, but that is the extent to her wishes for fame. 
While other wives and girlfriends would welcome the flashes of cameras and rolling video devices, Perello and Nadal would rather keep their romance between the two of them. I know, a novel idea for an age in which fame and fortune are valued above all other things. 
It's not enough to be in love for athletes and celebrities anymore. You have to find that niche that keeps the relationship from turning into some nuisance that must be dealt with. 
Nadal and Perello have lasted for quite some time, and that is a marvel considering how these stories usually end.