Duane Ludwig Talks UFC on FX, Being a Tree Hugger, and More
January 18, 2012

After beginning his Octagon career with a perfect 2-0 record, Duane "Bang" Ludwig (21-11) spent time fighting outside of the UFC for nearly four years.
Following a career in Strikeforce and then the ROF, Ludwig got the call that he would be returning to the highest stage of mixed martial arts, the UFC.
In a recent interview with Bleacher Report's Garrett Derr, Ludwig discussed his return to the UFC along with his upcoming fight against Josh Neer at UFC on FX.
"I knew it was going to happen," said Ludwig. "I knew I would return and be fighting in the UFC again someday. The timing of my return wasn't under the best circumstances. But, I decided I had to take the fight regardless."
Ludwig's unmentioned circumstances led him to two consecutive losses to Jim Miller and Darren Elkins in his first two outings.
However, Ludwig would respond by defeating Nick Osipczak at UFC 122 and Amir Sadollah in August of 2011.
The hard-hitting Ludwig is now slated to take on Josh Neer in a few short hours at UFC on FX which will take place in Nashville, Tennessee beginning at 6:00 p.m. PT and 9:00 p.m. ET.
Ludwig will be facing Neer who is currently on the best stretch of his career having won five consecutive bouts. But, "Bang" isn't the slightest bit surprised of his matchup.
"I actually wasn't too surprised. We're all aware that the UFC creates great matchups", said Ludwig. "I think they made another great matchup between Josh and I."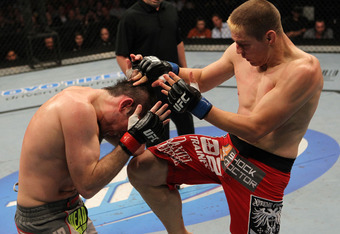 "I really like my matchup against Josh. I feel I have a few advantages heading into our bout. I feel that my speed and power will help me greatly. I also think my footwork, timing, creativity, combinations, and wrestling are a step ahead of his", said Ludwig.
While Ludwig certainly feels he has the upper hand over Neer, he certainly isn't taking his opponent lightly, by any stretch of the imagination.
"Josh is an all-around great fighter. I feel like he has a stronger ground game than I do for the most part", said Ludwig.
As Ludwig moves forward in his career, he's not necessarily concerned with what the future may hold as his main focus is on Neer.
"A UFC title isn't even in my sight right now. Only Josh is in my cross-hairs. However, another win especially over Josh will be great for my career at this point in time", said Ludwig.
In fact, Ludwig feels that he's already accomplished his goals in life as simple as they may sound.
"I'm accomplishing my goal of happiness. Training and fighting is in my blood", said Ludwig. "Being able to do these two things keeps me focused and happy."
While Ludwig will certainly always be remembered for the fastest knockout in UFC history, unofficial or not, he wants to be remembered as a down-to-earth type of man.
Behind the lightning fast knockout power is an ordinary guy who enjoys the simplicity of life.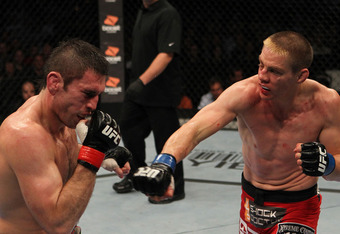 "I'm into a few things outside of fighting like metaphysics and quantum physics. I'm also very interested in the human mind and its effect on reality. In addition, I'm also a big animal lover and bit of a tree hugger", laughed Ludwig. 
Ludwig closed by thanking those who've been by his side since the very beginning of his career.
"I've had a lot of help from Bas Rutten to Trevor Wittman to Sven Bean over the years. And, most importantly, I'd like to thank my wife." 
To learn more about Duane Ludwig, follow him on Twitter.
For additional information, follow Garrett Derr on Twitter.