Super Bowl 2012: Power Ranking Matchups That Would Bore Us to Sleep
January 18, 2012

Larry French/Getty Images
The Super Bowl matchup needs to be a good one because either way we are going to be subjected to two weeks of endless hype and storylines.
Player X is looking for revenge against his former teammates. Team X is looking for their first title since the 1970s. Stuff like that will get pounded into the ground and make you want to cryogenically freeze yourself until the game actually begins.
Yet we all want a competitive game too. A blowout with the whole world watching is going to disappoint everybody.
With that in mind, let's rank the potential Super Bowl matchups in order from most exciting to worst-case scenario:
4. New England Patriots vs. New York Giants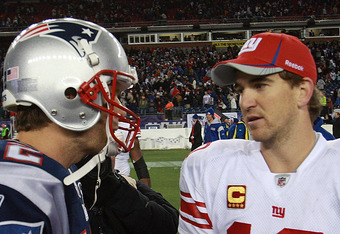 Jim Rogash/Getty Images
A rematch of the legendary 2008 Super Bowl would be incredible. The revenge storylines would be littered along the Patriots locker room, and the painful memories of their defeat would be relived time-and-time again.
As for the actual game, who wouldn't love to see Tom Brady against that deadly Giants pass rush again? Two teams that took a backseat for most of the season would prove to the world that you don't need to play your best football until the very end of the year.
3. New England Patriots vs. San Francisco 49ers
This is all about Brady. Playing against the team he rooted for growing up would be a big deal. A win and he would match his idol Joe Montana with four Super Bowl rings.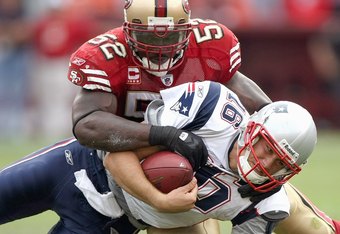 Jed Jacobsohn/Getty Images
It would also pit the best defense left against the best offense. The 49ers would be looking for their first Super Bowl since the Steve Young era after torturing their fan base for the past decade.
Plus, who wouldn't love to see the odd interactions between Jim Harbaugh and Bill Belichick leading up to the game and during the postgame handshake?
2. Baltimore Ravens vs. San Francisco 49ers
It would be historic in the sense that for the first time two brothers would make the big game, but do you remember the first time these two teams met?
Alex Smith was running for his life on seemingly every play in a lopsided Ravens victory.
Above everything else in the Super Bowl, it has to be a good game and this is a mismatch for the 49ers.
1. Baltimore Ravens vs. New York Giants
The 2000 Super Bowl was one of the most boring big games in the last 20 years, and I think the rematch would be more of the same. There are few connections between the two teams, and the pregame stories would be reaches leading up to the game.
The Giants defense would terrorize Joe Flacco into multiple mistakes. Eli Manning against the Ravens defense would be interesting, but I doubt he'd have much success against it.
Nobody wants a 9-6 Super Bowl score, but that's what we'd be looking at in this matchup.