New York Yankees: Statistical Projections for the Pitching Staff in 2012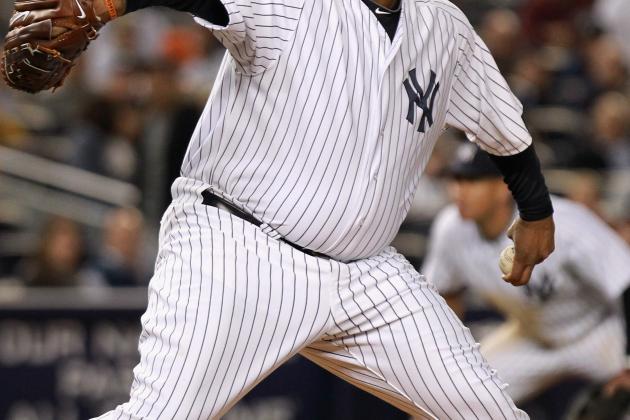 Nick Laham/Getty Images

I wrote this article back in early December but I guess I did it a little too early. Everything changed with the addition of Michael Pineda and Hiroki Kuroda.
Not only did they enter the rotation but it also kicked out two starters. Which two? Nobody knows yet but the candidates are AJ Burnett, Phil Hughes and Freddy Garcia.
While the New York Yankees' bullpen has always been strong, their rotation went from a huge question mark to a strength in a matter of 30 minutes.
How will their pitching staff fair in 2012? Let's find out.
Begin Slideshow

»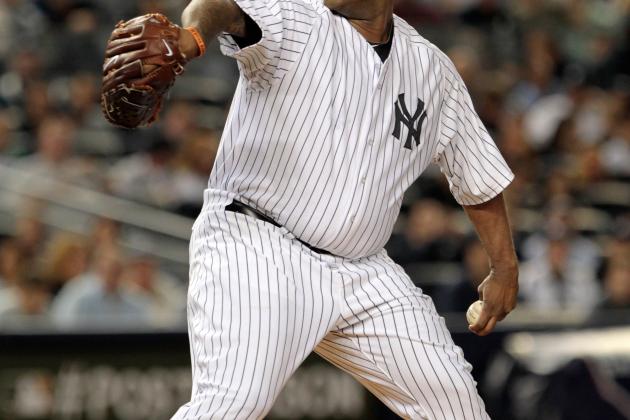 Chris Trotman/Getty Images

Innings: 236
Record: 22-7
ERA: 2.87
WHIP: 1.14
Strikeouts: 232
Walks: 64
C.C. Sabathia had a 2.55 ERA before Joe Girardi instituted his six-man rotation in late July.
A pitcher's rhythm is everything. If you have him pitch every six days instead of every five days, it messes with his routine, and he becomes a less effective pitcher.
Will he post a 2.55 ERA in 2012? No, especially since he pitches in the toughest division in baseball in one of the most hitter friendly parks in the majors.
For all of you sabermetric lovers, CC Sabathia posted the highest WAR in the AL (7.1), lowest FIP in the AL (3.02) and second best xFIP in the AL (2.88). He even had a .318 BABIP—seventh highest in the majors—which means he was a very unlucky pitcher. The workhorse should be in for another dominant season.
Sabathia is reportedly repeating his conditioning workout from last offseason that helped him lose 30 pounds. If he can keep that weight off during the season, unlike last season, he should be able to pitch more effectively late into games and later into the season.
All of this will lead to a much better C.C. Sabathia in 2012.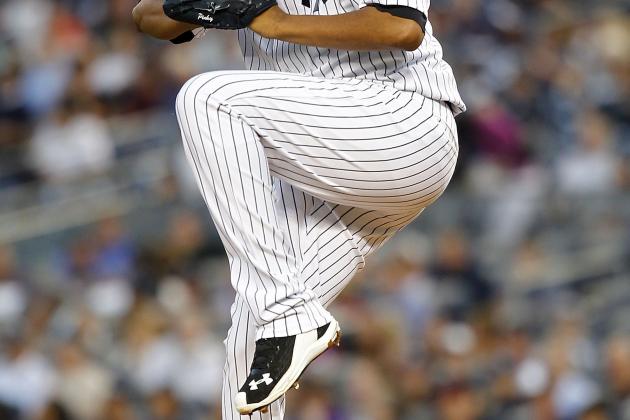 Jeff Zelevansky/Getty Images

Innings: 195
Record: 18-7
ERA: 3.36
WHIP: 1.28
Strikeouts: 121
Walks: 59
Ivan Nova had an incredible 2011 season, finishing with a 16-4 record and 3.70 ERA. With another season in the majors—when he won't be sent down to Triple-A for most of July—he should have had an even better season in 2011.
Nova settled down once he got used to the majors, as shown by his 8-0 record and 3.09 ERA after July 1. Do I expect an ERA just above 3.00 and an undefeated record from Nova in 2012? No, he got an incredible amount of run support and was hot down the stretch.
Does that mean I do not think he will improve? Not at all.
For every Jason Heyward and the sophomore slump there are many more players who improve in their second season. Another year of experience against major league hitters under his belt will help him greatly.
Nova also had a great postseason. In his first ever postseason start he threw 6.1 shutout innings before Luis Ayala let two runners score. In his second start, Nova had a rough two innings stint before being pulled due to forearm stiffness.
You may say that a 3.36 ERA is unreasonable because of Yankee Stadium's small dimensions, but his 52.7 percent ground-ball rate—good for 12th in the majors—will keep the Yankee Stadium effect to the minimum.
If he can remain unpredictable to hitters that have now seen him multiple times, he should improve and have a better 2012 season.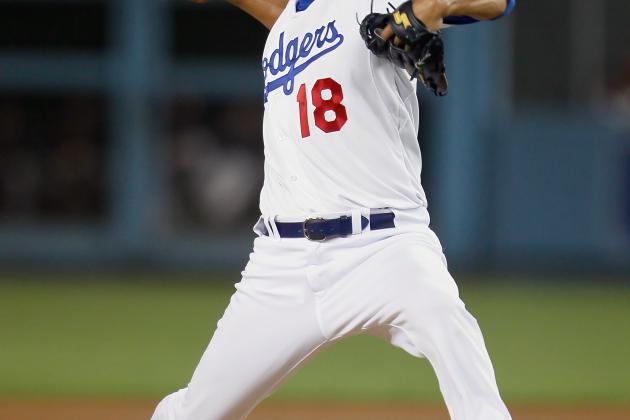 Jeff Gross/Getty Images

Innings: 201
Record: 16-7
ERA: 3.48
WHIP: 1.23
Strikeouts: 161
Walks: 49
Hiroki Kuroda's 3.07 ERA in 2011 was impressive to say the least, but can he repeat his success, moving from cavernous Dodger Stadium to small Yankee Stadium? How about his move from the offensively inept NL West with no DH to an offensive juggernaut in the AL East, with a DH?
It will be a difficult move for the 36-year-old.
He did post a 3.06 ERA in 17.2 innings against AL teams in 2011, but that is a small sample size, and he did not pitch against the AL East. In 2010 he did pitch a seven inning, six hit, two run game against the Red Sox, but that is the extent of his experience against the entire division.
While I do not expect an ERA in the low-3.00s, I do expect an ERA in the mid-3.00s. He will prove to be a steal for the one-year $10 million deal Brian Cashman gave him.
Kuroda will give the Yankees over 200 innings and win multiple postseason games in 2012.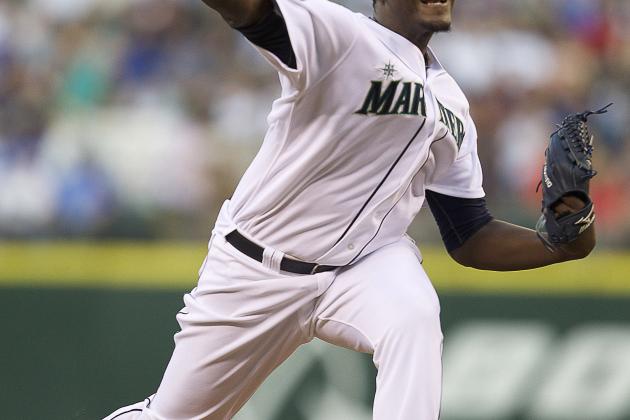 Stephen Brashear/Getty Images

Innings: 195
Record: 15-8
ERA: 3.57
WHIP: 1.11
Strikeouts: 204
Walks: 61
Michael Pineda is the biggest enigma in the majors.
He came from huge Safeco Field and a weak AL West, now he is in a small Yankee Stadium and a strong AL East. He strikes people out at will and flashed his potential with his 3.03 ERA in 113 innings before the All-Star break in 2011.
But he also has a high fly-ball and home run rate, and posted a 5.12 ERA in 58 innings after the All-Star Break. Did he get tired? Did hitters figure his two-pitch stuff out? I don't think so.
Not only did his K/9 and BB/9 stay constant throughout the whole season, his ground-ball rate rose from 31.3 percent from March to June to 45.3 from September to October.
Here is a small excerpt from one of my earlier articles on Pineda that sums up how I feel about him using advanced statistics.
If you look you can see that he was extremely unlucky on the road because his BABIP is .066 higher away from Safeco. He also for some reason has a 10.5 percent HR/FB at home and a lower 7.8 percent HR/FB on the road even though Safeco Field is supposed to be huge and turn home runs into routine fly balls. He also only stranded 64.4 percent of runners on the road in 2011 even though the league average is 75 percent.

Pineda was a very unlucky pitcher on the road in 2011.

Now, let's look at his FIP. His FIP on the road is 3.26 but his FIP at home is 3.62. Neither of those are bad at all and he is actually better on the road away from Safeco Field.

Pineda actually improved as the season went on, despite what his sudden spike in ERA will tell you. His ground-ball rate was from 31.3 percent from March to June and then from September to October it was 45.3 percent. That is a huge improvement. His strikeout and walk rates also remained fairly constant throughout the year.

After the All-Star break he had a 5.14 ERA, right? Sounds awful. He also had a 3.22 xFIP during that time period, which is actually pretty good.
Michael Pineda has serious talent. If he can work on his changeup and have better luck the move to New York will not hurt him as much as you would think.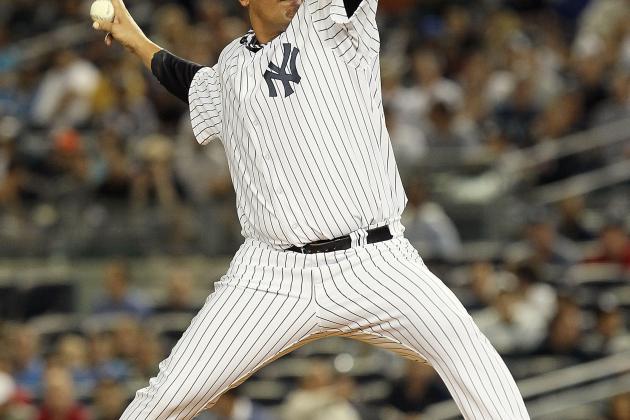 Jim McIsaac/Getty Images

Innings: 142
Record: 13-8
ERA: 3.82
WHIP: 1.37
Strikeouts: 92
Walks: 43
After AJ Burnett loses the starting job in late May, Freddy Garcia will leave his long reliever duty and become the Yankees' fifth starter. He will not make Joe Girardi second guess himself. Freddy Garcia will give him a very similar season to 2011 and give the Yankees five pitchers with ERAs in the 3.00s, despite pitching in the AL East in Yankee Stadium.
Wasn't Freddy Garcia a nice surprise in 2011? Garcia posted a 3.62 ERA in 2011, and if it wasn't for him slicing his thumb open with a knife in early August, it could have been even better.
Garcia owned a 3.16 ERA before the injury. But after he cut his thumb, he wasn't the same until his final start in September, when he threw six shutout innings against the Boston Red Sox.
Personally, I think that struggle came from his inability to throw his off-speed pitches due to the thumb injury, but it could be attributed to his age.
If Garcia can remain sharp like last season and hope his mid-80s fastball can keep hitters honest, he should have another solid season in New York—just not as good as 2012.
I do not expect him to be as good in 2012 as he was in 2011, but an ERA in the high-3.00s is not out of the question.
Patrick McDermott/Getty Images

Joba Chamberlain:
32 IP, 3.21 ERA, 1.12 WHIP, 30 K, 11 BB
Joba Chamberlain will be an effective reliever for the Yankees, but his innings will be limited after Tommy John Surgery. He is not supposed to pitch until after the All-Star break, so his innings will be down.
Phil Hughes:
64 IP, 3.98 ERA, 1.28 WHIP, 52 K, 22 BB
Phil Hughes will once again have a disappointing season, though it will be better than 2011 and he will give a decent amount of innings. But I wouldn't be surprised if he is traded before the trade deadline when the Yankees are looking for that one final piece to push them over the top. Billy Butler, anyone?
AJ Burnett:
78 IP, 5.23 ERA, 1.42 WHIP, 69 K, 33 BB
Oh, AJ Burnett. I believe he will enter the season in the Yankees' rotation, but by May both Brian Cashman and Joe Girardi will be tired of his constant failure. He will be out of the rotation and into the bullpen without a moments hesitation, despite his large contract. This is the year for the Yankees, and Girardi will not let Burnett mess it up.
Cory Wade:
48 IP, 2.86 ERA, 1.08 WHIP, 37 K, 9 BB
Cory Wade was a nice pick-up for the Yankees in 2011. He pitched very well despite his low number of innings. In a more prominent role he will see his numbers decline, but he will still be a vital component of the Yankees run to the World Series.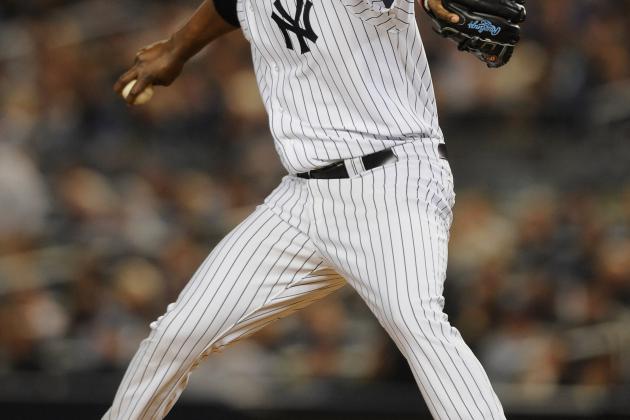 Patrick McDermott/Getty Images

Innings: 58
Holds: 31
ERA: 3.11
WHIP: 1.12
Strikeouts: 55
Walks: 21
Was Brian Cashman right, or was he right?
After the Yankees missed out on Cliff Lee, the Steinbrenners went against Cashman's wishes and signed Rafael Soriano to a three-year, $35 million deal. Soriano had a 4.19 ERA in 2011, and missed most of the season due to injury.
Soriano did post a 3.33 ERA after the All-Star break and a 1.93 ERA in the postseason, so there is hope. But, he will never live up to his contract, especially at 32 years old.
If Soriano can remain healthy he should be one of the best—if not the best—seventh inning man in the majors. He has to be, in order to even be close to being worth his $11.7 million price tag. That is closer money, and that is just ridiculous for a seventh inning man.
Bottom line, he may be good, but don't expect the Rafael Soriano from 2003 to 2010, when he posted a 2.37 ERA.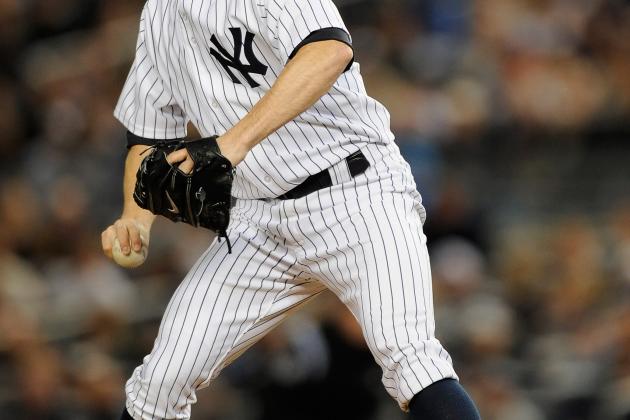 Patrick McDermott/Getty Images

Innings: 70
Holds: 35
ERA: 1.04
WHIP: 1.02
Strikeouts: 107
Walks: 32
David Robertson was the best relief pitcher in the majors in 2011. Not only did he post a 1.08 ERA during the season, but he also had a 0.25 ERA on the road and a 0.86 ERA after the All-Star break.
"Houdini" is built for New York. He is cool under pressure and rises to difficult occasions. With the bases loaded batters went 1-19 (.053 BA), with 14 strikeouts, zero walks and zero runs.
He even got a fifth-place vote for AL Cy Young and AL MVP.
At 26 years old he is only going to get better.
If Robertson can keep his torrid pace up, not only will he have a great 2011 season, but he will also be the best possible heir for the irreplaceable Mariano Rivera.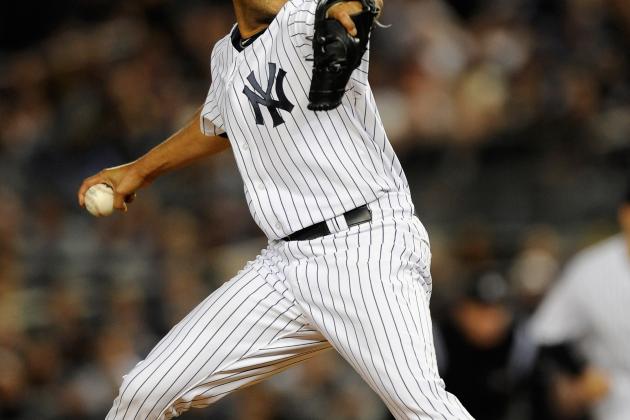 Patrick McDermott/Getty Images

Innings: 63
Saves: 47
ERA: 1.82
WHIP: 0.86
Strikeouts: 60
Walks: 7
This might very well be Mariano Rivera's final season in New York. If the Yankees win their 28th World Series I expect him to retire—but if they do not, it wouldn't surprise me at all if he returned for another season.
Rivera will finish his career near the top of his game by posting an ERA under 2.00 for the 11th time in his career and a WHIP under 1.00 for the ninth time.
Mo will also save 47 games, conveniently giving him an even 650 for his career and by far the most ever by a closer.
Rivera will always be known as a great postseason closer—he has never posted an ERA above 1.75 in a postseason with more than three innings pitched. He will remain dominant in the 2012 postseason, and I expect him to have another great overall season in pinstripes.
Mariano Rivera will go down as the best closer of all time and the best pitcher of our generation, whether this is his final season or not.