2012 NFL Draft Projections: Talented Playmakers Who'll Go Outside 1st Round
January 22, 2017
Ronald Martinez/Getty Images
Between now and the NFL Draft, you're going to see a lot of prospects moving up and down big boards as scouts scramble to figure out which players truly represent the best of the best.
However, you're going to see a lot of players stay put in scouts' eyes. This is a day and age when seemingly every player under the sun has a chance of being perceived as first-round material, but some unlucky souls never get the benefit of the doubt.
It's not uncommon for us to see some of these players burst onto the scene and forge solid careers for themselves at the next level. All it takes is a mix of hard work and good luck.
When I look at the hundreds of players who are expected to go outside the first round in the draft, five in particular stand out as players that might just surprise you in the pros.
5. Darron Thomas, QB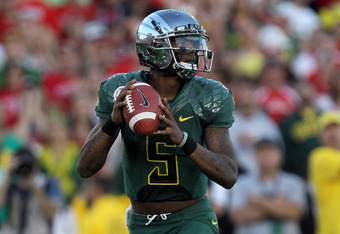 Stephen Dunn/Getty Images
I'll be damned if I can explain why Darron Thomas chose to go pro. Explaining why he told ESPN that he's a lot like Cam Newton is an even bigger headache.
I'll say this much: If Thomas thinks he's going to be an every-day QB at the next level, he couldn't be more wrong.
However, a team with just enough cleverness will see a rare find when it looks at Thomas. He may not be cut out for quarterback duties, but there really aren't that many prospects who can match Thomas' skill set.
Thomas doesn't really excel at any one thing, but we know he can throw and we know he can run pretty well. He's essentially an athlete who can throw, and we're always seeing players like that carve out niche roles for themselves.
For example, take a look at Brad Smith. He's been a jack-of-all -trades ever since he entered the league, and that's something Thomas could be in the right system.
4. Doug Martin, RB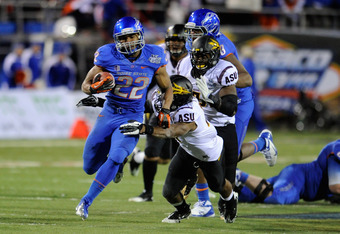 Ethan Miller/Getty Images
Because they get hurt so much, running backs are a dime a dozen in the NFL these days. Teams no longer place an emphasis on finding one in the first round of the draft.
We could see as many as three running backs go in the first round in 2012, but Doug Martin probably won't be one of them. There's really nothing special about him, and he doesn't have much name-recognition thanks to the fact Kellen Moore hogged the spotlight at Boise State.
But I personally think Martin has the goods to be a starting running back down the road. He may not have any elite skills, but he does a lot of things very well.
When it comes to running the football, Martin has a lot of power in his 5'9" frame. He can bulldoze guys over, and he always keeps his feet moving. He'll be able to pick up yards in the pros.
Martin is also an underrated receiver. He caught 28 passes in each of his last two seasons at Boise State, gaining nearly 600 yards in the process.
Martin probably won't start right away wherever he ends up, but he will be a good find for whoever gets him.
3. Ryan Broyles, WR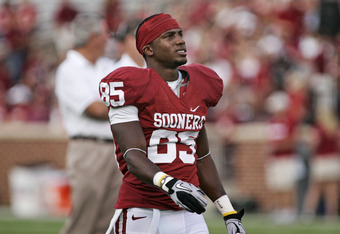 Brett Deering/Getty Images
We're probably not going to see Ryan Broyles get drafted until the later rounds of the draft. He could have gone higher, but the torn ACL he suffered near the end of the 2011 season is going to cost him.
But sooner or later, Broyles is going to get healthy, and that's when you can expect him to make some noise as a slot receiver.
Broyles is not much of a burner, but he runs good routes and he is surprisingly good in space after he catches the football. 
I would think of Broyles as sort of a Wes Welker clone. That doesn't mean he's going to end up being as productive as Welker, but it does mean that he's a guy who has the ability to be productive in the right offense.
It's just a matter of which team he ends up on.
2. Jarius Wright, WR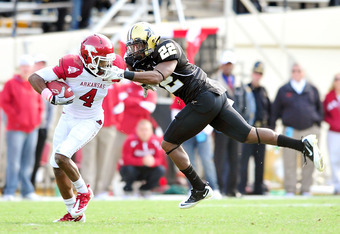 Grant Halverson/Getty Images
Because your prototypical NFL receiver is well over six feet tall and well over 200 pounds, the diminutive Jarius Wright isn't generating a whole lot of draft buzz.
One thing Wright has on all of his contemporaries, however, is speed. In fact, he's probably the fastest receiver in the entire draft.
Because of that, you can expect Wright's name to start generating some buzz at the combine, where he is likely to contend for the fastest time in the 40-yard dash.
This doesn't mean Wright is going to be a first-round pick, but it will put him on the radar of teams looking for a speed demon that they can use on offense and in special teams. 
In a perfect world, Wright will be the next DeSean Jackson. If that doesn't work, he might be the next Jacoby Ford.
1. LaMichael James, RB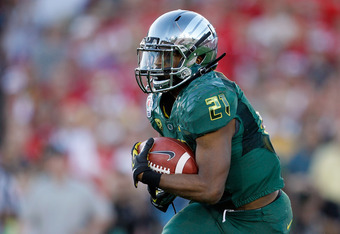 Jeff Gross/Getty Images
I've said it before, I'll say it again: LaMichael James is always going to have work in the NFL.
There are some out there who think James is good enough to be an every-down running back, but that's just not a realistic expectation. He projects as a perfect third-down running back, and that's what teams will be looking for him to be. 
James has everything he needs to succeed as a third-down back. He can catch the football, he can make plays in space and he can turn a negative play into a positive play with ease. You can think of him as a Darren Sproles clone, except with possibly more upside.
Just like Sproles, James can also be used in special teams. He took on punt return duties in 2011, and he performed well.
So despite the fact James probably isn't an every-down back, he'll have his uses in the pros.