Could the Addition of Mario Williams Make Packers Super Again?
January 17, 2012

Bob Levey/Getty Images
It is hard to criticize a team that went 15-1 led by the apparent NFL MVP, quarterback Aaron Rodgers, when discussing the Green Bay Packers.
While it is unfortunate that they decided to lay a Giants egg in the NFC Divisional round that included multiple turnovers, missed assignments and opportunities along with dropped passes, the overwhelming consensus amongst the laments to local media in Wisconsin on Tuesday regarding what the Packers need do for the 2012 season appears to rest solely with their defense.
The team ranked 19th in overall defense and at the bottom in pass defense. The consensus on the drop off from their super 2011 seems to coalesce around two players.
The departure of defensive line star, Cullen Jenkins, in free agency to Philadelphia and the early, season-ending neck injury to pro bowl safety, Nick Collins.
While second-guessing and backseat driving could make the case for the Packers to have paid Jenkins to return, the fact that they went 15-1 alone snuffs that backwards dog walk. Ted Thompson's clear success in building a championship team seems to continue to have part of the theme, old and overpriced need not apply.
Collins, on the other hand, is a huge question mark for the 2012 season. His comments on Monday to local media resulted in positive reports that his neck will heal properly and he would be able to return.
Kevin Seifert of ESPN has these quotes from Collins on his NFC North blog on Monday:
Collins stated, "This is tough for me. because I never pictured myself being in this position—having to plan for either I'm coming back or I've got to retire. This is tough. And hopefully I don't have to end it this way. But at the end of the day, I want to be able to walk away from this game on my own."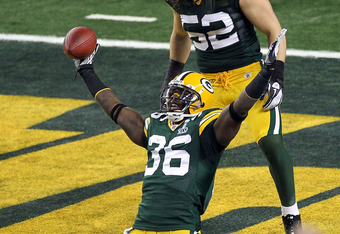 Mike Ehrmann/Getty Images
"When your kids grow up and they get into sports," Collins said, "you want to be there for them, cheering them on. And I'd rather do that rather than being in a wheelchair. I don't want to be like that. I want to be there for my kids, my family."
So this brings us back to the defensive line. The most glaring Packers deficit exposed in 2011 was an anemic to non-existent pass rush opposite the single man wrecking crew known as Clay Matthews.
Teams quickly realized that a double or chip on Matthews was a quick antidote to any Packers pass rush. This left linebackers chasing a step behind tight ends and receivers and a secondary abused by having to count to "Ten Mississippi."
Jenkins was sorely missed. The tragic inability for Johnny Jolly to defeat his demons and return to shore up the line was another blow. Thompson draft hopeful Mike Neal in his second year returned from injury, but was a non-factor.
If Collins can return to his stellar play at full health, the Packers will have addressed one of these two issues. They then have the luxury of discussing utilizing the aging great, Charles Woodson, as a safety or an individual game plan "X factor" as a QB shadow, back, or blitzer.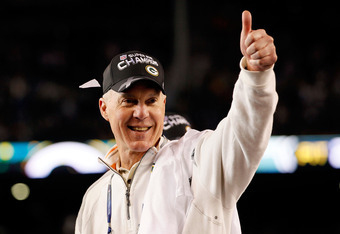 Kevin C. Cox/Getty Images
Since the switch to the 3-4 with Dom Capers, the Packers have played musical chairs with the OLB spot opposite Matthews. From Brad Jones to Eric Walden, the pass-rush threat since the Jenkins departure never materialized.
So it is clear that the Packers need to find a top OLB opposite Matthews to compliment their high caliber offense for a serious return to a NFL Championship.
At first glance, the defensive end and linebacker free agency board listings to find that perfect OLB to play that role in the 3-4 defensive is not impressive. And if you can't impress fans, just think how hard it will be to impress the stoically consistent Ted Thompson.
One player does stand out as a potential solution not only because of the potential fit, but because of how he may not fit into the budget and role of his 2011 team.
That player is Mario Williams. Wade Phillips worked to have Williams make the adjustment from DE to OLB in the 3-4 and Williams seemed to be playing well before an early, season-ending chest muscle tear.
This makes one ponder what a Packers defense with Nick Collins returning and Mario Williams opposite Clay Matthews would look like.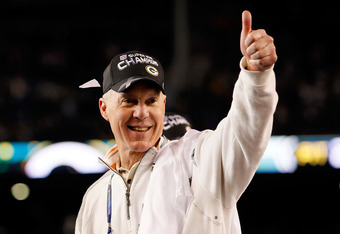 Kevin C. Cox/Getty Images
Williams' back up, rookie Brooks Reed, appeared to not only suffice as a replacement but thrive. The article today by Buck Harvey of the San Antonio Express-News explains the situation that will have the Texans either tagging Williams for one year at $10M or letting him go to free agency. He talks about how Reed became part of a tight group that seems to feed off of each other as a unit.
Harvey states, "Given his price, as well as how the Houston defense played without him, Mario Williams might have cleaned out his locker for the last time."
The Texans will try to bring Williams back and may indeed tag him, but if their overall budget does not call for a potential $10M back up and he does go to free agency at age 27 and in the potential prime of his career, this could be one of the rare and unique signings that Ted Thompson could make without feeling like he has violated his "old and expensive" rule.
It will be expensive, but he won't feel like he made a "Dan Snyder - Old" move and Williams just may be the Mario that makes the Packers super again.