Tom Brady, Roger Staubach, Terry Bradshaw: Great NFL Quarterbacks in Any Era
January 17, 2012

Scott Cunningham/Getty Images
It's fair to ask, after this incredibly airworthy season of NFL football, if we might not be in the most golden age of quarterbacking that the league has ever seen.
The QB has always been the glamor position, from Slingin' Sammy to Johnny U. to Broadway Joe. But with the crop playing today it's fair to at least ask how Brady and company stack up against the greats of an earlier time.
Arguably, you can break the NFL down into eras, such as "pre-Super bowl," "pre-defensive rule changes," etc.  How much better or worse would Tom Brady have been with the Purple People Eaters or the Fearsome Foursome breathing through his single bar face mask?
(It is my aim with this piece to send those of you who think the Browns, Colts and Steelers have always been AFC teams hurrying to Wikipedia to see what some of the terms here mean!)
Assuming that the best today are Brady, Roethlisberger, Peyton Manning, Drew Brees and Rodgers, that gives us five top-flight passers who are locks to be bronzed in Canton.   Together, these guys have quarterbacked the winner in eight of the 12 Super Bowls played in the 21st century.
So let's go back to the 70s, when my NFL reporting career began. Who would the top guys be?  If you employ the same Super Bowl criteria as used above, you'd wind up with Terry Bradshaw, Roger Staubach and Bob Griese, who won eight of 11 Super Bowls (if you sneak the 1980 game into the decade of the 70's).
Now I know that some of you think Terry Bradshaw has spent his career behind the anchor desk at CBS and you may not even realize that once upon a time, when he had a toupee, he was one of the greatest quarterbacks ever to play the game.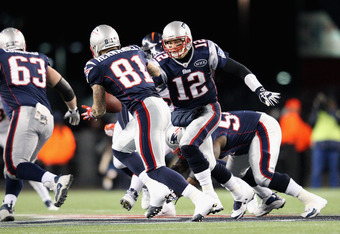 Jim Rogash/Getty Images
Terry's first years with the Pittsburgh Steelers were brutal.  The fans hated him.  He was a country bumpkin in the big city, and playing like it.  But as the Steelers matured, so did Terry.  In 1979, he threw for 3,724 yards and 25 touchdowns.  And this was in an era when a defensive back could do everything but stuff the receiver in a suitcase as he made his way down the field.
Terry was the first quarterback to amass four Super Bowl rings.  The all-in attitude which you see on CBS each week was also there on the field.  It's likely that today, he'd be a great fit with a team that wanted to throw the ball deep and often.
Terry's Steeler successor, Ben Roethlisberger, might be the most frightening of today's QBs to play in an earlier era.  Dwight White, a defensive end for those first Steeler champs of the 70's, weighed in at 6'4" 255 pounds.  Big Ben, a quarterback, is 6'5" 240 pounds.  It's safe to say that Ben would be running over defenders of an earlier time in a way they were not used to seeing from the guy under center.
The premiere mobile QB of the 70's, Roger Staubach, didn't even crack 200 pounds, playing at 197 at his peak.  But Roger was probably quicker on the outside than Ben, enabling him to escape more easily.  Today, you might think Roger would find himself confounded by the speed of linebackers who run like track stars.  But, as competitive as he was, Roger would find a way to improve.
Bob Griese and Tom Brady can easily be mentioned in the same breath, because there is much similar about them beyond the No. 12 each of their jerseys.  Though Griese, at 6'1" 190 lbs, is more Drew Brees' size, the surgical precision with which he cut defenses apart calls Brady to mind.  Griese doesn't have as many late-game heroics as Brady, but that's only because the Dolphins of the 70's were rarely behind on the scoreboard.
It's pretty certain that great athletes would be great in any era.  But when you add in the physical differential a guy like Roethlisberger brings to the equation, it gets a little more freaky.
Would all those GMs who passed on Brady in the first five rounds of the NFL draft in 2000 also have passed on Bradshaw or Griese?  Would any of them have taken Staubach as the Cowboys did in 1964, knowing he had four years of military service to complete before he could play pro football?
The honest answer is, there's no way to prove any of it.  But it's fun to think about Bradshaw leading today's Steelers, or Brady executing the West Coast offense for Bill Walsh. 
The greats are great.  End of story.