Nebraska Football: It's Time the Cornhuskers Consider New Uniforms
January 18, 2012

Brian Bahr/Getty Images
Man, that Tom Osborne is quite the buzz kill.
In recent interviews with Steven Sipple of the Lincoln Journal-Star, he's said that Nebraska isn't going to consider new uniforms (via HuskerExtra), thinks a four-team playoff is problematic, and thinks there are too many bowl games being played (via HuskerExtra)
Next thing you know, Osborne will be telling us to sit up straight, tuck in our shirts and eat our broccoli.
Of course, Osborne is the most revered and authoritative living figure representing Nebraska football. He's also not saying anything new, and when he raises player welfare as a concern about a playoff, he's one of the few people who has some credibility.
But the playoff argument has been had—time and again—and it seems that a four-team playoff is going to happen starting in 2014, according to ESPN. Osborne's opinions, one way or the other, aren't likely to significantly change the outcome.
But Osborne's comments about Nebraska's uniforms are what interest me. As Nebraska's athletic director, Osborne ultimately has final say over whether NU breaks out new threads on the football field.
So why doesn't Osborne want Nebraska to look at new duds?
"I'm just to the point where I don't think that you should all of a sudden make yourself into a walking billboard. So, we'll probably be pretty traditional around here," Osborne told Sipple.
The argument against new uniforms leans on Nebraska's tradition. Supposedly, schools without a rich tradition need to do something flashy to get attention. Teams like Oregon, Boise State and Oklahoma State have to hop on the superhero-costume uniform bandwagon to make themselves stand out and be noticed.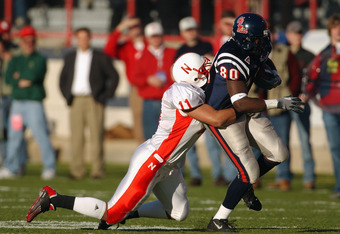 Matthew Stockman/Getty Images
Well, it's working.
No one thinks that those schools are winning because they have a bunch of different uniform combinations, but it's no coincidence that the changes in attire have resulted in increased attention to the programs.
Increased attention means more leverage in recruiting to get better players to the schools, and better players make better teams, which translates (roughly), into success on the field.
And it's not like uniform changes are the sole province of college football's nouveau riche.
Alabama, Ohio State (not once, but twice), Oklahoma, Texas, LSU, Georgia, Army and Navy have all sported a Nike Pro Combat uniform. Notre Dame—a school with more tradition than anyone—wears green alternates regularly and just made a major change in its helmet. Michigan and Notre Dame also had a stylized throwback game with new uniforms, as well.
So, even college football's blue bloods have dipped into the uniform pool. What is Osborne's reluctance?
"Maybe that has to do with longstanding traditions. But it also maybe has to do with my age," Osborne told Sipple.
Maybe. But it's not like Osborne isn't a forward thinker. He and Harvey Perlman were instrumental in moving Nebraska from the Big 12 to the B1G conference, leaving behind conference foes NU had played for over a century.
So it's not like Osborne is afraid to buck tradition when needed.
Sure, Nebraska tried new uniforms in 2001, which led to a 7-7 season. At the time, that seemed disastrous, so superstition reigned and any thought of uniform changes were mothballed. NU did have a throwback game for its 300th sellout with throwback uniforms to 1962, which were well received.
And Nebraska has made a number of tweaks in its uniforms recently as well, including a return of the side stripe on the pants, moving the TV numbers from the sleeve to the shoulder, adding an inaugural season patch and thickening the numerals on the jerseys.
So why not embrace the wave?
Certainly, the fanbase would not support a constant rotation of uniforms like Oregon. But what about a one-off uniform once every couple of years to commemorate a big game? What about an opportunity to honor the history of Nebraska football, provide some excitement to the kids playing the game and let the university make a little extra coin in jersey sales?
It's time, Dr. Osborne. Keep it sane, but get the Adidas uniform mad scientists working on some new threads for a big game. I hear Michigan is coming to town in 2012, and they've already put together a pretty nice throwback.
If you would like to contact me directly to schedule an interview, ask a question or to get my recipe for a killer peach cobbler, you can send an e-mail to patrickrunge@gmail.com. (DISCLAIMER: Peach cobbler recipe might not be all that killer.)
Or, you could always ... Follow @patrickrunge