NFL Draft 2012: Second-Tier Running Backs Who Will Provide Terrific Value
January 18, 2012

Harry How/Getty Images
Taking running backs early in the draft has become more useless with each passing season. While a player like Trent Richardson has a good chance to provide a quick boost, there are several backs who will be taken rounds later that will provide a lot more bang for the buck.
It's a phenomenon that's becoming even more prevalent because of all the high-powered passing attacks in the NFL. Running backs simply don't have as much value as they once did.
With that in mind, here are three second-tier RBs that will shine for their new teams without having to spend a first-round pick on them.
LaMichael James, Oregon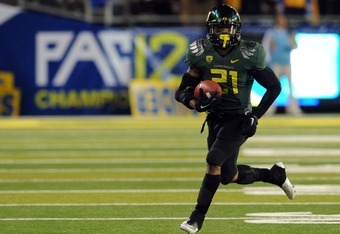 Steve Dykes/Getty Images
James has so much electrifying talent that you would expect him to be fighting with Richardson for the top running back distinction. That is if you didn't know he was 5'9'', 195 pounds. In this case, size does in fact matter and that's why he's not a more highly regarded prospect.
Unlike previous diminutive backs like Reggie Bush, however, James has already shown a willingness to fight for tough yards between the tackles. That's why teams shouldn't be so quick to dismiss his skills as a potential starter.
He'll be a change-of-pace back to start his career, but will eventually develop into a guy who is willing and able to handle all three downs.
Bernard Pierce, Temple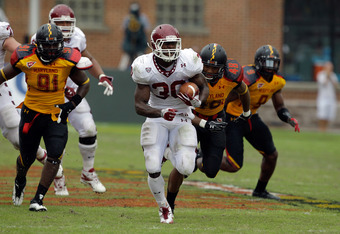 Rob Carr/Getty Images
Pierce has spent the past three seasons dominating inferior competition in the Mid-American Conference with the Temple Owls. That lack of experience against elite competition has people wondering how long his transition to the NFL will take.
That shouldn't be a major concern, though. Pierce has perfect size for the position and has proved he can be a workhorse. He's not going to wow you with his speed or athleticism, which means the combine won't help him, but he's going to be a consistent back that has a long career.
Talent evaluators often get caught up in a player's "tools," which allows a player like Pierce to fall through the cracks.
Isaiah Pead, Cincinnati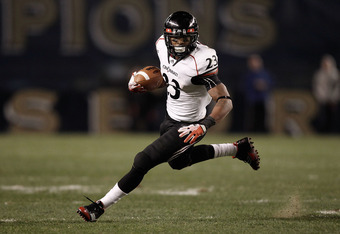 Jared Wickerham/Getty Images
After rushing for 149 yards in the Liberty Bowl, Pead probably expected to be generating more draft hype. But that's not always a bad thing because with a lot of attention comes high expectations. He should be able to fly under the radar.
Pead has made big strides in the receiving game since arriving to Cincinnati to go along with his already reliable rushing skills. Those dual-threat abilities make him an attractive option after seeing how much success Darren Sproles had with the New Orleans Saints this season.
It's a mystery as to why Pead isn't more highly touted in draft circles, but he won't remain anonymous for long.