NFC Championship Game Predictions: 3 Rookies That'll Play Major Roles on Sunday
January 17, 2012

Thearon W. Henderson/Getty Images
The NFC Championship Game between the San Francisco 49ers and New York Giants is loaded with battle-tested, veteran stars, but these three rookies will turn in solid performances on Sunday. 
Let's take look at this youthful talent and what they'll accomplish in the title game. 
Kendall Hunter, RB, 49ers 
Frank Gore is San Francisco's workhorse, the guy that wears down opposing front sevens with between-the-tackle runs and punishing hits on smaller defensive backs at the second and third levels.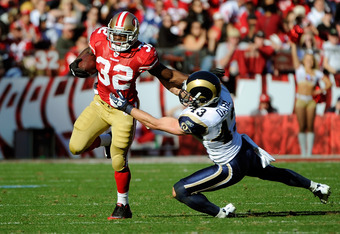 Thearon W. Henderson/Getty Images
The 49ers have received fantastic play from their revitalized quarterback Alex Smith, but they're still a run-first club and will institute their typical game plan against a team that allowed more than 121 yards on the ground during the regular season. 
New York's dynamic pass-rushers will be aggressively attacking the 49ers' backfield on most downs, ideal for the speed and shifty Hunter to have a big day.
Hunter carried the ball six times for 40 yards and a touchdown in the 49ers' 27-20 Week 10 victory over the G-Men.
Although New York did a great overall job limiting Green Bay's runners last weekend, Ryan Grant and James starts averaged 5.4 yards per carry. 
Jacquian Williams, LB, Giants 
Williams has been an underrated but integral part of the Giants' success this season. He stepped in during a time when the linebacking corps was riddled with injuries and has become a prominent facet of their intimidating defensive front seven. 
As an outside linebacker that comes into the game in many sub-packages and on passing downs, there's a great chance he'll face some critical one-on-one battles with the resurgent and physically dominating Vernon Davis. 
Williams' is a fast and athletic guy, but the combination of raw power and deceptive speed make Davis a matchup nightmare. 
No one expects Williams and the rest of the Giants' defenders to totally shut down Davis, but if he can disrupt his timing with Smith by being overly physical at the line of scrimmage and not allow the 49ers tight end to accumulate major yardage after the catch, New York will be in great shape defensively. 
Aldon Smith, DE/OLB, 49ers 
Smith totaled a whopping 14 sacks with two forced fumbles this season as a rookie. Last week against the Saints, he caused constant pressure on Drew Brees and had one quarterback takedown. 
He's a situational edge rusher that has demonstrated a tremendous burst off the ball along with a developed repertoire of counter moves. 
What's made Smith so great in his first year in the league is his awareness of what the offensive line is doing to stop teammate Justin Smith. Aldon often runs free on stunts and takes advantage of times when Justin is double teamed. 
The Giants' offensive front has done a remarkable job protecting Manning over the last month, so the rookie will certainly be a determining factor in this one.