NFL Draft 2012: Washington Redskins and Teams Destined for Draft Failure
January 18, 2012

Rob Carr/Getty Images
With the NFL season drawing to a close in just a matter of weeks, it's time to start chatting about the 2012 draft. It's never too early!
While many teams have proved they are gold at finding the hidden talent in drafts, just as many teams have shown they are terrible at it. All of the following teams have been poor drafters and another year of mediocrity and disappointment should come as no shock. This may hurt.
Washington Redskins
There is almost no doubt in my mind that Mike Shanahan will exhaust every resource to acquire Robert Griffin III in the draft. Whether he falls to No. 6 or the Redskins have to trade up to No. 2, they are going to get Griffin.
Too bad he will be a bust.
That's right folks, the Redskins are going to risk everything on a player that would be better suited coming in and learning the game at an NFL pace before getting thrown into the fire.
All of the questions about accuracy or arm strength will only be exacerbated by the lack of an offensive line and Shanahan's unfathomable arrogance. Griffin is a good player, but he will not succeed in Washington.
Jacksonville Jaguars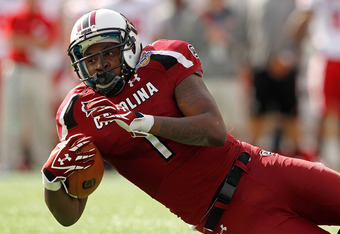 Mike Ehrmann/Getty Images
While many experts feel taking South Carolina standout wide receiver Alshon Jeffery with the No. 7 pick is the right choice, there is no way I can advocate a team with so many other needs taking a wide receiver this high.
If it were Justin Blackmon that would be different, but Jeffery is the kind of player that will be there at No. 15. This may be a time for the Jaguars to consider trading back to get their man and another piece as well.
Knowing all of the mistakes this organization has made over the years, I have no doubts Jacksonville will kick off a transitional year with a terrible showing. The Jaguars should just package all of their picks with Blaine Gabbert and get Tim Tebow.
Kansas City Chiefs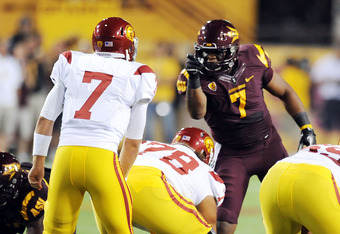 Norm Hall/Getty Images
The talk right now is that the Kansas City Chiefs are considering troubled Arizona State inside linebacker Vontaze Burfict at the No. 11 spot.
With many areas of need, middle linebacker included, there are so many safer picks this high that would pay instant dividends without the potential downside. The Chiefs will have a full spread of offensive linemen to choose from, so choosing Burfict will be a mistake at No. 11.
If the Chiefs traded down to get him later on, that would be better, but the feeling is that Kansas City will start off Romeo Crennel's reign with a blown pick.
Check back for more on the National Football League as it comes, and check out Bleacher Report's NFL page to get your fill of all things football.