Gunner Kiel: Will Notre Dame's Prized Recruit Follow in Dayne Crist's Footsteps?
January 17, 2012

The Notre Dame football program is thrilled to death with the official signing of five-star QB recruit Gunner Kiel, but just pump the brakes for a second.
It was only four years ago when a similar situation began to unfold in South Bend when Charlie Weiss landed another five-star quarterback recruit in 2008.
That man was Dayne Crist.
He was heavily courted by almost every program in the country
His tenure in South Bend ended up being a disaster. He suffered two season-ending injuries, Weis was fired after Crist's second year and he was benched at halftime of the first game of his senior season. It was awful. He transferred to Kansas.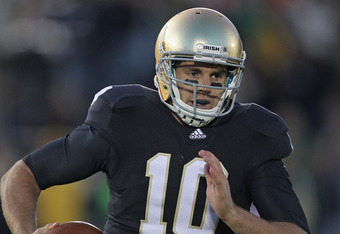 Jonathan Daniel/Getty Images
Kiel enters college with the same strengths Crist possessed: strong throwing arm, terrific footwork in the pocket and an ability to adjust on the fly with very similar fanfare coming in.
Now obviously, these are two completely different kids that possess different mental makeups and durability. For all we know, Kiel is the next John Elway.
Yet it has to be concerning how much Kiel has flip-flopped. He originally said Alabama and Oklahoma were his two finalists in early 2011. Then Kiel decided he wanted to stay in his home state and play alongside his brother, Dusty, at Indiana. Last month, he changed his mind again and decided to play in SEC country with the LSU Tigers.
Three weeks later and he surprises everybody by picking Notre Dame.
Obviously, it's his right to change his mind, but you have to wonder how mentally prepared this kid is when he basically tells four schools they were his pick.
The kid comes off as a bit of a prima donna, which is not exactly a great sign when you're talking about an 18-year-old that has been given everything on a silver spoon his whole life.
It's way too early to know either way, but I certainly have my doubts entering the 2012 season. How will he react if Brian Kelly doesn't start him from day one? What if he gets benched after struggling early on?
It's a bright day in South Bend, no doubt about it, but don't go thinking the Fighting Irish are a shoo-in for the next four championships.