5 Reasons LeBron James Has Issues Delivering in the Clutch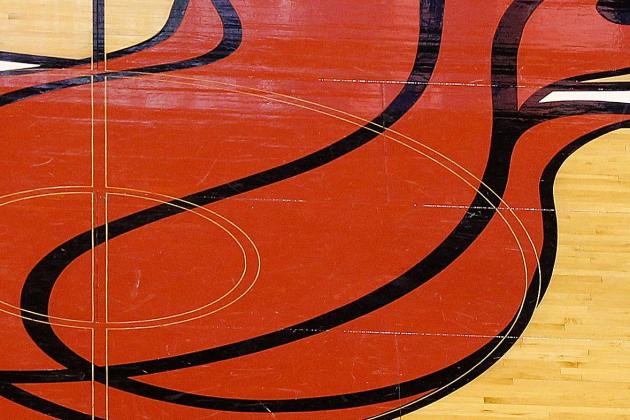 Mike Ehrmann/Getty Images

As long as Mike Miller is making all six of his three-point attempts, the Miami Heat won't ever have to worry about making their shots in late-game situations.
Of course, LeBron James also had something to say during Miller's return. He happened to have 33 points, 10 assists, and five boards to snap a three-game losing streak in a 120-98 Heat victory over the San Antonio Spurs. James was 4-of-6 from beyond the arc and had 17 points in the third quarter.
If only every game could be like this for the Heat.
But they will have to perform well in the clutch if they even want to think about winning a championship. Just like how they had to make huge shots against Boston and Chicago last year in order to make it to the NBA Finals, they'll have to do the same thing this season—plus actually making their shots in the Finals.
Ultimately, this all falls on LeBron James, because why wouldn't it? Even though the Heat have two other stars in Dwyane Wade and Chris Bosh to look to in those situations, the coaching staff seems adamant about making James the player to look towards at the end of the game.
Dwyane Wade is clearly the better player at that juncture, and even Bosh has hit his fair share of crucial shots, but James is still getting the ball in those situations possibly to raise his confidence.
LeBron has been greatly criticized for his failures in those situations, and we'll take the time to figure out five reasons why he is having trouble with hitting shots down the stretch.
Begin Slideshow

»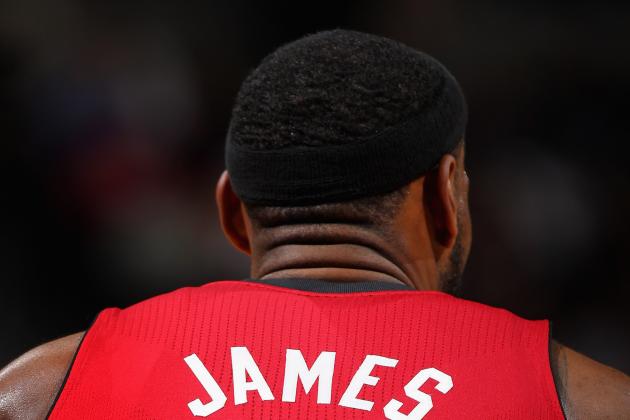 Doug Pensinger/Getty Images

If you want to find a way to separate a clutch player from one that isn't so much, all you need to do is take a look at their body language, which then tells you just how confident they are in that particular situation.
Watch a player like Carmelo Anthony, Kobe Bryant, or Dwyane Wade when the game is on the line and the ball is in their hands. Just by the way they walk down court and have the same calm demeanor that they've possessed throughout the game, you can tell that they are emitting nothing but confidence when they're gearing up to take the final shot.
Then watch players like LeBron James or Dwight Howard at the foul line in those situations. By their demeanor and the way that they've conducted themselves over the few minutes prior to that situation, you take sight and notice that they don't have the same confident stride that players like Anthony and Bryant have when they're walking down court, or taking their free throws.
Confidence is the most significant aspect that you need to have if you want to be deemed as a clutch player who can consistently step it up. LeBron, who is one of the most confident players in the league, needs to have that same confidence transfer from the first three quarters towards the fourth quarter.
He can't look at that fourth quarter as the end. James needs to continue playing the same way he's been playing the first three quarters. He needs to ignore the fact that there is a possible chance of failing, and instead focus solely on winning.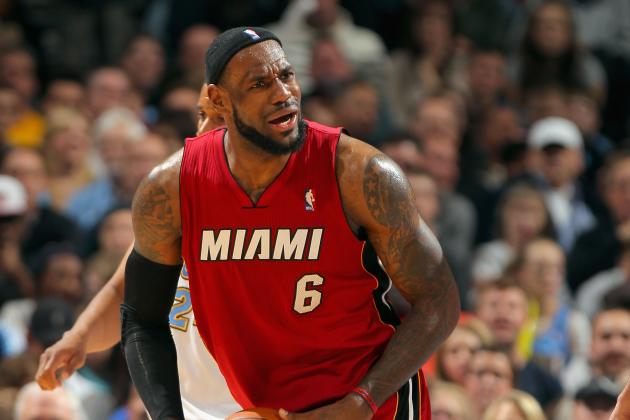 Doug Pensinger/Getty Images

On a team like the Miami Heat, you're going to occasionally run into some problems on the offensive end.
On paper, the combination of Dwyane Wade and LeBron James is possibly the greatest duo to ever join forces on one team. They're both tremendous athletes, high-octane scorers, fantastic defenders, all-around great teammates, and in their primes. However, they face one significant problem that stalls the offense.
They have the same exact game.
LeBron James is Dwyane Wade in a larger frame and Dwyane Wade is LeBron James with a clutch gene. They're both inconsistent shooters, which means that they're going to have to find ways to score around the basket. They find a way to score by utilizing their athletic abilities and driving to the rim at will.
They might have different methods of getting to that point, but they both find the majority of their points coming near the rim.
When you have two players who are constantly looked at in the clutch, obviously defenses are going to focus their attention solely on those two, especially when you have limited three-point help, which is what makes Mike Miller and Shane Battier such vital players. When there aren't any perimeter threats to focus on, the defense comes crashing down on the two slashers.
Unlike Wade, who uses finesse and crossovers to break through double teams at the top of the perimeter, James uses his strength, which doesn't always work against skilled defenders. If a player relies solely on his strength to drive each and every time down, opposing defenses are eventually going to wise up and find ways to defend it.
As for why he couldn't consistently convert in Cleveland? Mo Williams, Antawn Jamison, and Zydrunas Ilgauskas were his top teammates. Would you leave LeBron to guard either of those three?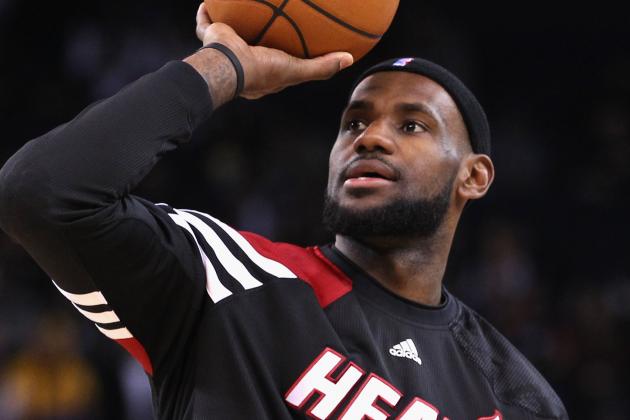 Ezra Shaw/Getty Images

Only so many players have had the luxury of playing alongside a fellow All-Star.
Dwyane Wade had Shaquille O'Neal to rely on. Kobe Bryant had Shaquille O'Neal and Pau Gasol. Paul Pierce had Kevin Garnett and Ray Allen.
LeBron James? He had Mo Williams and Antawn Jamison on his championship journeys. Coming to Miami was a culture shock—to say the least—for LeBron. He's never had this type of roster to look towards and he's never had the luxury of playing alongside a distinguished veteran or any type of All-Star.
No, Mo Williams wasn't an All-Star. LeBron James made him an All-Star. Just like how Chris Paul can make Peja Stojakovic and Tyson Chandler look a whole lot better than they actually are, James also happens to have the same influence on his teammates.
Coming on a team with Dwyane Wade and Chris Bosh by his side, James might have been led to believe that the pressure would finally be relinquished off of him. Maybe he actually came to Miami to be the player he can be for the first 36 minutes, then allow a teammate to take over the final 12. Instead of continuing to be that player to look towards, perhaps it should be someone else to step it up.
This is a player who's been looked at as No. 1 since middle school. We've seen how well he reacts under pressure, and it usually results in something negative, unfortunately. Instead of allowing him to be No. 1 for the entire 48 minutes, perhaps it should be Dwyane Wade, Chris Bosh, or another teammate waiting in the wings to take over.
That shouldn't diminish LeBron James as a player, because he is an excellent player and has proven in the past that he is a clutch player. However, he isn't the type of player to rely on every single game. He has teammates who can step it up—allow them to take over from time to time.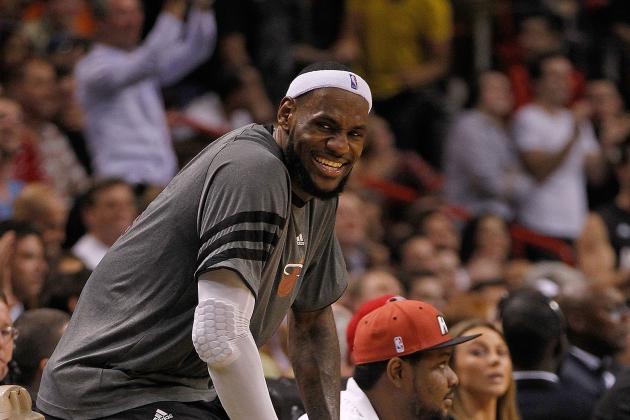 Mike Ehrmann/Getty Images

Since coming to Miami, no player has been under an umbrella of pressure more than LeBron James.
This wasn't like in Cleveland, where if he failed, you could at least put the blame on his teammates for failing to deliver, because that's exactly what they did. James could only do so much for that franchise before he could no longer take it. It's not his fault that the Cavaliers were losing in six games in the Semifinals and Conference Finals. Blame it on the ownership for bringing a second option that shoots 33 percent from beyond the arc.
Now that he is in Miami, there are no excuses. Even if the Heat were playing without Udonis Haslem and Mike Miller for the majority of last season, there was no excuse to losing. The Heat proved that three players could lead a team to victory against tough teams like Boston and Chicago, but it all came crashing down when one of those three players could no longer produce.
Prior to those NBA Finals, where James averaged a historic 17 points per game, LeBron was riding high from hitting a series of clutch baskets in the Heat's previous three series. It didn't matter to him when he was converting all of those daggers, because he was in a rhythm that he couldn't seem to break out of. When James is in a rhythm and is streaking, he's the greatest player in the NBA—and it's not even close.
The problem is that the rhythm goes away after awhile. James can only convert on so many three-pointers and long jumpers before he can't convert anymore, because he's not Ray Allen or Reggie Miller. When he attempted to rely on his driving, he couldn't because the Dallas Mavericks specifically designed their defense to deter him from making his moves into the lane.
Even with the Mavericks throwing defenders and gimmick defenses at him, the reason why LeBron James couldn't perform was solely because of LeBron James. We've seen him do unbelievable things in the past before, so why should a zone defense take him out of his element?
James wasn't performing well because he was thinking of the circumstances that followed afterwards. He didn't want the blame to be placed on him, so he continued to force the issue. When he wasn't converting on his usual shots, his confidence was shot. When his confidence was shot, he began making plays that aren't part of his nature.
The pressure all came down upon his shoulders, and he couldn't handle it. Even LeBron James couldn't contain the pressure of being in an NBA Finals setting and being two games away from his first ever championship.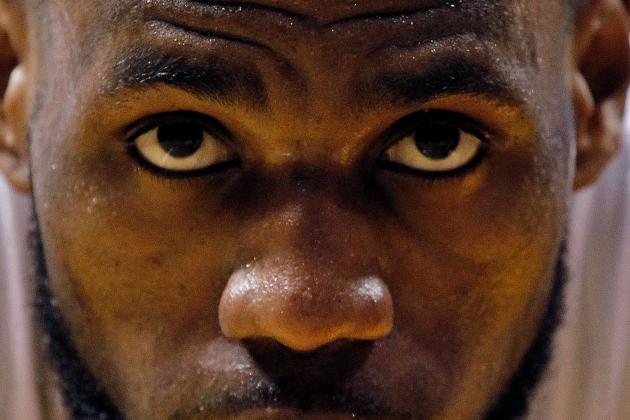 Mike Ehrmann/Getty Images

As I stated before, in order to be a clutch player you need to emit confidence. Also, you need to be consistent in those types of situation. I recognize that LeBron James was unbelievable in the Heat's series against Boston and Chicago, but you have to maintain that consistency in order to be labeled as a reliable player in those situations.
Let's start off with the obvious by saying that those who resent James because of his inability to consistently perform in that situation are ridiculous. You've never been in that situation and you most likely never will be. When you have 20,000 people breathing down your neck, millions viewing on TV and listening on radio, and you're going against a defense that's going to be playing the toughest defense they've played all night, you might shy away from those types of predicaments.
Unfortunately for the Cleveland Cavaliers and Miami Heat, James seems to be the type of player that doesn't embrace being that go-to guy in the clutch. There are other elite players who love being in that situation and dream of the day where they can win a game for their team via a game winning shot, but there are also those who can't stand to be in their own shoes when the clock is waning and the game is close.
You need to have the right mentality going into these situations. The first 36 minutes are purely a physical game. You can play as dumb as you want to for those first three quarters and still find yourself in a game, but if you continue to play that way in the fourth quarter, it will catch up to you. Those final 12 minutes are meant for the strong mental players to thrive in, and that's why you see guys like Dwyane Wade and Kobe Bryant thriving and aching for those last shots.
Clutch players are so secure with themselves and their ability to play that they don't worry about failing. Do you think Wade, Bryant, or Paul Pierce have the ball in their hands and think about the consequences of missing? Absolutely not. Those three players all stand by the firm belief that they're going to get their best shot of the night off and it's going to win them the game.
LeBron James needs to have that mentality. He can't think about failing and risk being made fun of the next day. He has to embrace that type of situation. When the Heat are down by a point and they're in a huddle discussing the next play, LeBron needs to be the player that says give me the ball.
Even if he misses it, the most important thing that matters is that he believed he took a good shot and that he'll make the next one.
Bryant may have a poor shooting percentage in the clutch, but that has yet to deter him from taking each and every shot in those moments. LeBron needs to have that Kobe mentality. You're going to miss some shots, but that doesn't mean it's the end of the world, because there's still another day to make it right. If you don't believe in yourself, then what gives anyone else the right to believe in you?
LeBron can be that guy. We've seen him do it before. He just needs to make basketball more than a physical game.