NFL Draft 2012: Teams Better off Trading Down in Round 1
January 18, 2012

Al Messerschmidt/Getty Images
The 2012 NFL Draft is much more exciting when trades occur on Day 1, and those teams that trade down can often be the big winners. 
Most times, it's the teams that trade up that get the most attention, but trading down allows teams to stockpile more draft picks, which in turns help the future of their franchise. 
It's not an easy thing to do because you could be missing out on some elite players, but the chance to get more players by the end of it all is worth it for some teams. 
With that said, here are three teams that are better off trading down. 
Jacksonville Jaguars 
New head coach Mike Mularkley has options with the No. 7 pick, but moving back is his best bet. The biggest need the Jaguars have is for a playmaking wide receiver, but Justin Blackmon is likely to be gone by then. 
Alshon Jeffery is a possibility at No. 7, but it's still a bit of a reach. Drafting wideouts in the Top 10 is a very risky move, which is why Jacksonville should trade back. 
Not only would the Jaguars get more draft picks out of the deal, they'd still be able to get a top-notch wideout. The Jaguars could take Jeffery or Michael Floyd, as either one would be a great addition for Blaine Gabbert. 
Since many teams need offensive linemen, a few teams could be looking up to ensure they get one of the elite ones, making it easy for Jacksonville to move back. 
Seattle Seahawks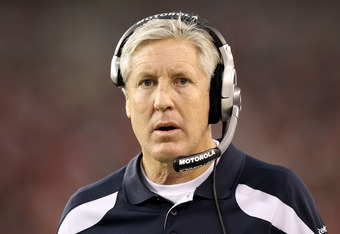 Christian Petersen/Getty Images
The biggest need for the Seahawks is at quarterback, but unfortunately, the only ones worthy of being selected in the first round won't be around for Seattle at No. 11 or No. 12.
Seattle has to flip a coin at the NFL Scouting Combine to determine whether or not it gets the No. 11 pick or the Kansas City Chiefs do.
Upgrading the pass rush is need for the Seahawks, but drafting a defensive end there would be too big of a reach.
Trying to trade back would be the smartest move because the Seahawks would feel better about selecting a pass-rusher a little later in the first round. 
San Diego Chargers 
The Chargers' main priority for this draft is to boost the offensive line, but all the elites will be gone by the No. 18 pick. 
This means San Diego should move back to the later part of Round 1 to get a project-type offensive lineman. That doesn't mean they aren't good players, but they're not quite ready to be impact players upon their arrival.
Sure, they could surprise and end up starting, but that's rare. The Chargers are better off moving back as opposed to reaching for an offensive lineman at No. 18.
At that pick, defenders are going to be the best players available, but the Chargers aren't in dire need of defensive players. Trading back and getting an additional draft pick and is the best bet for San Diego.