Paul Pierce Reportedly Drawing Trade Interest as Celtics Consider Rebuilding
January 17, 2012

Elsa/Getty Images
Father Time is beginning to run out on the Boston Celtics.
After losing to the Oklahoma City Thunder 97-88 at home on Monday night, the team is now 4-8 and seemingly headed nowhere.
If the team continues to falter, trading Paul Pierce before the March 15th trade deadline begins to become more and more likely according to Yahoo! Sports' Adrian Wojnarowski:
Several contending teams have inquired about Pierce's availability. As one Eastern Conference official said, there are "lots of calls asking if [Boston] will blow it up."
With Kevin Garnett and Ray Allen coming off Boston's salary cap this offseason, the timing is right to blow up the roster and start from scratch. 
What It Means
At the age of 34, Pierce has become one of the elder statesmen in the league. One of the most durable players in the game, Pierce has already missed three games this season due to injury and his numbers are down across the board.
In nine games this season Pierce is averaging 15.7 points, five rebounds and 3.6 assists while making 39 percent of his shots.
So while he may not be able to be the star player on a championship contender, there is still something left in the tank for Pierce.
What's Next?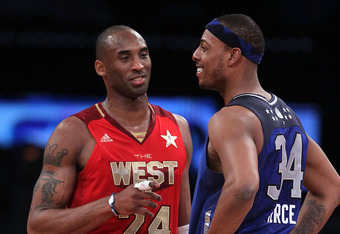 Jeff Gross/Getty Images
Let the bidding war begin.
There are multiple teams around the league that are trending towards the playoffs and could use another strong piece to take them over the top.
One team that makes a whole lot of sense is the LA Lakers. It's where Pierce is from and a shooting guard/small forward is exactly what they need at the moment. With Kobe Bryant and Derek Fisher, the championship window is only open for so much longer.
Other teams to keep an eye on are the Chicago Bulls, San Antonio Spurs, Houston Rockets and the Portland Trail Blazers. The Celtics will be looking for a first-round draft pick and young talent in return.
It was a great run for the Celtics' Big Three, but unless things change in a hurry, the trio is going to be broken up sooner rather than later.