2012 NFL Draft: Identifying the 10 Biggest Athletic Freaks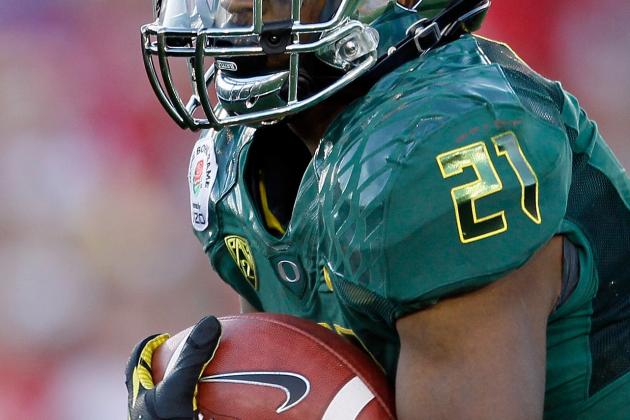 Jeff Gross/Getty Images

The NFL is the epitome of what it means to have hundreds of tremendous athletes within the same organization. These athletes vary in regards to what they excel in and how they go about it.
For example, we saw one athletic freak in Justin Smith on Saturday for the San Francisco 49ers. On the other side of the field stood 5'6" Darren Sproles, who is an amazing athlete in his own right.
See, someone that weighs nearly 300 pounds can be nearly as dynamic is a speedy running back.
Today I am going to take a look at the 10 biggest athletic freaks from the 2012 NFL Draft.
Begin Slideshow

»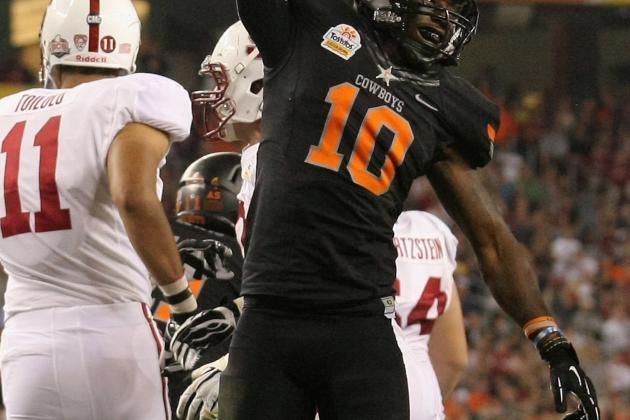 Donald Miralle/Getty Images

Size and speed are the two things that you cannot teach. They are also two things that Markelle Martin has at this point.
While he isn't great in coverage and does get turned around in the defensive secondary, the former Oklahoma State star possesses an amazing ability in terms of making plays.
6'1"
198 pounds
4.47/40
Projected second- or third-round pick.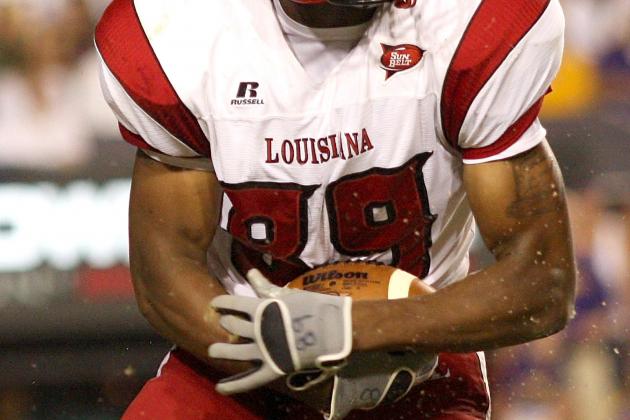 Ladarius Green is one of the most intriguing prospects in the entire 2012 NFL Draft. He has the physical makeup to be a dominating tight end at the next level, in the mold of a Vernon Davis.
At 6'6", he can dominate the hashes against smaller linebackers and safeties. His 4.64 speed is the same as Orson Charles, who just recently declared from Georgia. Despite this, Green stands about three inches taller than the more well-known former Bulldog tight end.
There are issues in regards to blocking, but in terms of physicality, Green stands above the rest of the tight ends in the draft.
6'6"
236 pounds
4.64/40
Projected third- or fourth-round pick.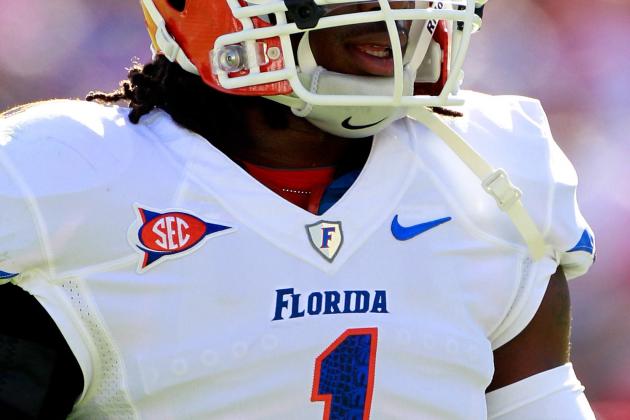 Sam Greenwood/Getty Images

If his head stays on straight, Janoris Jenkins will be a two-pronged difference-maker at the next level. He has the ability to be a shutdown corner and a dynamic special teams player at the next level.
Talent wise, the former Florida starter might be the best corner in the draft outside of Morris Claiborne. In terms of being an athletic freak, Jenkins might actually one-up the former LSU corner.
It is all about character issues when it comes to Jenkins.
5'10"
182 pounds
4.46/40
Projected late first-round pick.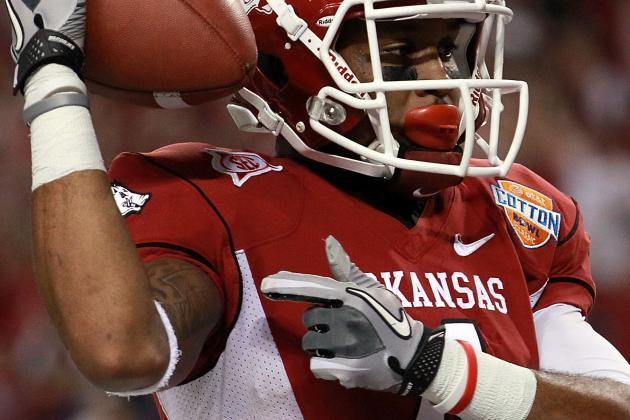 Ronald Martinez/Getty Images

Speed isn't everything when it comes to the wide receiver position, but it sure does help. Wright has been continually clocked between 3.39-3.41 in his 40s and has amazing ability in regards to translating this track speed to the football field on the outside.
You are looking at someone that can contribute in the slot and in the return game. He wont be a No. 1 receiver at the next level, but Wright will make a major impact in a myriad of different positions in the NFL.
5'10"
180 pounds
4.34/40
Projected second-round pick.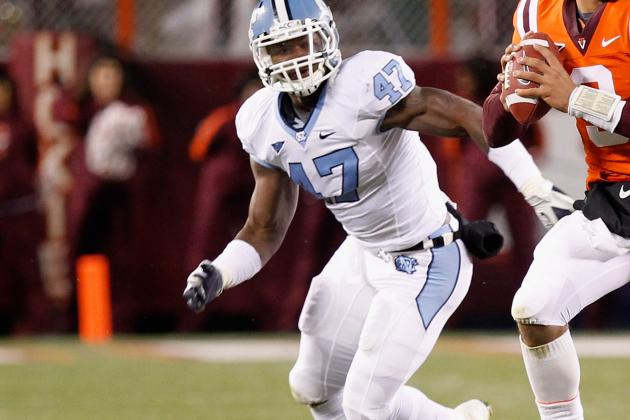 Geoff Burke/Getty Images

Zach Brown might be extremely raw, but there is no questioning his athletic prominence. This dude has the ability to get to the edge in a heartbeat and will be a tremendous matchup problem for potential blockers at the next level.
He flies to the ball, dominates slower tackles and has exceptional awareness on the football field. Expect his stock to rise a great deal following the NFL Scouting Combine and other postseason events.
6'2"
230 pounds
4.48/40
Projected first-round pick.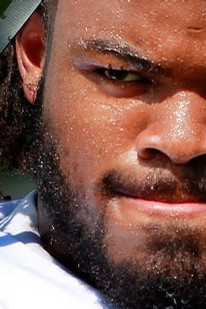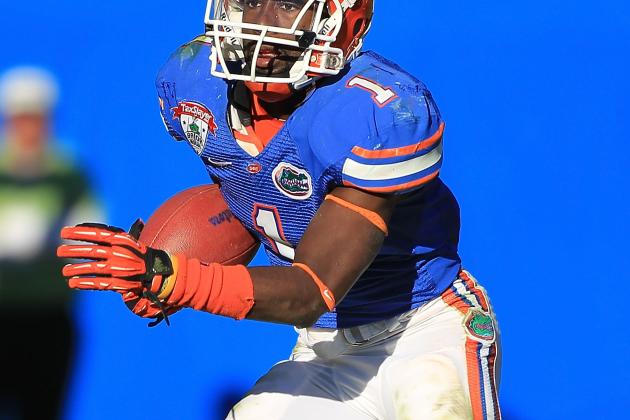 Scott Halleran/Getty Images

Chris Rainey will not be an every-down running back at the next level. However, he will be a difference-maker as a situation runner and special teams player.
This is an individual that has a tremendous first burst and the ability to get to to a second gear when opposing defensive players are still in their first gear.
Look for this late-round prospect to be a steal come April and make some team's special teams coach incredibly happy.
5'9"
175 pounds
4.36/40
Projected sixth- or seventh-round pick.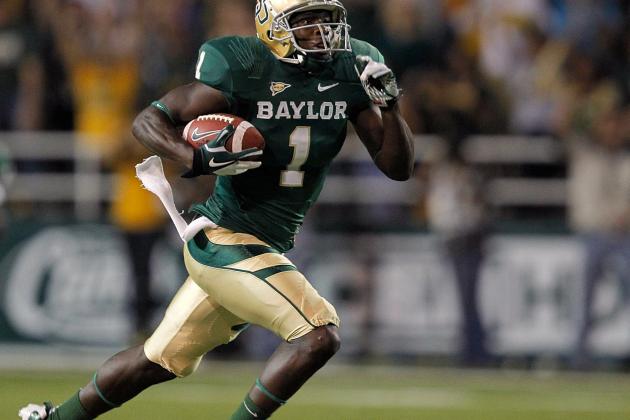 Sarah Glenn/Getty Images

A truly elite athlete with one of the best direct speeds in the entire 2012 NFL Draft, Kendall Wright has the ability to break it on every single play. He has amazing athletic ability in terms of cutting on a dime and fending off defenders downfield.
Wright runs a 4.42 and is much stronger than many scouts give him credit for.
5'10"
190 pounds
4.42/40
Projected late first-round pick.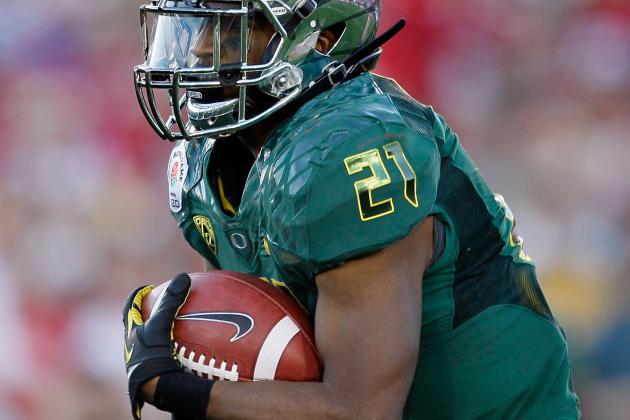 Jeff Gross/Getty Images

One thing lost in the play of LaMichael James is the things that he does outside of breaking big runs. He squats an amazing 465 pounds, can bench nearly 300 and runs a 4.59.
For the purpose of full disclosure, I was shocked when I read that information as well. Still, James doesn't project to be a first-round pick because of his lack of size and injury concerns.
He will give some team tremendous value after the first round. This is a player that can contribute in a backfield-by-committee situation.
5'9"
195 pounds
4.42/40
Projected third-round pick.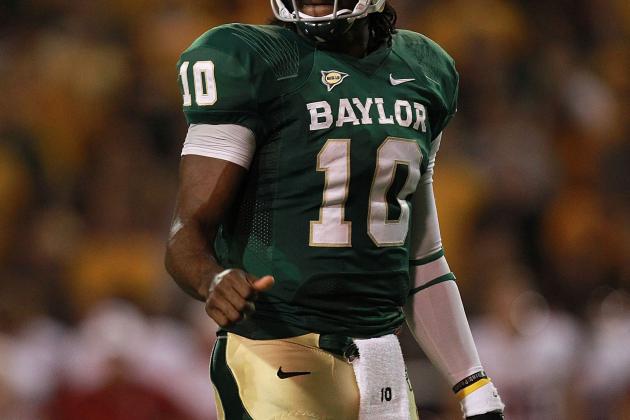 Ronald Martinez/Getty Images