2012 NFL Draft Order: Teams That Absolutely Must Draft Defense
January 17, 2012

Joe Murphy/Getty Images
The following teams have to pick defensive players in this offensive top heavy draft. These franchises won't be going anywhere until they can stop teams. 
While the offensive guys may be getting most of the press in this class, there are plenty of talented defensive players ready to make an impact. Here are the teams that should draft them.
Tampa Bay Buccaneers
The popular pick in mocks for the Bucs right now at No. 5 is RB Trent Richardson. That would be a mistake for Tampa. Richardson is a fine running back, and a solid pick at No. 5, but what good is he going to do a Bucs team that is in the habit of allowing 30 points in the first half.
Tampa Bay must figure out a way to get some stops. They need to load up on defense in this draft. 
After all, this is a team that allowed 37.25 points per game over their last eight games.
Who They Should Target
As long as the Bucs take a defensive player, he will be in a position to make an immediate impact because this team needs help at all levels of their defense.
At No. 5 they should have a chance to draft CB Morris Claiborne, and they should not let this corner with shutdown potential slip past them. 
Carolina Panthers
Carolina's offense was shockingly potent this year. QB Cam Newton was far more ready for the NFL game than anyone expected, and he helped the Panthers to be ranked 13th in passing and third in rushing. 
Defense was a different story. They allowed at least 30 points in eight of their 16 games. 
Their woes are fairly evenly spread out. They finished 24th against the pass and 25th against the run. 
Who They Should Target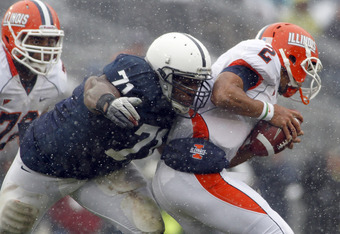 Justin K. Aller/Getty Images
While they could use help on all levels, they should focus on adding a little muscle up front. Penn State DT Devon Still would be a great fit. 
He would help solidify the rush defense while applying the occasional pass rush from the inside. 
Buffalo Bills
The Bills offense showed great potential this season—especially when RB Fred Jackson was healthy. Defense was a different story. 
Teams moved the ball against the Bills with ease this year. When they did find success, it was by creating turnovers. That is not enough though. Buffalo must make it harder to move the ball on them. 
Buffalo allowed at least 30 points in seven games this year. 
Who They Should Target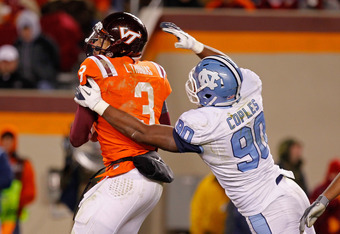 Geoff Burke/Getty Images
The Bills need to get stronger at the point of attack. They must find someone that can apply pressure on the QB and hold their lane in the run game.  
North Carolina DE Quinton Coples fits this bill perfectly, and he has the size to play DE in a 4-3 or a 3-4. 
2012 NFL Draft Order (through divisional games)
No. 1. Indianapolis Colts (2-14)
No. 2. St. Louis Rams (2-14)
No. 3. Minnesota Vikings (3-13)
No. 4. Cleveland Browns (4-12)
No. 5. Tampa Bay Buccaneers (4-12)
No. 6. Washington Redskins (5-11)
No. 7. Jacksonville Jaguars (5-11)
No. 8/9. Carolina Panthers (6-9) No. 8/9 to be determined by coin flip.
No. 8/9. Miami Dolphins (6-9) No. 8/9 to be determined by coin flip.
No. 10. Buffalo Bills (6-10)
No. 11/12. Kansas City Chiefs (7-9) No. 11/12 to be determined by coin flip.
No. 11/12. Seattle Seahawks (7-9) No. 11/12 to be determined by coin flip.
No. 13. Arizona Cardinals (8-8)
No. 14. Dallas Cowboys (8-8)
No. 15. Philadelphia Eagles (8-8)
No. 16. New York Jets (8-8)
No. 17. Cincinnati Bengals (via Oakland Raiders 8-8)
No. 18. San Diego Chargers (8-8)
No. 19. Chicago Bears (8-8)
No. 20. Tennessee Titans (9-7)
No. 21. Cincinnati Bengals (9-7)
No. 22. Cleveland Browns (via Atlanta Falcons 10-6)
No. 23. Detroit Lions (10-6)
No. 24. Pittsburgh Steelers (12-4)
No. 25. Denver Broncos (8-8)
No. 26. Houston Texans (10-6)
No. 27. New England Patriots (via New Orleans Saints 13-3)
No. 28. Green Bay Packers (15-1)
No. 29. New York Giants (9-7)
No. 30. Baltimore Ravens (12-4)
No. 31. San Francisco 49ers (13-3)
No. 32. New England Patriots (13-3)