2012 MLB Free Agency: Would Yoenis Cespedes Signing Help Chicago White Sox?
January 18, 2012

Jeff Bottari/Getty Images
Yoenis Cespedes is the newest hot name to come from Cuba. Cespedes is purported to be a five-tool player. He's become a star on YouTube. A few teams, including the Chicago White Sox, are seriously looking to sign Cespedes. White Sox fans would be right to wonder if Cespedes fits into the White Sox's rebuilding plans.
Numerous teams have scouted Cespedes, but a short list of teams is expected to make a real grab at him. Among the six teams most interested in him are the White Sox and Chicago Cubs, according to the Chicago Tribune. At this point, Cespedes believes the Cubs are the most interested team in him, according to the AP.
Cespedes, who is stated to be 26 years old, is supposed to be an amazing player. He hit .333 with a league record-tying 33 home runs in the 2010-11 season. Also, Cespedes had a .424 on-base percentage and .667 slugging percentage.
Cespedes is receiving rave reviews. Kevin Goldstein of Baseball Prospectus called Cespedes "arguably the best player to come out of Cuba in a generation."
Writing for MLB.com, Peter Gammons said, "This dude is real—very real. He's 26 years old with a 37-inch vertical and a 6.35 time in the 60-yard dash."
But Is Cespedes real?
Believing Gammons' claim that Cespedes is the real deal is difficult.
Judging numbers from other leagues is a rough bet. Different leagues have different playing schedules and different sized playing equipment. Also, since the MLB is by far the superior league in the world, the chemistry in the talent pool can create odd results in the statistics department. By the way, FanGraphs described the Cuban league as "video game stuff."
Regarding the claim by Gammons regarding his track numbers, NFL scouts and coaches will say that others' sprint measurements can't be trusted. Also, Cespedes might not actually be 26, considering that Cuban players often fudge on their ages.
One would hope that the White Sox have solid scouting on Cespedes if Kenny Williams is seriously going to try to sign him.
Could Cespedes Be Just Another YouTube Star?
Williams should be careful about Cespedes because he doesn't want to be signing Cespedes if he's just another YouTube star putting on a White Sox uniform.
Dominican Republic-based agent Edgar Mercedes released two videos of Cespedes working out. The first blew up before being taken down. The second is also a hit. While both are more than 25 minutes and feature Cespedes fielding, hitting lifting weights, among other things, they hardly show the full package.
A good look at a prospect requires serious scouting evaluation, which the White Sox focus in Latin America.
Numerous athletes have made names for themselves on YouTube. When Sam McGuffie was in high school, he blew up on YouTube with videos of him hurdling garbage cans, leaping over defenders and blazing defenses on touchdown runs. After a quiet freshman year at Michigan in 2008, McGuffie transferred to Rice.
As a sophomore, McGuffie racked up 883 rushing yards and 384 receiving yards. Then, he had only 260 yards as a junior in 2011.
While the NBA was mired in a lockout, Memphis Grizzlies second-round draft pick Josh Selby lit up exhibitions. Selby flashed slam dunks and put up multiple 40-point performances.
When the NBA resumed session, Selby took his place on the Grizzlies bench. In seven games played, Selby has averaged 4.6 points per game.
Hopefully, the White Sox see past the videos.
How Does Cespedes Fit Into the White Sox Rebuilding Phase?
That the White Sox are in rebuilding mode is no secret. Williams has described the White Sox as rebuilding. He's looking to trim payroll.
The moves have generally shown that Williams is committed to rebuilding. The White Sox let Mark Buehrle sign with the Miami Marlins. Williams traded Sergio Santos to the Toronto Blue Jays, as well as Jason Frasor, and traded Carlos Quentin to the San Diego Padres.
That's upwards of $12 million saved for 2012.
Cespedes might be an expensive signing. According to the Washington Post, Cespedes could cost between $30 and $50 million. Gammons projects Cespedes to require a five-year, $60 million deal.
Meanwhile, FanGraphs said that a reasonable deal would be four years and $21 million.
If Williams gave Cespedes an offer akin to the amounts predicted by the Washington Post or Gammons, it wouldn't make sense. Not only would it negate the savings of the aforementioned trades (especially if a successful bid is added to the total), but it would also go against the rebuilding idea.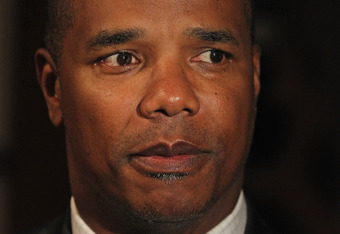 Jonathan Daniel/Getty Images
Cespedes would become the fifth player for the White Sox costing $12 million or more for the 2012 payroll if he signs for the amount predicted by Gammons.
That would put too much weight on the White Sox payroll.
Perhaps the White Sox would be able to save face after signing Cespedes by trading Alex Rios. That's if Cespedes pans out, if Williams can find a team willing to take his payroll and if Jerry Reinsdorf to pay Rios the $500,000 he would receive if traded.
Hopefully, if the White Sox sign Cespedes, they would be able to sign him for an amount comparable to that which FanGraphs provides.
Conclusion: The White Sox Should Offer Cespedes Only A Moderate Sum
The White Sox would be taking a big bet by signing Cespedes. The numbers and track times aren't trustworthy. Also, Williams shouldn't get excited about a YouTube star.
If Williams succeeds in bringing him in, the pay should only be moderate. Giving him more than $5 million per year may be a mistake, especially if he doesn't pan out. Williams needs to stay straight on the rebuilding path, and overpaying for a Cuban phenomenon wouldn't fit.