Cleveland Cavaliers' Kyrie Irving Is the Favorite for NBA Rookie of the Year
January 18, 2012
Mike Lawrie/Getty Images
Loud cheers and gasps of relief accompanied the announcement that the Cleveland Cavaliers would receive the No. 1 overall pick in the 2011 NBA draft.
In Cleveland, there was also an overwhelming sense of trepidation. 
Over the years, the Cavaliers haven't exactly been the model franchise when it comes to drafting good NBA talent. Plus, many Cleveland fans have that overriding feeling that, if a team is going to screw up a great draft pick, there's a good chance it will be one of our teams. It wouldn't be the first time.
Names like Luke Jackson, Dajuan Wagner, DeSagana Diop and Trajan Langdon come to mind, among others.
Sure, Chris Grant, Byron Scott and Dan Gilbert weren't the ones who drafted those players, but it was still the franchise. 
Plus, it's not like the No. 1 overall pick is a lock for stardom. Cavaliers fans had nightmares of Kwame Browne and Michael Olowokandi. For months, analysts had been describing the draft as weak, and saying there might not be a star player in the whole draft.
For Cavaliers fans, this all added up to a nervous feeling that rivaled the excitement of having the top pick.
"With the first pick in the 2011 NBA draft, the Cleveland Cavaliers select Kyrie Irving, from Duke University," proclaimed NBA commissioner David Stern.
Cavaliers fans everywhere let out a cheer, but underneath, that ugly feeling Cleveland fans know too well loomed.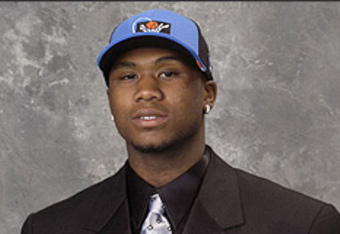 The Cavaliers just drafted a player who only played 11 games in his college career. Analysts kept telling them that Irving was a good player, but not on the same level as Derrick Rose, or even John Wall for that matter.
The lockout didn't help matters for basketball fans in Cleveland. Instead of hearing reports that Irving was dominating in training camp, the only thing fans could do was look up as many YouTube videos as they could on their new point guard. 
Finally, the lockout had passed, and it was time to open up the regular season. Coach Byron Scott named Irving the starter from game one, and except for that one game, Irving has been spectacular ever since. 
As is expected with a young point guard, Irving seems to be revealing a different facet of his game each and every day. People said that Kyrie wasn't an extremely quick point guard. Then, Kyrie seemingly dribbles around everyone on the court en route to a layup.
People said that Kyrie wasn't very athletic. Then, Kyrie shows just how athletic he is by skying for a rebound, or even better, by chasing D.J. Augustin down the court and jumping high to record a huge chase-down block.
The fact of the matter seems to be that Kyrie Irving is already a complete point guard, and he's only played in 12 games!
He's a phenomenal shooter, ball-handler, passer and decision-maker on the court for a team who so desperately needs him to be each and every one of those things. 
Finding defects in Irving's game is quite a task. He is averaging more than 3.3 turnovers per game, which isn't ideal. However, it also ranks him as the 10th-best point guard in the league at taking care of the ball, better than Steve Nash, Russell Westbrook, Ricky Rubio, Rajon Rondo and more. 
Some point guards have had luck scoring when Irving is defending them. As far as point guards go, Irving ranks near the bottom of the league in steals, and he's committed the fifth-most fouls among all point guards. 
His defense definitely needs work, but it's also clear when watching the games that he understands the concepts of good team defense. He often makes good switches, doubles a player at the right times and is great at getting the offense moving after a turnover or missed basket. 
Perhaps the best way to see where Kyrie Irving could be heading with his career is to look at the rookie season for arguably the best point guard in the NBA, Derrick Rose. 
Rose averaged 16.8 points per game on 47.5 percent shooting. He shot 22.2 percent from beyond the three-point arc, and 78.8 percent from the free-throw stripe.
Irving is averaging 17.7 points per game on 48.2 percent shooting. He is currently shooting 41.9 percent from beyond the three-point arc, and 86.7 percent from the free-throw line. 
Derrick Rose averaged 6.3 assists, 3.9 rebounds and 2.5 turnovers per game during his rookie campaign. Currently, Irving is averaging 5.3 assists, 3.2 rebounds and 3.3 turnovers per game. 
Obviously, Kyrie's numbers for the year aren't set, and could go down as the year goes on. 
Or they could continue to improve.
Regardless, at this point the numbers for the two point guards are very similar for their rookie campaigns. For the Cavaliers franchise, and Cavaliers fans everywhere, that is reason enough to put to rest any concerns about the abilities of their young point guard. 
Kyrie is leading all rookies in scoring, and has his team, which was so pitiful last season, playing competitive basketball night in and night out. 
Kyrie Irving is definitely the front-runner to win the NBA Rookie of the Year Award. 
That will just be the first in a long list of accomplishments the young point guard will achieve over the course of his career.