Houston Texans Report Card: Grading Every Positional Unit for 2011
January 17, 2012

Rob Carr/Getty Images
With the 2011 campaign coming to a very sad and sudden halt, now is a fair time to be able to look back at a magical season for the Texans and hand out grades to every positional unit on the roster.
It was a season of many firsts for the franchise, including their first divisional crown, playoff appearance and a postseason victory. But there were many individual firsts for this team as well as several guys broke or set club records. Let's try and put a final evaluation on each branch now.
Center: A+
Chris Myers player all 16 games this year and had such a good season in 2011 that many forget how solid he was the year before. Going into free agency, Myers will have plenty of reason to get a significant raise and I think the team will comply to keep him here. 
Cornerbacks: B+
Johnathan Joseph earned every single penny of the large free agent contract he signed prior to the year by having an all-pro caliber season in 2011. He proved in the playoffs that he is a lockdown guy by making Torrey Smith virtually invisible the entire game in Baltimore. If this was an individual grade, it would have received the highest marks. But Kareem Jackson and Jason Allen brought the average down a bit. Their secondary was still ranked as one of the highest in the league and the improvement of Brice McCain is another significant reason why.
Safeties: A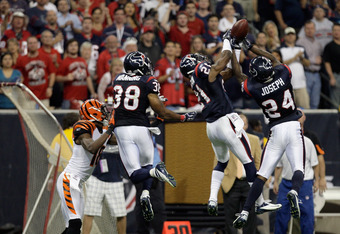 Thomas B. Shea/Getty Images
No one was quite sure how the Glover Quin experiment was going to work this year, but with the front seven stopping the run so well Glover didn't have to do as much as he would have in 2010. He made plays when he needed to and was rarely ever out of place. Danieal Manning was also money well spent and was the best safety in Texans franchise history before he even set foot on the Reliant grass. Guys like Troy Nolan and Quintin Demps stepped up huge and even a guy like Shiloh Keo, who looked like a huge draft mistake, looked terrific in special teams.
Defensive Ends: A
I remember in our draft show on the podcast, a lot of us weren't fans of the J.J. Watt pick. Well, it's a good thing Wade Phillips knows 3-4 personnel better than we do because Watt just might get defensive rookie of the year consideration. The final month of the season he looked flat out unstoppable and he's only going to get better. Antonio Smith started out hot, lulled a little bit and then finished very strong, but he was always solid. Tim Bulman and Tim Jamison did great on their limited opportunities as well.
Defensive/Nose Tackles: B+
Everyone in Texans nation was wetting themselves after the preseason game against the Saints when they just gashed the middle with the running game. Shaun Cody already wasn't on any Houston fan's top ten list for favorite player. But he ignored it and persevered into quite a strong season at the nose. Just look at the Texans run defense; it's pretty close to the top of the pile and Cody was a big reason why. Earl Mitchell didn't get many opportunities and I have to wonder if he's simply playing out of position. I could see him getting more time at defensive end next year, just as they rotated him into in the playoff game against the Bengals.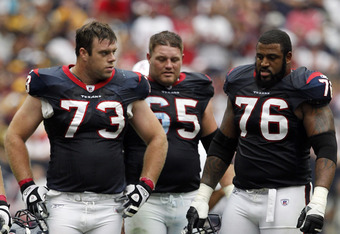 Bob Levey/Getty Images
Fullbacks: B+
This one would have gotten higher marks if James Casey would have stayed healthy and remained that matchup problem that he seemed to be early in the season. He was never quite the same after the pec issue until the final game of the regular season. Lawrence Vickers did exactly what he was brought in as a free agent to do; crack some skulls and block for Arian Foster. He might not have blown people up the way that Vonta Leach used to, but at an eighth of the cost, the fall off wasn't as great as you'd think.
Guards: A
Wade Smith proved once again that he was one of those signings a couple years ago that might not have been very sexy, but they were a home run. He played at a pro bowl level all season just as did Mike Brisiel. The drop off from Brisiel to Antoine Caldwell was very noticeable late in the season but you just can't beat experience together and chemistry when you talk about this Houston offensive line.
Inside Linebackers: A
It's hard to bust on anyone in this defensive front seven in 2011. DeMeco Ryans was clearly still recovering from his offseason surgery in the early going but he eventually got back to that "Cap'n 'Meco" play that we all remembered. Brian Cushing, I don't care what the AP said, was an all-pro at his position this year. Ray Lewis got that off of name and recognition alone. If Cush isn't under that skeptical eye after failing a drug test two years ago, he is the all-pro at his position. Mister Alexander filled in admirably for Darryl Sharpton after an unfortunate injury ended his spectacular start.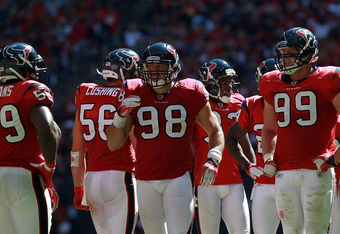 Ronald Martinez/Getty Images
Kicker: B-
I know a lot of people were starting to talk about running Rackers out of town near the end of the season, but he didn't miss any kicks that really cost the Texans big this season. Houston was either up big or the game was decided when he'd miss a kick. The one in Baltimore for the playoffs stung, but everyone in Houston knew that was out of his range. I wouldn't be shocked to see Houston bring him back next year.
Outside Linebackers: A+
Mario Williams looked like he was about to have a huge season before he tore his pectoral muscle early in the year. Fans and media alike started to proclaim the demise of the new Texans defense after he was sent to the IR, but Brooks Reed had something to say about that. He filled in just about as good as anyone possible could have for Mario and it has people to the point now where if Mario ends up walking in free agency, it wouldn't be so tough to get past. Connor Barwin had a breakout season hitting double figures in sacks and Tim Dobbins made some huge plays filling in when needed. Bryan Braman was a monster on special teams and Jesse Nading is always good depth.
Punters: B
Brett Hartmann was better than anyone could have predicted in the preseason. He had some games where he absolutely boomed some kicks and a big situation or two where he didn't do so well. Still, for a rookie, he was terrific. Matt Turk was about exactly what you figured for a 43 year old guy called out of retirement from his sofa to fill in after Hartmann's injury. He kicked some good ones and some really ugly ones.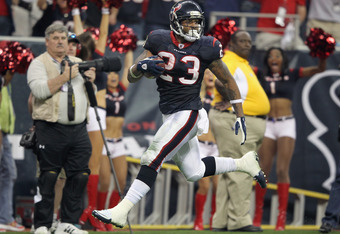 Jamie Squire/Getty Images
Quarterbacks: A
This is the big one. Matt Schaub may not have been having the statistically powerful season that he usually had, but having an actual defense was the reason for that. When he went down, any hopes for a Texans Super Bowl run went with him. The sample size wasn't big enough on Matt Leinart to give a fair grade and T.J. Yates filled in admirably for a kid in a tough situation. To expect anything more out of him was just unfair and he did something that hasn't been done for a long time; won a playoff game as a third string quarterback. At least Houston now knows that the quarterback of the future is already on the roster.
Running Backs: A+
I challenge you to name another running back duo in the league as good as Arian Foster and Ben Tate. The closest would be the tandem they have over in Carolina, but neither of those guys are in the same class with Arian Foster. All the national media predicted the downfall of Arian after Vonta Leach departed, but Texans fans knew that wasn't going to happen. Even with missing four games in 2011, he was on pace to actually beat his numbers in 2010. Ben Tate, if he doesn't get his carries limited, easily hits the 1,000 yard mark. This is a duo that should tear up the NFL again with a healthy Matt Schaub and Andre Johnson to open up the running game in 2012.
Tackles: A
Duane Brown evolved into a top 5 tackle this season by only allowing one sack all year (some say it was two, but that's debatable). Even in the playoffs, he shut down loud mouth Terrell Suggs and made him almost a non-factor. On the other side you have a guy named Eric Winston who seems to have become the whipping boy of a lot of Texans fans. But to me, what Winston lacks in pass protection he more than makes up for in run blocking. Ask Arian Foster how important Eric Winston is to what he does.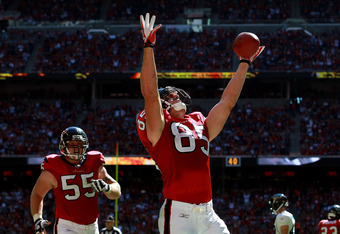 Ronald Martinez/Getty Images
Tight Ends: B
Joel Dreessen asserted himself this year as the primary option in the red zone. He's solid in short yardage situations and he can block with the best of them. This likely got him an offer in free agency to go start elsewhere, sadly. Owen Daniels proved that he could stay healthy and he probably would have had better final statistics had Schaub stayed on the field. It will be sad to likely see Dreessen go, but this is the problem that good teams have.
Wide Receivers: C-
Yes, the lowest grade on this entire report card goes to the Texans wide receivers. I don't care who the quarterback was, they were mediocre to invisible all season. All of the games that Andre Johnson missed, not a single one of them stepped up big. Kevin Walter was good blocking down field, but he makes too much money to bring only that to the table. Jacoby Jones was good returning punts, the playoffs not included, but was completely awful catching the ball and running a simple route. Bryant Johnson wasn't on the field enough to give him a grade and Derrick Mason was apparently so bad that he got cut from this group. Andre was never one hundred percent after his hamstring injuries so I can't be too rough on him. But he was the only thing that kept this grade from slipping even lower. This has to be a primary area of concern this offseason.
In the end, it was a pretty magnificent season for the team and I'm pretty optimistic headed forward. Give Kubiak, Wade Phillips and Rick Smith another draft and free agency period and I think we could end up even happier this time next year.
Mike Kerns is a Featured Columnist for the Houston Texans at Bleacher Report. Feel free to follow him on Twitter and catch his latest Texans podcast at State of The Texans.