The Top 5 Fighting Countries and Their Top Fighters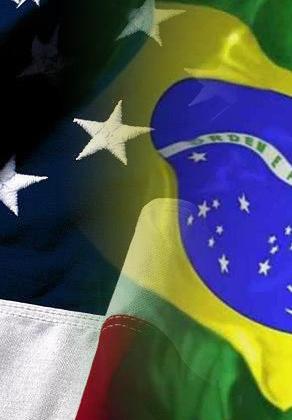 With the exception of soccer, mixed martial arts has to be the most international sport there is. It is just universal in its concept.
There are probably 20 or so countries that produce elite fighters, but there are certainly marked concentrations of top fighters belonging to specific countries.
The U.S., Brazil and Japan are three big countries that come to mind. But who are the top fighters from around the world? Where do they come from?
Here, we take a look at some of the best fighters from the best fighting countries.
Begin Slideshow

»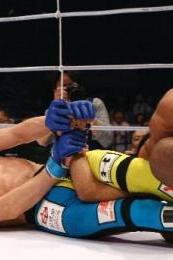 Japan was once one of the top three MMA countries in the world and the best place for big events.
While the MMA scene has taken a hit since the demise of Pride, Japan remains a strong fighting country with a strong spirit and is still the top country out of Asia.
1. Shinya Aoki. The DREAM lightweight champion is ruthless on the ground but could use more challenges from his western counterparts.
2. Yushin Okami. Long regarded as one of the top middleweights in the world, Okami came up short in his title shot against pound-for-pound king Anderson Silva.
3. Hatsu Hioki. With an impressive record and top 10 standing, Hioki is not far from establishing himself as worthy of a UFC title shot.
4. Tatsuya Kawajiri. Long considered a top lightweight, Kawajiri appears to have found new life by dropping down to featherweight.
5. Takeya Mizugaki. A tough competitor in the UFC bantamweight division who has been alternating wins and losses over the past several years.
Also: Yoshihiro Akiyama is on a losing streak but is still considered one of Japan's biggest talents and stars.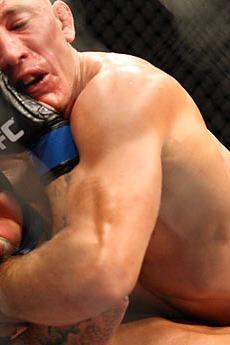 While to outsiders Canadian MMA is mostly associated with longtime UFC welterweight champion Georges St. Pierre, their community has been strong for years.
1. Georges St. Pierre. He is in a rough patch of his career due to injuries, but at just 30 years of age, GSP is already one of the all-time greats in MMA.
2. Rory MacDonald. A training partner of GSP, MacDonald looks like he could be the heir to GSP's throne. A gifted athlete and well rounded, MacDonald is already a major force in the division.
3. Mark Hominick. He was victimized by a quick KO in his return to the octagon, but Hominick is still one of the featherweight division's top talents.
4. Sam Stout. Stout has been a lightweight stalwart for years, and he will likely continue to be a staple in the UFC's most dangerous division.
5. Mark Bocek/Patrick Cote. Former title contender Cote has picked up three straight victories outside of the UFC. Bocek is a UFC lightweight contender with maybe the most dangerous ground game in the division.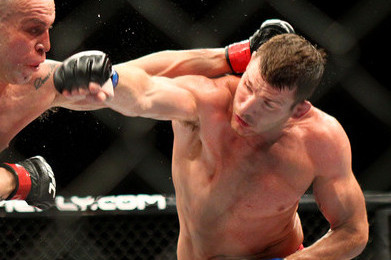 It is not strictly a country, but it is fair enough to lump the United Kingdom together.
While certainly a step behind the United States and Brazil, the UK still produces a lot of tough fighters to reasonably slot them into the third position.
1. Michael Bisping. The middleweight contender has taken his time building polish over the years and is now ready to stake his claim to a middleweight title shot.
2. Paul Daley. The welterweight star is arguably the most dangerous striker in the division. At only 28 years of age, Daley is still refining aspects of his game.
3. Ross Pearson. He was already a solid lightweight contender, but now that he is moved down to featherweight, this Ultimate Fighter winner can really start making some waves.
4. Terry Etim. He lost in highlight reel fashion to Edson Barboza, but Etim is still one of the most talented and promising fighters in the UFC.
5. Brad Pickett/Paul Sass. Sass is a dangerous up and comer, while Pickett is an established contender looking to rebound from a loss.
Also: Dan Hardy and John Hathaway are two standouts in the UFC welterweight division.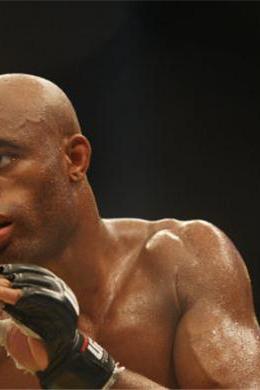 With the sport's top pound-for-pound fighter and the heavyweight champion, you could argue that Brazil gets the top spot.
While Brazil does not have quite the amount of depth as the United States, Brazilians will be top contenders and championship fighters in every weight division from here until forever.
1. Anderson Silva. The best fighter in the history of the sport. His undefeated run in the UFC is like none other and cements his legacy.
2. Jose Aldo. The featherweight champion is a young and polished dynamo who looks nearly untouchable. He is a star that will be around for a long time.
3. Junior Dos Santos. His UFC run is the best in UFC heavyweight history. Now the champion, his toughest test will be in defending the belt.
4. Mauricio Rua. It is practically a three-way tie for the fourth and fifth spots, but Rua gets an edge for his famous knockout over Machida.
5. Lyoto Machida/Vitor Belfort. Both are former champions who are still top contenders and capable headliners.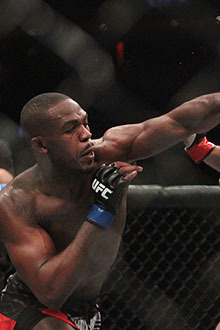 photo from: mmaweekly.com
Like any professional sport, expect America to produce a lot of the world's top talent. What helps facilitate the U.S.'s success in MMA is our amateur wrestling programs built up into and through the NCAA.
Most top Americans have a wrestling background, and as has been suggested by many analysts, wrestling can be the best base for MMA.
1. Jon Jones. Jones is a phenom who became the youngest UFC champion in history and has already surged, on many rankings, up to the spot as the second best pound-for-pound fighter in the world.
2. Frank Edgar. The lightweight champion is a blue collar hero and perpetual underdog. His unbreakable will has propelled him to become a worthy and respected champion and individual.
3. Dominick Cruz. Only Urijah Faber has come particularly close to challenging the bantamweight champion in recent memory. Cruz is a star with a unique and unorthodox fighting style that confounds opponents.
4. Chael Sonnen. Sonnen is a brash and loud-mouthed contender who can back up his talk. While he has a weakness in submission defense, his overall game is one of the most overwhelming in the sport.
5. Dan Henderson/Nick Diaz. Henderson and Diaz split the honors for the fifth spot because they are both feared and respected veterans who are top contenders, and both just defeated fellow legends.