Cleveland Browns 2011 Rookie Report Card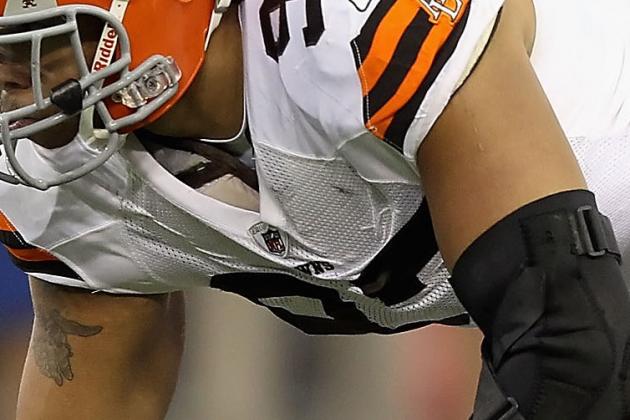 Christian Petersen/Getty Images

It should come as no surprise to anyone that a team that lacked depth in many areas, such as the 2011 Browns, would wind up relying heavily on rookies to fill the voids they couldn't close with more experienced players.
Over the course of the 2011 season, we saw the majority of the Browns' rookies not only wind up logging significant playing time, but in many cases even wind up in a starting role for some or all of the season.
Sending rookies out into the maelstrom that is NFL football is always a risky proposition.
While some players do thrive right off the bat and some would never get there no matter how many seasons they had to ease in, most (even if they can ultimately hack it in the NFL even as rookies) would always have been better off if not immediately thrust into a starting role in their first season of professional football.
But desperation—which the Browns know quite a bit about—creates both opportunities and land mines. Browns rookies stumbled into both during the 2011 season.
Some fared exceptionally well and far better than expected. Some struggled but hung in there. And still others, well, found themselves straight-up face-planting in the face of such tremendous pressure on a stage bigger than they'd ever been on before.
That leads us to the final grades for the Browns' 2011 draft picks in their first NFL season. Because it seemed unfair to evaluate these youngsters on the same scale we would use for seasoned veterans, grades are not for their overall play alone, but rather for how they played compared to their draft slot and how well they did given that it was their first NFL season.
Please share your own Rookie Report Cards in the comments below!
Author's Notes
This piece addresses drafted rookies only, and does not touch on undrafted free agents whom the Browns signed in 2011.
Fourth-round pick TE Jordan Cameron and seventh-round pick S Eric Hagg were not gradable due to the fact that neither saw enough playing time for us to make any sort of accurate assessment of their overall performance.
For the record, I liked what little I saw of Hagg (who was unfortunately plagued by injuries for much of the season) when he was healthy. As for Cameron, there was so little to go on that it was impossible to form an opinion.
Begin Slideshow

»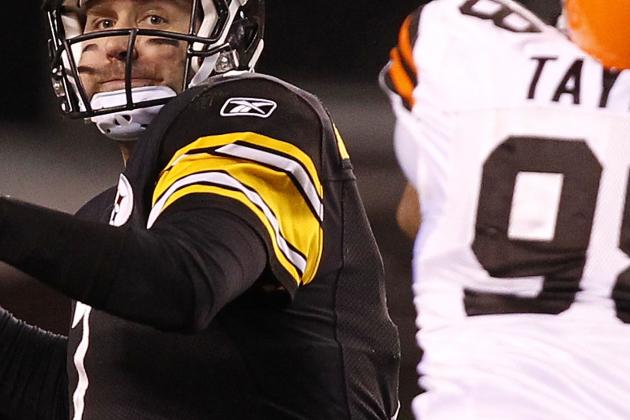 Matt Sullivan/Getty Images

Poor Phil Taylor had a tough uphill battle to fight with the fanbase the moment the Browns drafted him.
Upon his selection, he became the poster boy for yet another frustrating "trade-down in the first round" scenario for the Browns, who had been dubiously developing something of a reputation for that already.
Knocks on Taylor's tremendous size and supposed "laziness" in the weight room didn't help, nor did the fact that a lack of depth at the position forced him into a starting role immediately, and in a new defensive scheme to boot.
And yet against all odds, Taylor handled the responsibility relatively well. While he still has a lot of improving to do, he was strikingly better than initially expected.
Remember, too, that the Browns initially traded down to 27th overall and then traded back up again to 21st in order to get Taylor, so clearly they saw something in him that really struck a chord.
Some don't see Taylor as the long-term answer for the Browns at the position, but I think he'll be fine. He just needs more experience.
I'm not sure he played up to his draft slot quite as well as, say, Jabaal Sheard did, but I don't think he played beneath it, either.
The end of the first round is a difficult spot to draft in and a difficult spot to deal with if you're the guy who is drafted there. It comes with first-round expectations, yet many of the players drafted this late in Round 1 don't really project as what we traditionally think of as bona fide first-round talent.
Still, Taylor was better than anyone expected, and he hung in there as far as his slot was concerned.
He and fellow rookie teammate Jabaal Sheard both made the PFW/PFWA All-Rookie team, which says a lot about how they fared compared to the rest of the 2011 rookie class.
Taylor has a long way to go, but when grading purely on how he did as a starting rookie coming from his given slot, he gets a respectable "B-".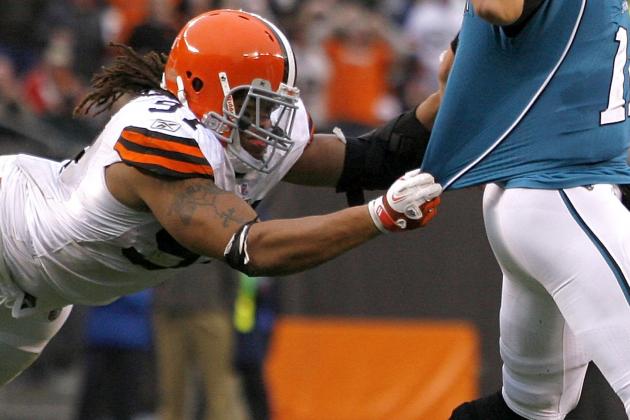 Matt Sullivan/Getty Images

In terms of how much use he was to the team weighed against his draft slot, Sheard was probably the steal of the draft for the Browns.
It's tough to say he was a steal overall in the traditional sense of the word, but for all the Browns' picks, he played the furthest above his slot in his rookie season.
I love Sheard's aggressiveness and nose for the ball, and he's been a much quicker study than many anticipated.
He handled the starting job just fine despite being a rookie, and overall looks like he was a good choice for the early second round.
Sheard, like Taylor, still has many improvements to make, but this is to be expected from a rookie thrust into a starting role in his first season in the NFL.
The number of foolish mistakes and costly penalties he committed wasn't small, but neither was the number of key plays he made, and I was beyond impressed with his ability to force turnovers.
For his draft slot and his play as a rookie, Sheard gets a "B+" from me, and I was sorely tempted to bump him up to an "A-".
Ultimately, that did seem too generous, but Sheard's rookie performance was nonetheless something he should be very proud of.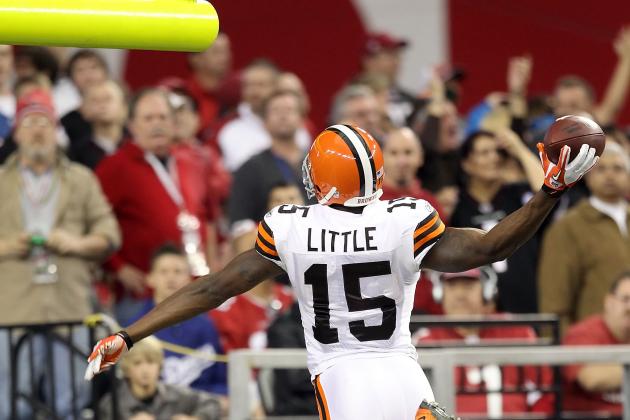 Christian Petersen/Getty Images

Ah, Greg Little—certainly the most talked-about rookie of the Browns' 2011 class.
So much to like, so much to, uh, be gravely concerned about.
If nothing else, you certainly can't argue Little's passion.
His refusal to let go of the football all the way into the locker room at halftime after he scored his first touchdown was one of my favorite moments of the 2011 season.
He also had several nice big-gain receptions for the Browns after he was declared a starter—something that was appallingly absent from their offensive players' repertoire for most of the season.
On the flip side, Little still looks raw, unpolished and at times careless and sloppy. His route-running often lacks the crispness necessary for a precision and timing offense like the West Coast system the Browns run, and he had a number of notably ham-handed drops throughout the year.
Little was the Browns' best receiver this season, though unfortunately that was more about a lack of competition than his truly being a standout rookie wideout.
Still, Little deserves some credit for his accomplishments in that regard, and he also looks like a player whose shortcomings—at least for the most part—are fixable with more experience and better focus.
I want to give Little a "B", but his performance was really more in the "C+" realm. The good news is, there is every reason to think he'll improve steadily, and I expect he'll already be leaps and bounds better in 2012 in his sophomore effort.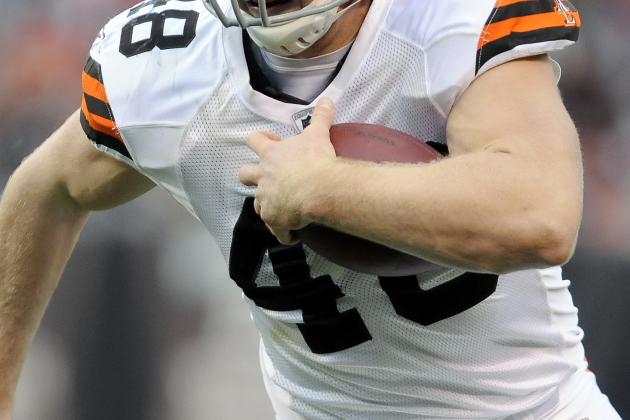 Jason Miller/Getty Images

Poor Owen Marecic. He didn't have a prayer.
He was drafted to replace a player whom the Browns made a horrible mistake in letting go in Lawrence Vickers, and everyone—likely including Marecic—knew it.
Some players thrive and wind up being better than their talent level indicates they should be when put under such pressure.
Marecic, at least so far, doesn't look like one of those guys.
Granted, we can't judge Marecic directly against Vickers in any fair way. Vickers is one of the league's best fullbacks, and Marecic was a rookie drafted in the fourth round.
There were 123 players selected ahead of him. That should have been a pretty good indication ahead of time that he wouldn't be at all comparable to his predecessor, who was among the best in the league at his position.
But as much as we all sympathize with the fact that Marecic was dealt a bad hand, that doesn't change the fact that he didn't get the job done. Petting the rookies and telling them everything will be OK is the kind thing to do, but this is the NFL, not kindergarten, and unfortunately, even rookies don't get that kind of mollycoddling.
I feel bad for Marecic, but I also don't see him as having much of a future as a starting fullback.
Unlike Greg Little, who should improve markedly with experience, I'm just not sure Marecic has the raw talent to ever get there. It feels mean, but Marecic unfortunately gets a "D" for his rookie effort.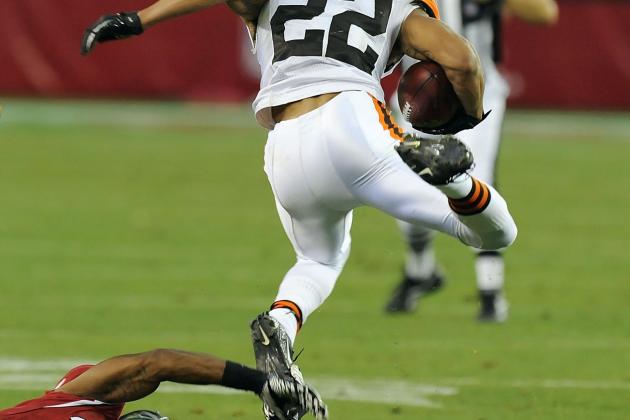 Norm Hall/Getty Images

Fifth-round pick CB Buster Skrine looked terrific out of camp and in the preseason, so it was a bit disappointing that he didn't wind up being as much of a factor in 2011 as we had expected prior to the start of the regular season.
In the end, Skrine did have one interception but just 18 tackles on the season (14 solo).
Really, he factored in on defense and special teams more than the stats indicate, but still not as much as I had hoped he would.
Much of this wasn't really Skrine's fault. He was at times injured, underused or just part of a crowded field where everyone didn't always get an opportunity.
Aside from the occasional mistake, when we did see Skrine, I thought he played well.
He should continue to be in the mix and to improve on special teams, but there are some size concerns regarding his prospects for becoming a starter in the secondary.
It's not quite as bad as the situation of, say, poor WR Jordan Norwood, who has great hands but is so slight he simply can't take the beating an NFL receiver needs to be able to endure, but I do wonder if there is enough of Skrine there to allow him to cover a larger receiver should the situation arise.
More likely, we'll see him in a nickel package on defense, and aside from that mostly on special teams, unless he's able to bulk up more as well as stay healthy.
Still, I really like Skrine, even though there's only 5'9" and 185 lbs of him to like.
He played well above his draft slot and his size when he was active this season, and if he can stay healthy, I expect he'll continue to do the same and likely better in the future.
Despite somewhat limited action, he gets a solid "B" for his rookie campaign.
Scott Boehm/Getty Images

Obviously, we all know the offensive line for the Browns was awful this year and that all parties involved share in the blame for that to varying degrees.
The fact that the Browns had to start rookie Jason Pinkston at OT was a definite problem, and he definitely contributed to the line's woes, but all things considered, I thought he did OK considering the circumstances.
This was a player drafted in the fifth round who wasn't even projected to be an NFL starter at any point down the road by some scouts, and he actually wound up being thrust into a starting job his first season in the league.
Given that, I'd say he did well. Really well, actually.
While Pinkston was undeniably part of the problem on the offensive line this season, he was one of the few players in the position group who actually played better, not worse, than initial expectations dictated for him prior to the start of the season, and he was also far from the weakest link in the chain among the offensive linemen.
Ultimately, I doubt Pinkston can provide the kind of very high-quality protection the Browns need from their offensive line, but he did well when thrust into a terrible situation, and I think he'll be very valuable for depth and as a backup.
Pinkston gets a respectable "C" for his efforts in his first NFL season.