2012 NFL Mock Draft: Full Projections for First Round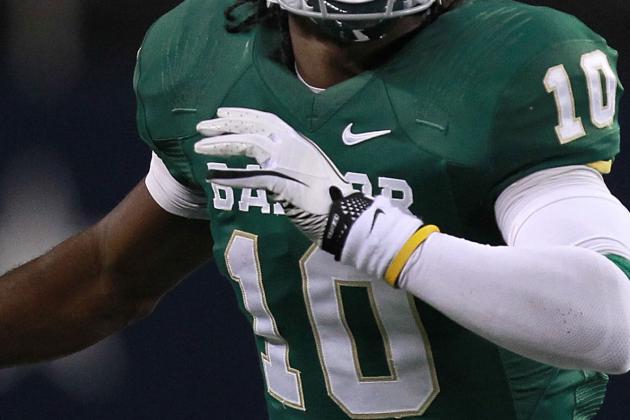 Ronald Martinez/Getty Images

It's that time of year again—it's time to start thinking about the 2012 NFL Draft.
This will be my third mock draft of the year, so feel free to take a look at my previous week's mock draft and you can check out to see the differences.
As we get deeper and deeper into the postseason, teams are getting eliminated, which then allows us to know where they'll be draft in 2012.
With that being said, let's dive right into my full projections for the first round.
Begin Slideshow

»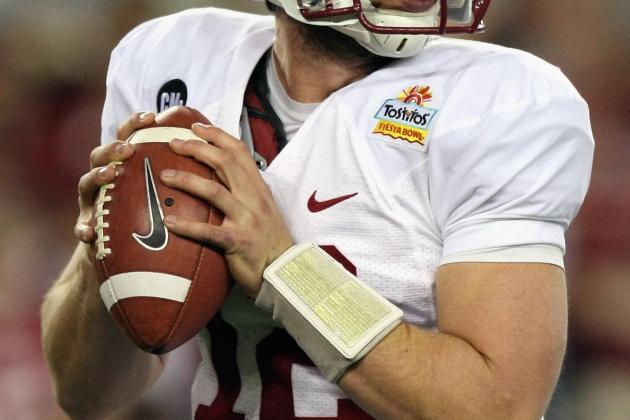 Donald Miralle/Getty Images

There's no surprise here—it's all but certain that the Indianapolis Colts will be selecting Andrew Luck.
I think that we can all agree that Luck is the most NFL-ready quarterback that we have seen in quite some time.
As we're still up in the air on who will be the new regime in Indy, you can bet on no matter who they are, they will be selecting Stanford's Andrew Luck—but the real question is what they'll do with Peyton Manning.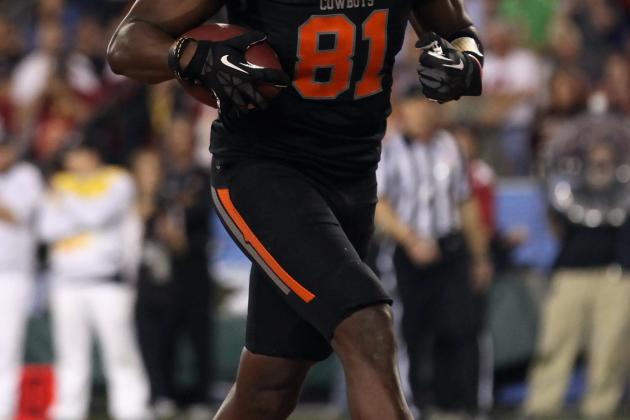 Donald Miralle/Getty Images

I highly doubt that wide receiver Brandon Lloyd will be with the St. Louis Rams next season, so that would leave them with no true No. 1 target for Sam Bradford.
After a terrible 2011 season, Bradford needs to get back on track, and there's no better way than pairing him with Oklahoma State's Justin Blackmon.
Blackmon was uncoverable in college, as he reeled in 121 receptions for 1,522 yards and 18 touchdowns last season and should translate well at the professional level.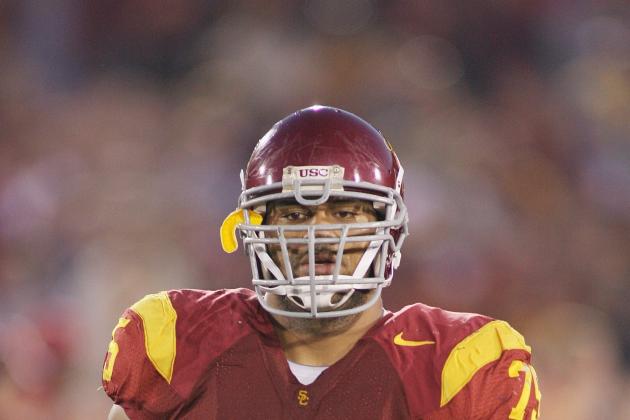 Jeff Golden/Getty Images

Offensive tackle Matt Kalil out of Southern California could end up being the most successful player out of the 2012 draft class, but that's depending on how well Andrew Luck plays.
Kalil is NFL-ready and would likely start right away for the Minnesota Vikings.
Christian Ponder needs to be protected in order to succeed and develop at the pro level, and Kalil is the best available option to fill that need.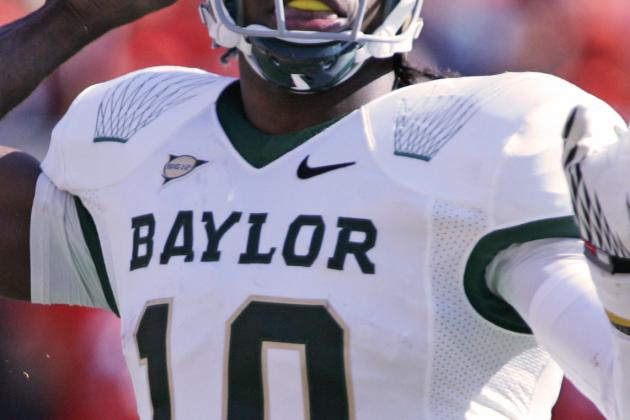 Brett Deering/Getty Images

Cleveland Browns president Mike Holmgren has already publicly stated that the team's current starting quarterback, Colt McCoy, will be facing some competition next season—and if that's the case, then Robert Griffin III is simply too much of a talent to pass on.
RG3 is arguably the most dynamic player coming out of the 2012 draft class and could very well be the most athletic quarterback that we have ever seen, possibly more athletic than Tim Tebow, Cam Newton and Michael Vick.
Griffin threw for 37 touchdowns in 2011 while completing 72.4 percent of his passes at Baylor—that should silence some critics on his passing abilities.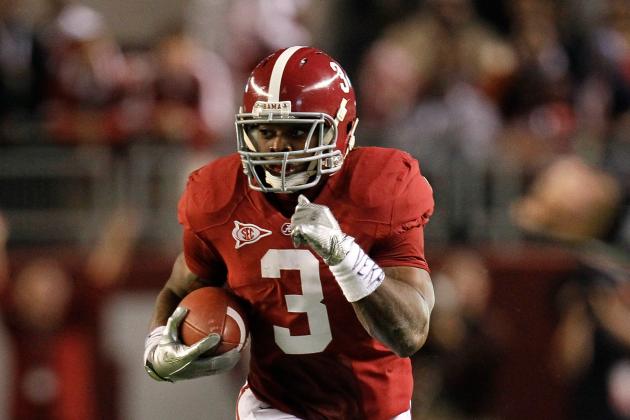 Kevin C. Cox/Getty Images

The Tampa Bay Buccaneers certainly have a lot of holes on both sides of the ball, and their running back position appears to be just fine with LeGarrette Blount, but adding Alabama's Trent Richardson could turn this offense right around in its tracks.
In my opinion, Blount is not an every-down back while Richardson could certainly fill that role.
Paring these together, the Bucs could be a very dangerous running team in 2012.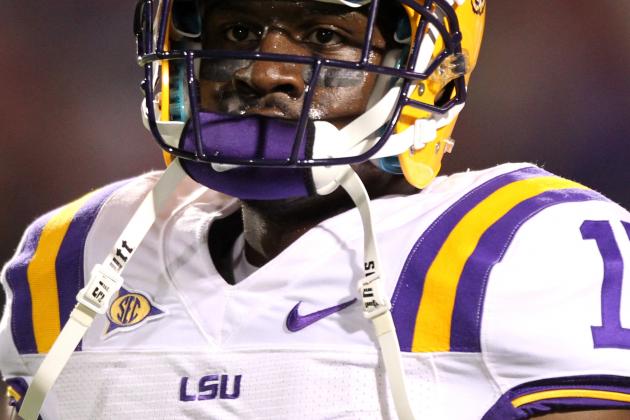 Joe Murphy/Getty Images

With the top two quarterbacks off of the board, the Washington Redskins should just go with the best available, and that's LSU cornerback Morris Claiborne.
Claiborne recorded six interceptions last season at LSU and would be a solid replacement for Carlos Rogers, a hole that the Redskins failed to fill after losing him to free agency last summer.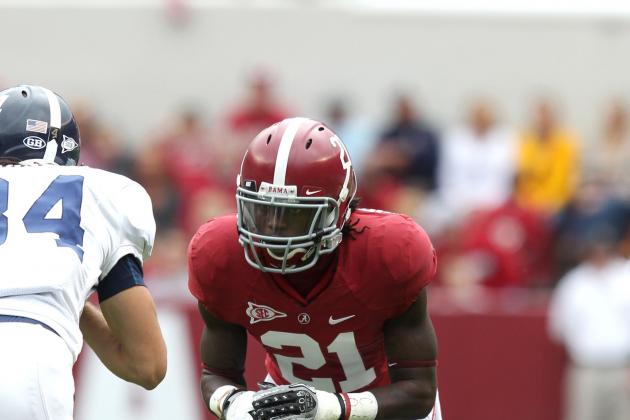 Mike Zarrilli/Getty Images

The Jacksonville Jaguars could definitely draft a wide receiver here, but Alabama cornerback Dre Kirkpatrick offers more value than the wide receivers available.
Kirkpatrick is a playmaker that has the ability to be a lockdown cornerback at the next level and could play at a high level immediately for the Jags.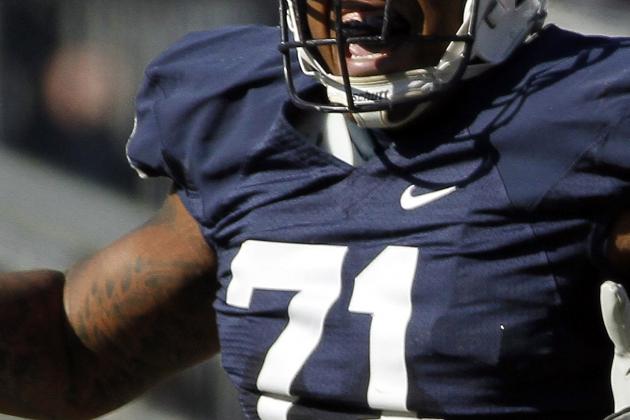 Justin K. Aller/Getty Images

The Carolina Panthers have one of the weakest defensive front sevens in the NFL and Devon Still could be an immediate help.
Still is a defensive tackle out of Penn State that could play in multiple positions along the defensive line.
In 2011, Still recorded a whopping 49 tackles and 4.5 sacks.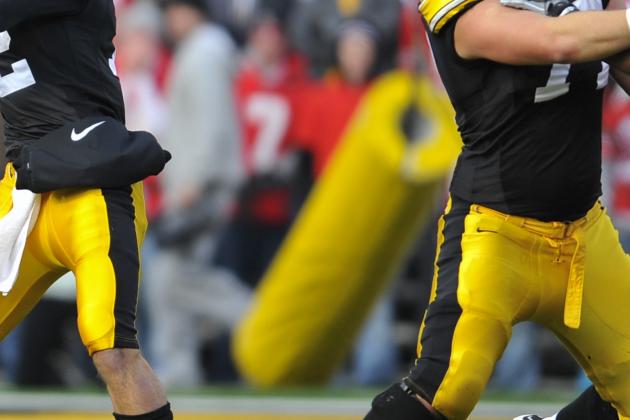 David Purdy/Getty Images

Standing in at 6'6' and weighting 300 lbs., offensive tackle Riley Reiff is a perfect fit as the Miami Dolphins starting right tackle in 2012.
The Iowa product is extremely strong at the point of the attack and displays great field awareness that can understand opposing defensive schemes, such as stunts and blitzes.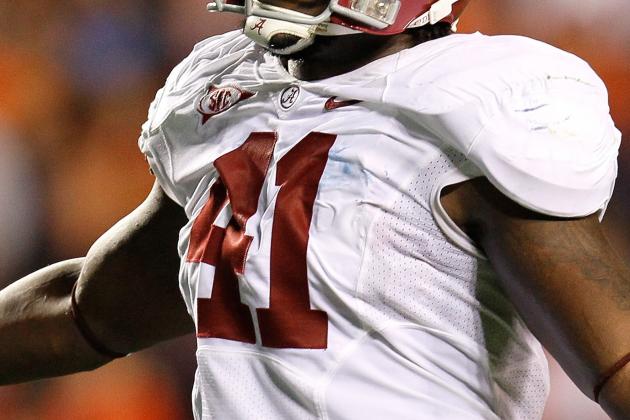 Kevin C. Cox/Getty Images

Courtney Upshaw had a pretty impressive season with Alabama, as he finished with 52 tackles and 9.5 sacks. Upshaw has all the tools to flourish as an outside linebacker in the 3-4 defense.
The Buffalo Bills need some help with the pass rush. Shawne Merriman was a flop, which makes Upshaw the ideal selection at this point.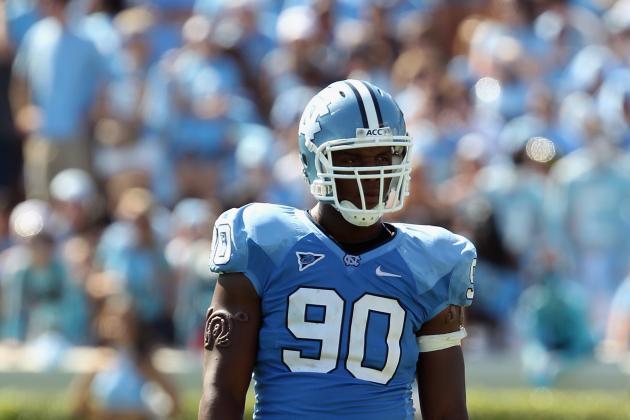 Streeter Lecka/Getty Images

Quinton Coples is quite the defensive end prospect, as he can get to the quarterback as well as be a real factor against the run.
The Seattle Seahawks could use some help on the offensive side of the ball, but none are worth risking, which makes Coples a wise selection.
Ezra Shaw/Getty Images

Jonathan Martin is the ideal left tackle, as he stands in at 6'6", weighs 305 lbs. and has all the tools to be the blind-side protector for the Kansas City Chiefs for many years to come.
Martin did a phenomenal job last season at Stanford, as he kept Andrew Luck healthy, and could do the same job at the pro level.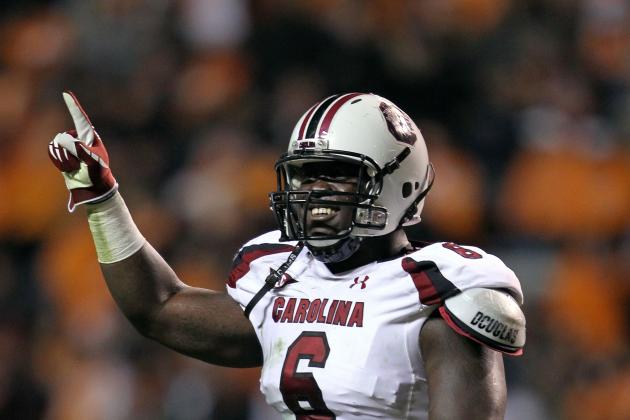 Andy Lyons/Getty Images

This is a very solid pick for the Arizona Cardinals, as Melvin Ingram is a safe bet and could certainly be a stellar pass rusher in the NFL.
The Cardinals could use some help along the offensive line, but Ingram can play in the 3-4 or the 4-3 and would be yet another building block to a young-up-and-coming defense in the desert.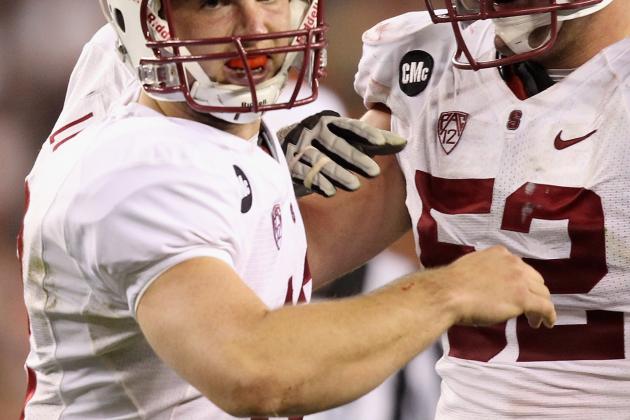 Christian Petersen/Getty Images

With no real ideal players available at this point for the Dallas Cowboys, they'll play it safe and draft Stanford offensive guard David DeCastro.
DeCastro is a solid talent that is very athletic yet remaining powerful, and is balanced in the passing game and the running game.
The Cowboys need to protect Tony Romo, and DeCastro is a perfect fit to helping that cause.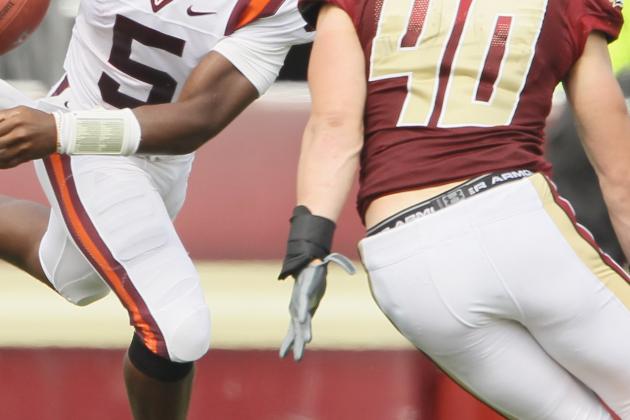 Elsa/Getty Images

This is a dream come true for the Philadelphia Eagles.
Philly needs a middle linebacker, someone that can be a tackling machine, and Boston College's Luke Kuechly is the ideal fit.
Kuechly has great football instincts and is very effective against the run, as he tallied up an unbelievable 191 tackles in 2011 for the Eagles.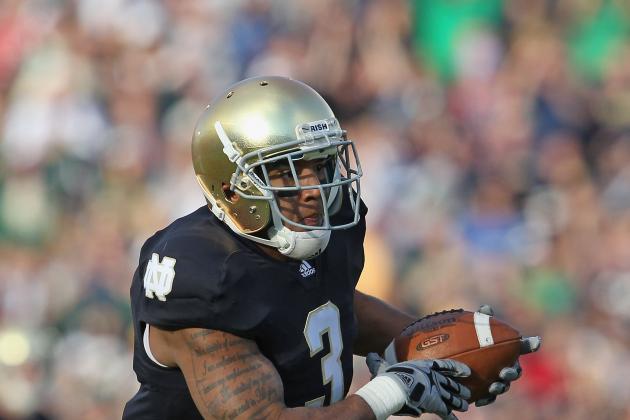 Jonathan Daniel/Getty Images

Who knows what the New York Jets plan on doing with wide receiver Santonio Holmes. With that being said, this is a shocker, but Michael Floyd is an interesting fit for the Jets.
Floyd is a very dynamic wide receiver that's very physical yet has some impressive speed.
In 2011 at Notre Dame, Floyd snagged 100 passes for 1,147 while scoring nine touchdowns.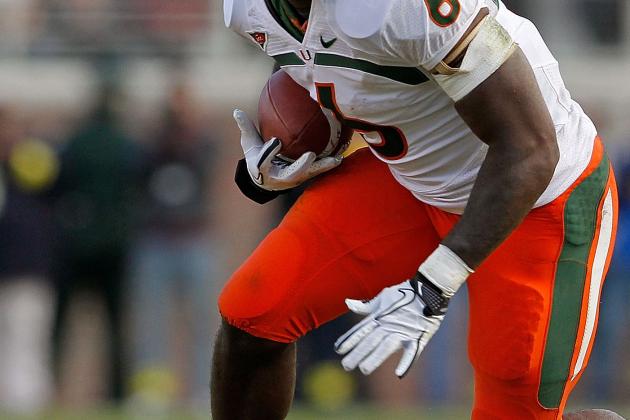 Mike Ehrmann/Getty Images

The Cincinnati Bengals must improve their running game if they want success in the near future, as Cedric Benson proved in the playoffs that he cannot do it by himself.
Miami's Lamar Miller is the best available running back and would be an interesting fit with youngsters Andy Dalton and A.J. Green.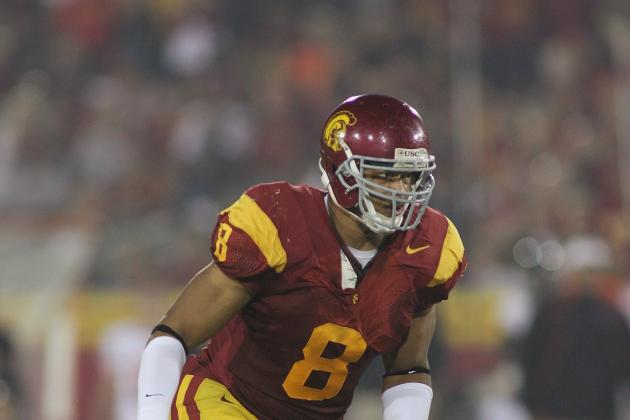 Jeff Golden/Getty Images

USC's Nick Perry is an NFL-ready pass rusher that would immediately help the aging San Diego Chargers defense.
With the Chargers bringing back Norv Tuner for another season, I would expect a draft that will help the team win immediately, and Perry is that guy.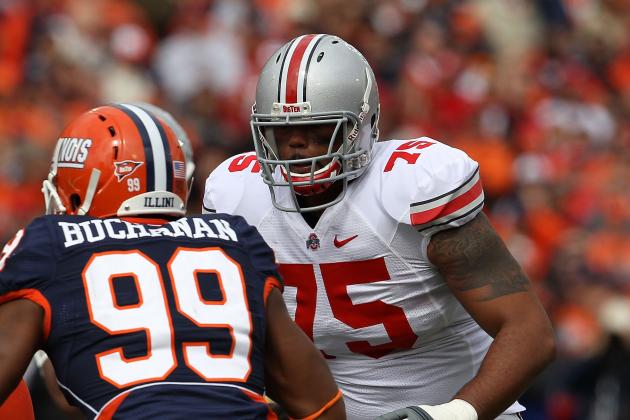 Jonathan Daniel/Getty Images

Many of you may not know who Mike Adams is, but he's a "fast-rising prospect who will catch the eye of NFL scouts with exceptional agility and strength at the position [offensive tackle]."
Or that's how Bleacher Report's Matt Miller describes him.
I absolutely love this pick, as the Chicago Bears need help on the offensive line, and bringing in a prospect that has the skill set as Adams does seems like the right idea.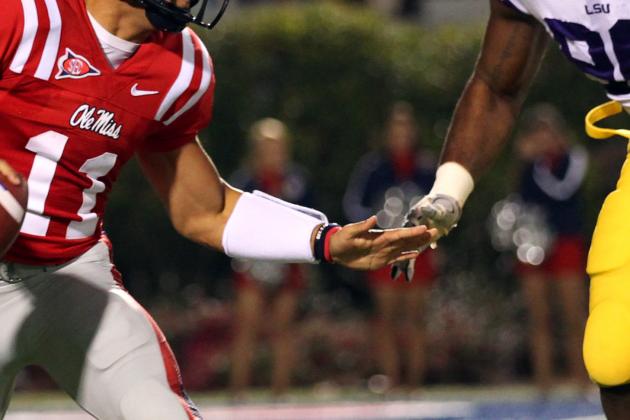 Joe Murphy/Getty Images

LSU defensive tackle Michael Brockers is one hell of a pass rusher and could be a perfect replacement for Jason Babin—someone that the Tennessee Titans never replaced after losing him via free agency to the Philadelphia Eagles.
Brockers gets off of the line of scrimmage extremely quickly and uses his incredible bull rush to simply dominate opposing blockers.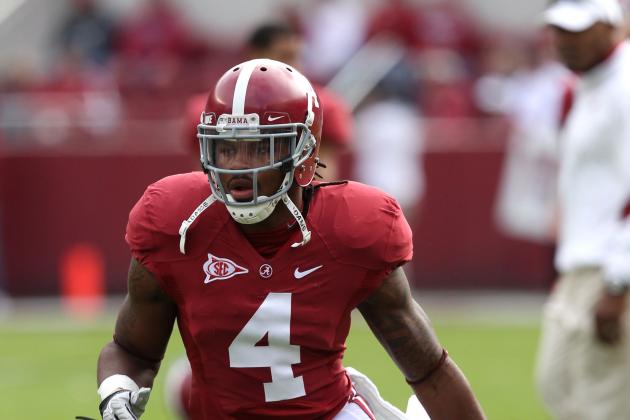 Mike Zarrilli/Getty Images

The Cincinnati Bengals need some help in their secondary, and Mark Barron could be the perfect fit.
Barron has elite size for a safety, as he stands in at 6'2" and weighs 225 lbs. while having long arms that can get after the ball.
The biggest weakness on Barron is that he is not very good in man coverage, but that is something that Cincinnati can coach him up on.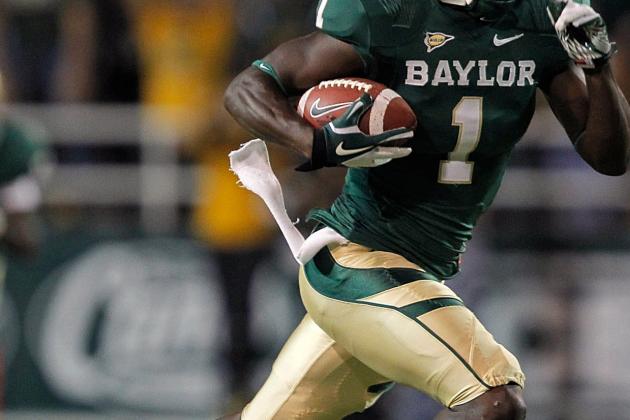 Sarah Glenn/Getty Images

This pick makes perfect sense.
The Cleveland Browns drafted Robert Griffin III with the fourth-overall pick, so why not draft his favorite target from Baylor in Kendall Wright? It makes perfect sense.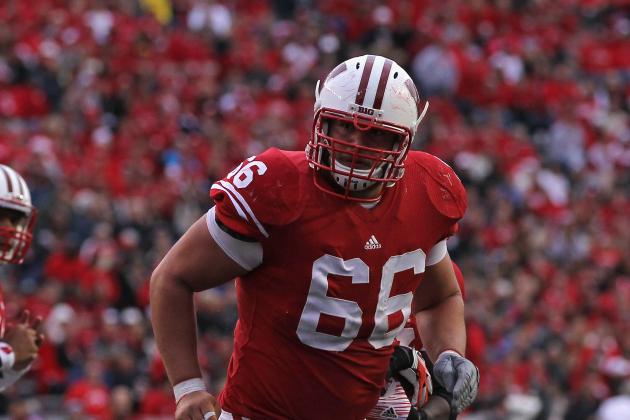 Jonathan Daniel/Getty Images

The Detroit Lions need to improve their offensive line, and with Wisconsin center Peter Konz available, they'll grab him right up.
Konz has all the potential to be an elite center in the NFL for many years to come and would do a tremendous job at contributing to keeping quarterback Matthew Stafford healthy.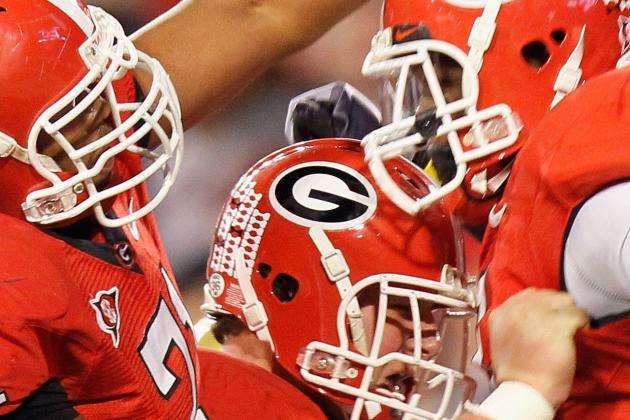 Kevin C. Cox/Getty Images

The Pittsburgh Steelers have some of the worst offensive guards in the NFL, so selecting Cordy Glenn would be a wise choice.
The Georgia prospect would likely be an immediate start and would do a much better job than guys like Doug Legursky, Ramon foster and Chris Kemoeatu at protecting Ben Roethlisberger.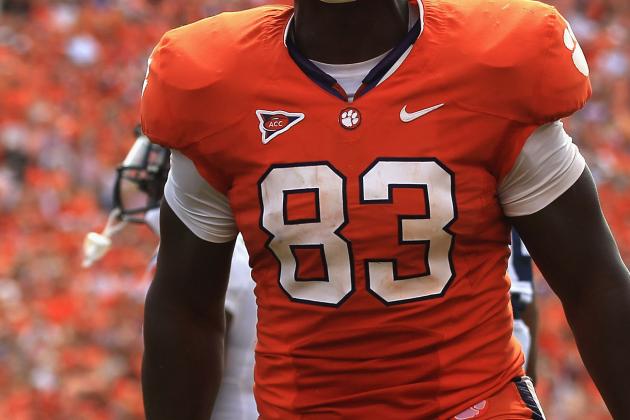 Streeter Lecka/Getty Images

No matter who the Denver Broncos quarterback is in 2012, they need to provide him with some weapons, and Clemson tight end Dwayne Allen is the best available.
Allen is an extremely athletic receiver while being a very effective blocker. He is definitely NFL-ready and would be an immediate start for the Broncos.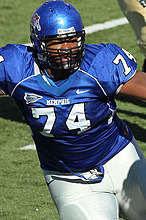 Defensive tackle Dontari Poe is an absolute beast that has freakish strength while still being athletic enough to get off of the line of scrimmage and can put pressure on the quarterback.
Poe stands in at 6'5" and weights 350 lbs. and would be a great addition to the Houston Texans elite defense.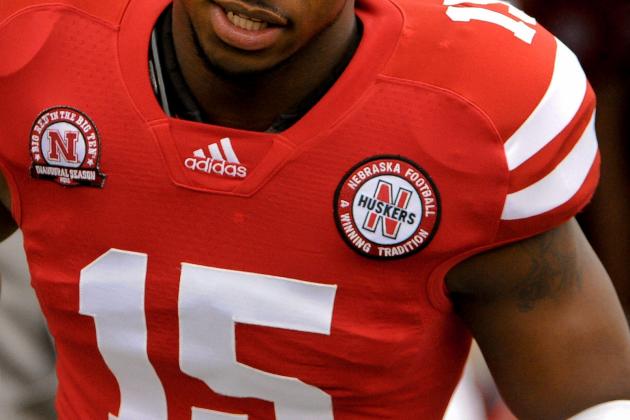 Eric Francis/Getty Images

If Alfonzo Dennard is still available, then Bill Belichick and the New England Patriots will select him immediately.
The Patriots had one of the worst pass defenses in 2011 and need some help at the cornerback position.
Dennard would be an immediate starter, as he has the upside to be an elite cornerback at the next level for many years to come.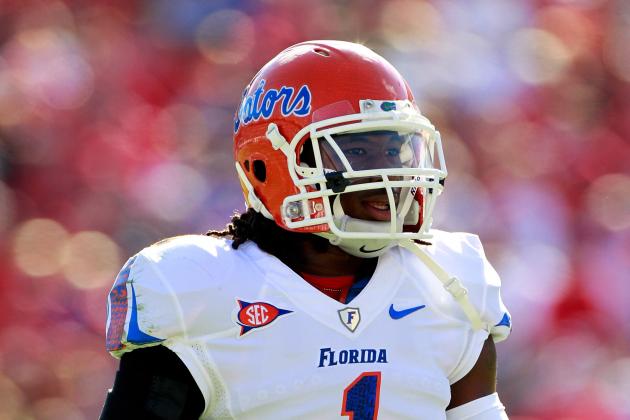 Sam Greenwood/Getty Images

The Green Bay Packers had the absolute worst pass defense in 2011, and more specifically, their biggest weakness was their secondary.
Janoris Jenkins has the talent to be a top-15 draft pick, but has major character issues. However, he's worth the risk for the Packers, as he will enter a strong lock room that will not let Jenkins step out of line.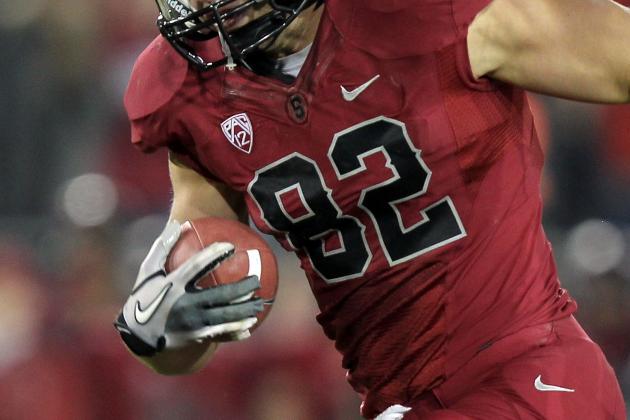 Ezra Shaw/Getty Images

The New York Giants desperately need a tight end, and South Carolina's Coby Fleener is the best available.
Fleener is a quality blocker, but his biggest strength is his 6'6" athletic frame that will be a major threat in the passing attack at the NFL level.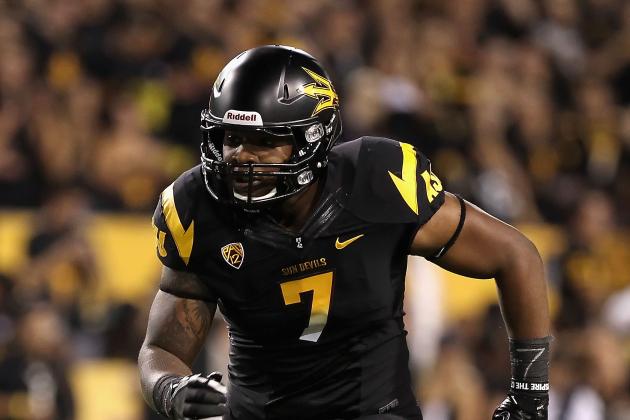 Christian Petersen/Getty Images

Vontaze Burfict may not be the next Ray Lewis, but he could be taken under Lewis' wing and could be the future replacement for the aging Lewis.
Burfict was very productive at Arizona State and has the perfect skill set to succeed at the next level.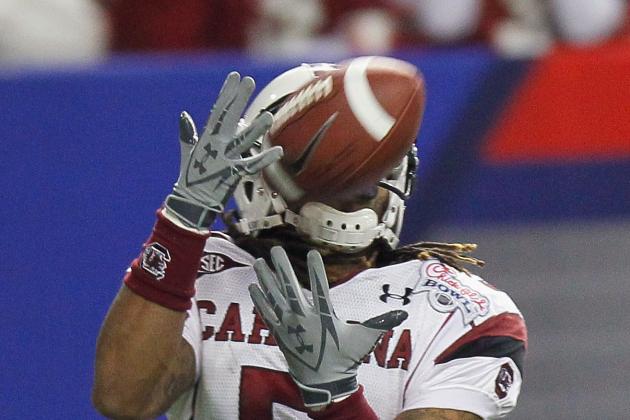 Kevin C. Cox/Getty Images

Stephon Gilmore is a dynamic cornerback that would be a nice addition to the San Francisco 49ers, as he would likely start opposite of Carlos Rogers.
Gilmore had great success at South Carolina and would likely translate well into the next level.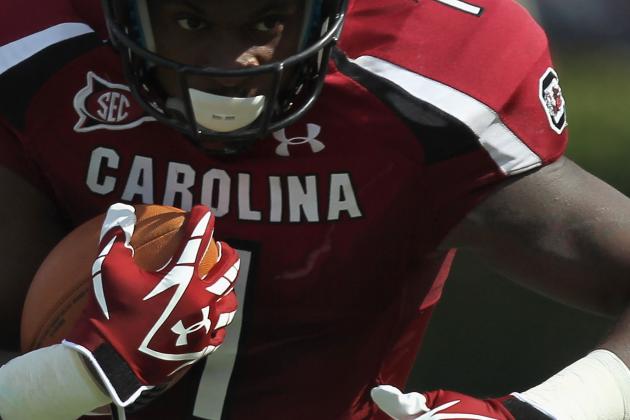 Streeter Lecka/Getty Images

Alshon Jeffery is an absolute monster of a wide receiver and is a perfect fit for the New England Patriots.
The Patriots may have Wes Welker and Deion Branch, but they're lacking size, and the 6'4" Jeffery will bring that.
Jeffery reeled in 49 passes for 762 yards in 2011 while scoring eight touchdowns for South Carolina.