2012 NFL Draft Order: Playoff Losers That Need Home-Run Pick in First Round
January 17, 2012

Jamie Squire/Getty Images
Four teams remain in the hunt for the Lombardi Trophy. The 2012 NFL draft is the furthest thing from Patriots, Ravens, 49ers and Giants' minds right now.
The other eight teams that started the postseason with them, however, had to face a cold realization in the past two weeks that this season is gone and it is time to start preparing the next one.
Those eight teams—Bengals, Falcons, Lions, Steelers, Packers, Broncos, Texans and Saints—now know when they pick in the first round of April's draft.
The question is: Which teams need home-run picks to get back in the hunt again next year? (Full draft order listed below.)
Cincinnati Bengals (Picks No. 17 and No. 21)
Cincinnati didn't just hit one home run last year, they hit two walk-offs in the form of A.J. Green and Andy Dalton in the first and second round.
This year they'll need that same type of talent haul—with two first-round picks thanks to Carson Palmer and the Raiders—to assure themselves another run to the postseason. The most likely scenario for this team will be to boost the running back position and the interior offensive line and/or addressing a need at cornerback.
The Bengals should get a crack at a starting-caliber interior lineman with one of their two picks. Potential players include Stanford's David DeCastro, Wisconsin's Peter Konz and Georgia's Cordy Glenn.
At running back they'd have to decide between Miami's Lamar Miller, Virginia Tech's David Wilson and Washington's Chris Polk.
At cornerback they'll have a number of intriguing options including Alfonzo Dennard of Nebraska, Stephon Gilmore of South Carolina, Janoris Jenkins of North Alabama and Chase Minnifield of Virginia.
Whatever they decide to do, they need to find players that come in right away and compete at a high level.
Pittsburgh Steelers (No. 24)
Pittsburgh sported an aging roster in 2011 and cannot afford to miss on a pick here.
They need help, and more importantly, youth, at a number of positions.
The offensive line needs help or they'll struggle in both the pass and run game again next year. The secondary needs help because it is aging and it wouldn't hurt to add some youth at linebacker either.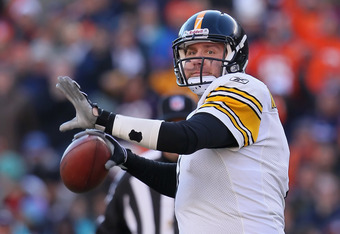 Jeff Gross/Getty Images
The Steelers know that with the Browns and Bengals improving they'll have to stay on top of their game to fend them off and keep up with the Ravens.
Denver Broncos (No. 25)
Tebow-Mania won't take anyone by surprise in 2012, so the Broncos need to be sure they have some new tricks up their sleeve if they want to defend their AFC West crown.
A lot of that starts with improving the defense even more. They should look to bolster their defensive interior on the line, but could also use another playmaker at cornerback.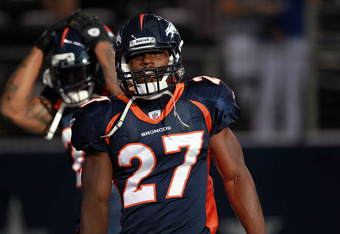 Ronald Martinez/Getty Images
Running back may also be an option because of the uncertain future of former No. 12 pick Knowshon Moreno. The Broncos only have to pay him a base salary of under $1 million, but they've sunk a lot of guaranteed money into him already and it is reported that John Fox and his staff do not see him as a fit to this offense.
Should they choose to sever ties they'll have to, at some point, add another back knowing full well that Willis McGahee is injury prone.
Whatever they chose to do, they'll need to add someone who can help them immediately because they'll have a huge target on their back this year.
1. Indianapolis Colts (2-14)
2. St. Louis Rams (2-14)
3. Minnesota Vikings (3-13)
4. Cleveland Browns (4-12)
5. Tampa Bay Buccaneers (4-12)
6. Washington Redskins (5-11)
7. Jacksonville Jaguars (5-11)
8. Carolina Panthers (6-10)*
9. Miami Dolphins (6-10)*
10. Buffalo Bills (6-10)
11. Seattle Seahawks (7-9)*
12. Kansas City Chiefs (7-9)*
13. Arizona Cardinals (8-8)
14. Dallas Cowboys (8-7)
15. Philadelphia Eagles (8-8)
16. New York Jets (8-8)
17. Cincinnati Bengals (via OAK 8-8)
18. San Diego Chargers (8-8)
19. Chicago Bears (8-8)
20. Tennessee Titans (9-7)
21. Cincinnati Bengals (9-7)
22. Cleveland Browns (via ATL 10-6)
23. Detroit Lions (10-6)
24. Pittsburgh Steelers (12-4)
25. Denver Broncos (8-8)
26. Houston Texans (10-6)
27. New England Patriots (via NO 13-3)
28. Green Bay Packers (15-1)
+29. New York Giants (9-7)
+30. Baltimore Ravens (12-4)
+31. San Francisco 49ers (13-3)
+32. New England Patriots (13-3)
*Order determined by coin flip at NFL Scouting Combine.
+Playoffs to determine picks 29-32.