3 Reasons Why the Boston Bruins Are the Best Team in the NHL
January 21, 2012

Joel Auerbach/Getty Images
The Boston Bruins are the best team in the NHL despite what the standings are currently telling us.
As of Friday, the Chicago Blackhawks are currently on top of the NHL at 64 points, followed by the Detroit Red Wings at 63. The New York Rangers and St. Louis Blues are next at 62 points, followed by the Bruins at 61. According to this fact, the Bruins are the fifth best team in the NHL.
But that doesn't tell the whole story.
When you think of "best teams," you probably think of teams who have recognizable, big-name superstars.  The New York Yankees come to mind with Derek Jeter, Alex Rodriguez, CC Sabathia, Robinson Cano, Mariano Rivera and others.
The Boston Bruins do not fit that mold. Arguably, the biggest names on their team are defenseman Zdeno Chara and reigning Vezina Trophy holder, goalie Tim Thomas.
Other key pieces on the Bruins include Patrice Bergeron, Milan Lucic, David Krejci, Tyler Seguin and Brad Marchand.
Who are these guys? Outside of die-hard hockey fans around the world and in Boston and Lynnfield, Mass., these names are not exactly household ones.
The casual hockey fan or even the knowledgeable hockey fan probably doesn't know this team and couldn't explain the success of the Bruins.
The Boston Bruins are a team in every sense of the word.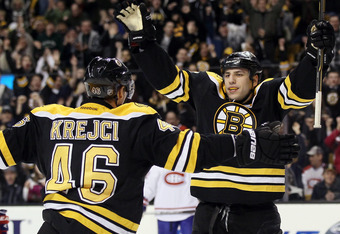 Elsa/Getty Images
They are a collection of very, very good and skilled hockey players who can collectively put the puck in the net and who share the responsibility of preventing goals from being scored against them.
I witnessed this skill and teamwork firsthand on Dec. 13 when I watched the Bruins dominate and control the game in shutting out my Los Angeles Kings, 3-0. I watched a team that had a lot of speed, used teamwork to perfection in cycling the puck, made quick, crisp passes and reacted quickly.
This team was on that night, and it continues to be something special.
There are three facts that detail why the Bruins are a team that will again go deep in the NHL playoffs this year and will no doubt staunchly defend their Stanley Cup Trophy from a year ago.
The Bruins Have a Balanced Scoring Attack
Led by 19-year-old—yes, he's a teenager—Seguin (along with Nathan Horton) with 17 goals, the Bruins boast a scoring attack that features seven players with double-digit goals. The others are Lucic and Marchand with 16, Bergeron and Chris Kelly with 14 and Krejci with 10.
Painfully, I compare that to the Kings who have only three double-digit goal scorers in Anze Kopitar and Mike Richards with 14 and Dustin Brown who has netted 13.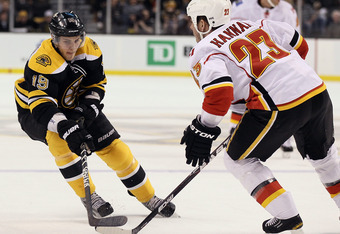 Elsa/Getty Images
The Bs also have seven players—Seguin (40), Bergeron (39), Krejci (35), Lucic (34), Horton and Marchand (32) and Rich Peverley (30)—that have 30 total points or more. They also have two more players that have 20 or more points in Chara with 26 and Kelly with 24.
What does this mean?
The Bruins are able to throw multiple lines at the opposition who can maintain offensive pressure with many different players. Just because the second and third lines are on the ice doesn't mean the foes can let their guards down.
Comparatively, the Kings only have two players—Kopitar with 43 and Justin Williams with 32—who have 30 or more points and have four more with 20 or more total points in Richards and Brown with 26 and Jack Johnson and Drew Doughty with 20 .
The Bruins are a team full of players that can score and defend.
The Bs Take Care of Their Own End
A pretty remarkable stat that shows the Bruins' two-way abilities is that the Bruins have the top three players in the NHL on the plus-minus leader board. Seguin is the leader with a plus-35, followed by Bergeron at plus-28 and Marchand at plus-27.
In fact, they have five of the Top 10 in this category and seven in the Top 20. The others are Chara (plus-26) and sixth in the NHL, Johnny Boychuck (plus-24) who is seventh, Kelly (plus-22) who is 11th and Dennis Seidenberg (plus-19) who sits at 16th.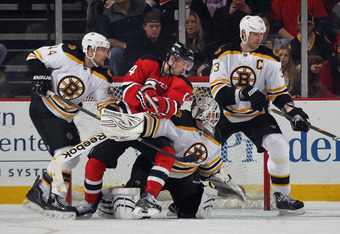 Bruce Bennett/Getty Images
The most surprising on this list would have to be Johnny Boychuck, who has scored all of three goals on the season and has totaled nine points. Yet he is still at seventh in the league, which shows the balance that this team possesses. From your "stars" to the grinders, you have a team that is defensively responsible.
The Bruins have a grand total of one player—Matt Bartkowski (minus-2)—who is on the minus side and he has only played in three games all season.
To compare this to a pretty good team, (seventh in the West at 56 points), the Kings' leader in plus-minus is Justin Williams with a rating of plus-5. That would rank him at tied for 129th in the NHL. The Kings also have 11 players who have minus ratings and those are all players that log regular ice time.
As a team, the Bruins are plus-71, having scored the most (160) and given up the least (89) goals in the NHL.
Defensively responsible team-wide for certain, but it helps if you have a good goaltender who can step up when the defense breaks down. The Bruins have two outstanding goalies, which leads to the next point.
Vezina Winner with a Very Good Backup
The Bruins have 2010-2011 Vezina Trophy winner Tim Thomas as their No. 1 goalie in net.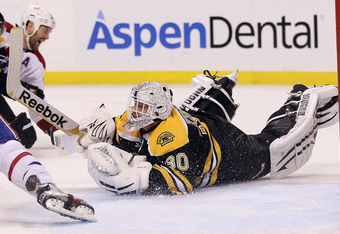 Elsa/Getty Images
So far in the 2011-2012 season, Thomas' numbers have not dropped off. This season he has a 2.02 GAA (seventh in NHL) and a .936 save percentage (fourth) and four shutouts (tied for third). His GAA and save percentage are very close to last year's numbers, and his shutout total is the same as it was for all of last season.
It's pretty comforting knowing that you are going to get a solid performance in goal on most nights. It's probably partly why the Bruins have scored so many goals because the forwards and defensemen can take some chances knowing you have a guy like Thomas manning the nets.
It is also very...very comforting knowing that your backup goalie, Tuukka Rask, has better numbers than your starter and leads the NHL in both major goaltending categories.
Wait, what?
That's correct.
Thomas' backup—with one of the coolest names in hockey—has a stingy 1.61 GAA and a gaudy .946 save percentage as the second-string netminder. Those numbers lead the NHL in both categories.
Remarkable.
Granted, those numbers have come in only 16 games, but in those games he has three shutouts which would rank him tied for eighth with goalies who have played in more, and in some cases, a lot more games.
So when Rask takes the reins, he makes the most out of his opportunities. Alas, I also experienced his skill when I had to witness his shutout of the Kings when he had 41 saves and did his best impression of a wall.
When Rask is in net, the Bruins can continue to play their fast, aggressive style of hockey. There is no drop-off in style the Bruins can play with from one goalie to the next.
Some teams struggle to find one reliable goalie to help their team win games.
The Bruins not only have one, but they have two outstanding, maybe even All-Star-caliber goalies.
What a luxury.
The Bruins' scoring depth, team defense and stud goalies should take them deep into the Stanley Cup playoffs, and I wouldn't bet against them to repeat.
I wish them the best and hope they become the 2011-2012 Stanley Cup...runners up.
All stats taken from nhl.com, bruins.nhl.com and kings.nhl.com.