Dallas Cowboys: Dez Bryant Trade Could Fill Numerous Holes
January 17, 2012

Handout/Getty Images
In the wake of another legal issue surrounding Dallas wide receiver Dez Bryant, perhaps it's time to ask the question: Should the Dallas Cowboys shop Bryant during the offseason?
Hear me out on this because I'm more than aware of Bryant's natural ability on the football field.
I'm also aware that Bryant is, as Warren Moon recently suggested to KIRO-AM 710 in Seattle, basically missing some brain cells.
Whether or not Bryant is or is not missing brain cells is not known by me. But, clearly, maturity is a huge concern for this young man and it doesn't look like this is going to change anytime soon.
So the Cowboys would almost have to consider the merits of moving Bryant in exchange for additional resources heading into the 2012 regular season. I think we can all agree that any further chatter or delusion that Dallas has no holes because it is so loaded with talent is a mere fallacy. Dallas has not had a winning season in more than two years now.
Consider that the Detroit Lions, winless in 2008, went 2-14 the last season in which the Cowboys made the playoffs and won their first playoff game since January of 1997. Detroit roared to a 10-6 finish this season, beating the Cowboys along the way, and cruised into the playoffs as an up-and-coming team in the NFC.
How about San Francisco? The 49ers, having been pretty awful for most of the last decade, will host the NFC Championship Game next weekend against the same team that eliminated the Cowboys from postseason play.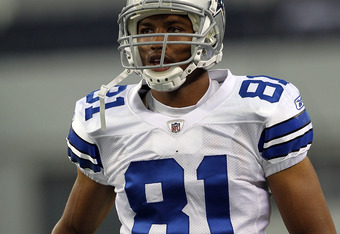 Ronald Martinez/Getty Images
No, the Cowboys are not so loaded with talent that they shouldn't be seeking ways to make up significant ground as fast as possible.
What could a Bryant trade bring to the table? Well, not being an NFL general manager charged with pursuing this idea, it's hard for me to guess. I would suggest it could fetch something in the neighborhood of a second-round pick or perhaps an established veteran that could likely fill one of Dallas' many holes at the present time.
And it's not like the cupboard would be bare without Bryant on the roster, regardless of whether he had more than 1,000 yards last season or not. Fact is, the Cowboys still have Miles Austin and apparently would like to find a way to keep Laurent Robinson following his breakout season on a one-year contract now expired. There are a number of teams across the league that don't have two receivers the caliber of Austin and Robinson.
Inexpensive youth is among the keys to success in the NFL.
Overpriced veterans who are leaving their prime are not the answer.
Imagine having eight choices in the upcoming 2012 NFL draft as opposed to just seven. Better yet, there are two second-round picks now and that would be a nice advantage.
Many people feel Dallas needs more corners, and I can't disagree.
Others feel the offensive line must be fixed if quarterback Tony Romo is to ever reach full potential or even make it through another season injury free. They are exactly right.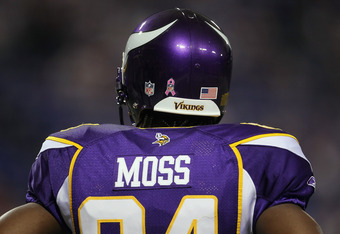 Jeff Gross/Getty Images
The pass rush needs to become more volatile.
More draft choices means more options, and that is better than having Dez Bryant.
Bryant has not been an improvement over what Dallas had prior to his arrival. Most of what he represents now is a potentially huge liability that any NFL franchise seeking to improve cannot afford to sustain.
I would not bet money that owner and general manager Jerry Jones investigates this possibility. He'll be more afraid of Bryant haunting him with another team than he is Bryant haunting him while playing for his own.
In the 1998 NFL draft, 20 different NFL franchises passed on Randy Moss for the same reasons that 23 different franchises passed on Bryant in the 2010 NFL draft.
The four teams Moss played for never won a championship.
Interestingly, 10 of 12 teams to make the playoffs in 2011 passed on Bryant.
Surviving bad publicity and off-the-field legal issues is one thing when your team has won multiple Super Bowls in recent seasons. It's a little different when your team just isn't very good and you've got a big, new stadium to keep filling up.
Food for thought, Mr. Jones.