NHL He Said, She Said: The Michael Cammalleri Trade and Game of the Week Picks
January 17, 2012

Richard Wolowicz/Getty Images
This week, a trade unfolded in the NHL that was structured more like a soap opera, as Michael Cammalleri was traded from the Montreal Canadiens to his former team, the Calgary Flames.
The 29-year-old was moved from one struggling team to another, but will he be what the Flames need? Can his production get back on the upswing now that he is away from Montreal, where he proved he was unhappy by complaining about being on a losing team?
Also, don't forget to read through to the end, where we make our Game of the Week picks, telling you which NHL games you should not miss this week.
If you're here for the first time, you might be wondering what NHL He Said, She Said is. Let me explain:
NHL He Said, She Said is a weekly column where NHL Featured Columnists Adam Graham and Alison Myers each give their thoughts on the hot topics from around the NHL over the past week. They also each pick an upcoming Game of the Week that you should watch. 
Michael Cammalleri Traded to the Calgary Flames
 Adam: The trade itself isn't what has people talking. It's how it was finalized and how Michael Cammalleri was told about it.
What kind of drama-queen general manager pulls a player from a game and sends him to a hotel room to await further instruction on what city he's being traded to?
Pierre Gauthier seems to be incapable of handling his business like a normal person would. Gauthier claims he had been shopping Cammalleri since early December, and while that may be true, it's hard to believe the timing of the trade and the spectacle he created by trading him in the middle of a game was only a coincidence.
Sorry, Pierre, but I'm not that naive.
It clearly had something to do with the comments Cammalleri made just a day earlier when he said that his team prepares for games like losers.
As for the trade itself, the Calgary Flames clearly got the best player. Despite Rene Bourque's streaky play and solid size, anyone who argues that he is better than Cammalleri is out of his or her mind.
However, if Gauthier did make this trade based on his anger and panic over Cammalleri's comments, it's not such a bad deal. After all, when a team trades a player in such a hasty fashion, they usually don't get much value in return. The Habs got a potential top-six forward, they saved nearly $3 million in salary cap space and they got the best of the draft picks and prospects that were exchanged.
On the other hand, if a Cammalleri trade had been in the works for over a month, then perhaps Gauthier could have done better, which puts him in a tough spot.
Would he rather be criticized for trading arguably his best forward over a seemingly innocent comment, but respected for actually getting something decent in return under the circumstances?
Or would he prefer to maintain his stance that the deal had nothing to do with the comments and had been in the works for a month?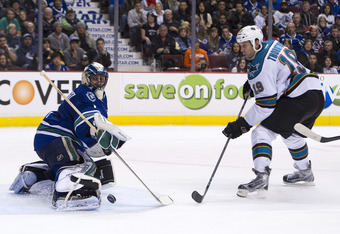 Rich Lam/Getty Images
In this instance, he comes off as a little more level-headed, but he would receive a lot less praise for the trade if it took him over a month to conceive it and Rene Bourque was the best player he could get in return.
Life isn't easy for Gauthier right now, but it was him that created this mess, and now he has to deal with the aftermath.
Alison: Well, although one of my Twitter followers told me that players are removed from games "all the time" when a trade is in the process of happening, this is the first time I heard of it. It was pretty bizarre to watch the whole thing unfold like a script out of a TV drama, with Cammalleri pulled off the ice in the middle of the game and then not even being told where he is going.
I have to wonder what kind of effect that had on the team. Wouldn't they think it odd that one of their teammates wasn't returning to the game without an explanation given? Maybe they can put that stuff out of their heads and just focus on the game, but it had to be a distraction.
I agree with you, Adam, that Calgary is clearly getting the better of this trade. Cammalleri played there once before, in 2008-09 for those unfamiliar, and finished second on the team in scoring with 82 points. He also has four seasons of at least 10 power play goals or more. This will help Calgary's disappointing offense (2.39 goals per game, ranked 26th) and middle-of-the-pack power play (17.1 percent, ranked 19th).
In addition, Cammalleri has playoff experience, as he went to the Eastern Conference Finals in 2010 with Montreal and has been in the first round in both 2009 and 2011. The Flames are currently 12th in the Western Conference, but they are just four points out of the last playoff spot. They won three straight games before losing to the Los Angeles Kings on Sunday night.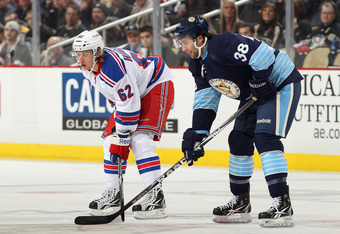 Christian Petersen/Getty Images
Rene Bourque is a good player, but he was trouble for the Flames before being traded. He has been suspended for a total of seven games for separate checking and elbowing incidents, which obviously causes his production to take a tumble. Maybe he can turn things around and stay out of trouble in Montreal, but his track record this year is proving otherwise.
The Flames will not instantly make the playoffs with Cammalleri, though. They are just 2-4 against postseason contenders this month, and the rest of their schedule sees them play the Kings again, twice against the San Jose Sharks and an end-of-month meeting with the Detroit Red Wings.
Game of the Week
Adam: There are lots of great games to choose from this week, including a few matchups between teams that seem destined to meet each other at some point in the playoffs.
With that being said, I'm going with the Vancouver Canucks vs. the San Jose Sharks on Saturday, Jan 21.
This is a rematch of last year's Western Conference Finals, and there's a good chance these two teams will meet at some point in the playoffs this year as well.
If you've watched any of the games between the Canucks and Sharks over the last two seasons, you'll know just how intense they are. Every game has been close, every game has had plenty of emotion and during the two previous meetings, there were even some nasty confrontations and playoff-style anger involved.
This is the last time these two teams will meet during the regular season, so you should find a TV on Saturday afternoon because it promises to be a beauty.
Alison: I'm going to go to the Eastern Conference this week and pick my Pittsburgh Penguins against the New York Rangers this coming Thursday, Jan. 19.
The Penguins lost six straight games recently and briefly found themselves out of a playoff spot. However, they have wins against the Florida Panthers and Tampa Bay in their last two games with Evgeni Malkin picking up a hat trick against the Lightning.
The Pens recently came together to support captain Sidney Crosby by taping the C to their jerseys at Friday's morning skate. This comes in response to the Pittsburgh Tribune-Review reporting that some members of the team held a meeting to discuss a temporary captaincy. The team was obviously denying that this happened or that there was a big misunderstanding.
With the news that Kris Letang will be skating again soon after suffering a concussion, the Penguins are really looking to fly.
But it won't be easy for them to get off the ground. They have yet to win against the Rangers this season, and the Blueshirts are currently the best team in the Eastern Conference and the NHL. New York is 5-2 this month and coming off a loss to Montreal, so they will no doubt be looking to get back on track.
Pittsburgh will be without Jordan Staal, who is out four to six weeks having sustained a sprained knee the last time these two teams met after a hit from former Penguin Mike Rupp.
Since Staal will be absent, we can all save ourselves a hangover, as we will not be forced to play the Staal brothers drinking game twice in one week (Pittsburgh plays the Carolina Hurricanes on Tuesday).
Or will we?